Blogging has been moderately trendy in Nepal for the past few years. The number of bloggers is rapidly increasing. These days, people seem to be preferring online news portals rather than traditional newspapers. The definition of blogs in the scenario of Nepal has changed over time in these recent years. As of now, blogging isn't just related to science and technology but it has widened into a variety of niches like health, finance, education, beauty and many more.
In the context of Nepal, tech blogs are getting popular for the past few years. Tech blogging can also be considered as technology journalism to some extent or might be just the platform to talk, discuss and impart ideas related to the technical issues.
Since the boom of tech blogging in Nepal, a lot of people are aspiring to get into blogging. But the work has its own challenges. A lot of people get confused about how to get started, or how to deal with certain situations and hindrances. For such situations, a community support serves to be helpful; to help and support each other who is into blogging.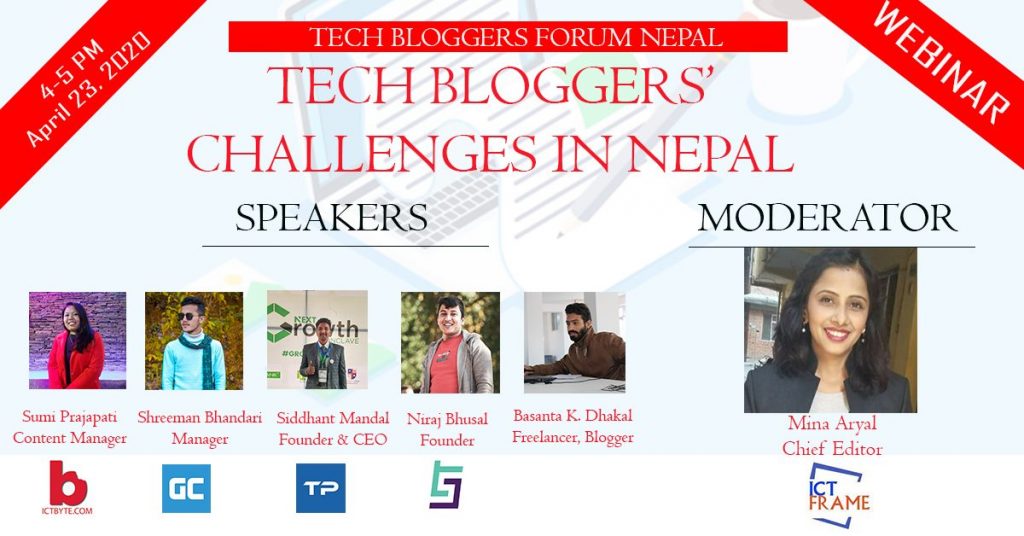 Noticing these challenges, Tech Bloggers forum Nepal has organized a webinar on the topic "Challenges of tech bloggers in Nepal."
The webinar is being moderated by the chief editor of ICT Frame, Mina Aryal.
Speakers of the webinar
Niraj Bhusal ( Founder of Techsathi )
Shreeman Bhandari ( Manager of Gadget Concern )
Basanta K. Dhakal ( Freelancer also a Blogger )
Siddhant Mandal ( Founder & CEO of TechPatro )
Sumi Prajapati ( Content Manager of ICTByte )
Topics that will be discussed
Challenges in technology diligence.
Scope of tech bloggers in Nepal.
Opportunities and challenges of tech bloggers in Nepal.
Tribulations of such bloggers in Nepal.
Webinar Schedule
Time : (4-5) PM
Date: 2020, 23rd April
Webinar topic: Challenges of Tech bloggers in Nepal
Supporters of the webinar
If you are also a blogger or plan to be one, you can join Tech Bloggers forum, Nepal. The session will be helpful and help you to gain better insights on how to move ahead with blogging.
Also, if you are a blogger and have faced any challenges, you can mention it in the comment section below. We will make sure to include the topic in webinar if it is relevant.