The government's decision to impose lockdown on the country has certainly created maladjustment in the livelihood of people. The whole world is practicing social distancing to stay safe from the COVID-19 pandemic. Previously, NTA( Nepal telecommunications authority) had appealed to the Telecom service providers for bonuses and special packages for such troublesome times. Now, the government has addressed the concern of paying internet bills in the lockdown by urging ISPs not to cut off internet access in lockdown. With this, ISPs will be giving the service even if internet subscription expires.
The Internet has become one of the crucial means to stay updated in this period and has become one of the essential parts of our lives. With this notice, the government has assured the internet users to provide the uninterrupted service. For some users, it might have been difficult to go and pay the bill in this lockdown. Meanwhile, it will also be handy for the people who are having financial problems in the lockdown as they will get to use the Internet and pay their bill later without any late penalties.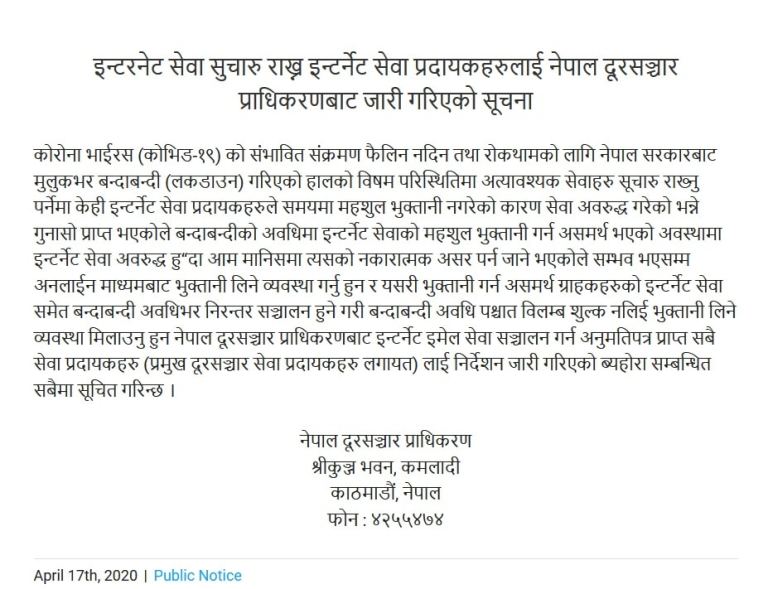 There is always an option of paying internet bills online. Despite the extended time of the Internet, it would be more reasonable for people to pay their internet bills via online platforms ( e-Sewa, khalti, fonepay, mobile banking apps) as this will help internet providers to sustain in this ongoing problematic period. However, this act of the government has helped those who cannot pay online and encourages people not to go outside and enjoy the Internet as their means.