 Visa, the global payment technology company, launched a new roadmap that sets the direction for payment security in Nepal for 2021 and beyond. Today, as people prefer making payments through devices like smartphones and laptops and with a number of new users entering the payments ecosystem, Visa's undertaking is both timely and relevant in helping Nepal embrace digital payments with confidence.
Launching the Visa Future of Security Roadmap ('the Roadmap'), Visa's Head of Risk for the Asia Pacific, Joe Cunningham said, "The global pandemic has driven more consumers and businesses to adopt digital commerce. As people try digital payments for the first time, whether it is paying for online purchases or paying with a contactless card at a store, it is important that the experience is convenient, fast, and secure. Payment security is Visa's top priority and having a set of common goals for the industry is crucial to helping build long-term trust in digital payments.
Aims to strengthen the digital payments ecosystem through best-in-class technology
"Visa's Future of Security Roadmap for Nepal will elevate the local industry to meet global standards and best practices. We appreciate the collaboration with all of our partners and believe that our shared vision will promote the greater use of digital payments in the coming years."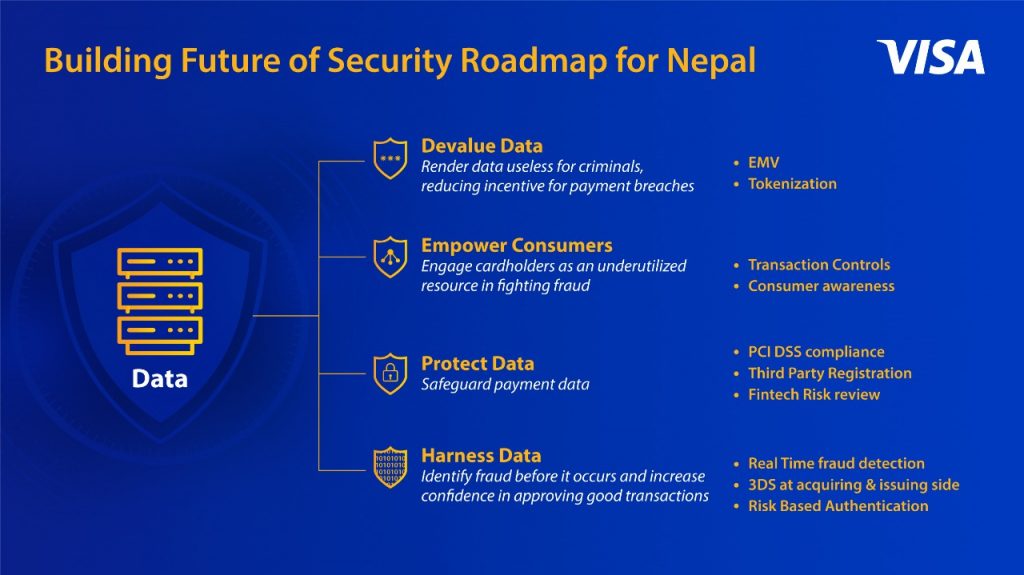 Globally, Visa has successfully prevented $25 billion in annual fraud by using artificial intelligence (AI), making the global payment ecosystem safer for retailers and consumers. It has kept global fraud rates at historic lows—less than 0.1 percent—through a multi-layered approach of investing in human intelligence and technology; empowering consumers and clients with tools, resources, and control to manage risk; and setting governance processes to help businesses and regulators stay nimble.
Also, Read || New Daraz and Visa Partnership Gives 15% Discount to Cardholders
Commenting on the launch, TR Ramachandran, Group Country Manager, India, and South Asia, Visa said, "Security of consumer and payment data has always been the highest priority for Visa. Building this trust at a time when new consumers and businesses are going digital is a shared responsibility between payment networks, consumers, banks, and the government.
New technology brings new ways to pay as well as new and unique risks, and to stay ahead of fraud, we need to work together and invest in security the same way we invest in innovations and consumer experience. We are proud to launch the Nepal Future of Security Roadmap as the groundwork to achieve this balance between security and experience."
What does this include?
While Visa's Roadmap focuses on a number of initiatives which will enable security to evolve at the same pace as the technologies – like EMV® 3-D Secure and tokenization – changing the way we pay, the core tenets of the roadmap include:
Devalue data by removing sensitive payment data from the ecosystem and making stolen account details useless
Protect data by implementing safeguards to protect personal data as well as account details
Harness data by identifying potential fraud before it occurs and increase confidence in approving good transactions
Empower everyone, including accountholders and merchants, to play an active role in securing payments
Visa works with industry stakeholders including financial institutions, merchants, policymakers, law enforcement and accountholders to secure payments. The Visa Future of Security Roadmap is the product of comprehensive consultations and collaboration, making it an authoritative document on Nepal payment security. Visa is delivering roadmaps around the world to ensure the security of the global commerce ecosystem, as well as working with Nepal industry bodies to align security initiatives.