The fast-paced improvement in technology has positively affected many sectors. Among many other, the one major change has been seen in the digital economy. Due to the evolution of mobile applications, the world has taken one step forward in the digital economy and hence towards a cashless society. A cashless society might sound like something out of science fiction, but it's already on its way. In the context of Nepal, a cashless economy has become closer due to the rise of several digital payment wallets. Today there are several payment wallets in Nepal providing a wide array of services. These wallets may provide similar services but with different user interfaces. In this post, we are going to perform a UI comparison between some of the top Nepali digital wallets.
What are Digital Wallets?
A Digital wallet is nothing but an electronic or online service that lets its users make online transactions. In simpler terms, it lets you purchase items using your computer or smartphone. Your bank account can be linked to the digital wallet. Globally, there are a lot of major digital wallets such as PayPal, Google Pay, Samsung Pay, and Facebook Pay. Although these global players are currently available in Nepal, there are many local fintech companies that cover their absence. Local digital wallets such as E-Sewa and IME Pay have been providing almost all possible payment features.
UI Comparison between the Wallets
1. e-Sewa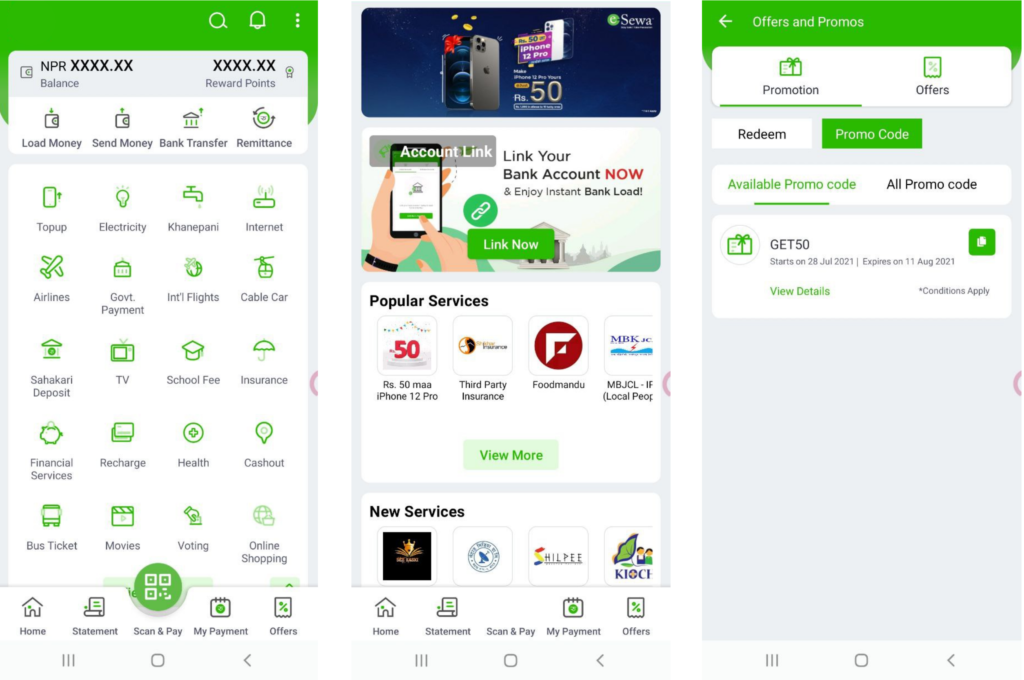 E-sewa stands as the synonym of digital payment in the context of Nepal. It has been providing the longest cashless payment service than any other digital wallet. With over a million downloads on the Google Play Store, this app looks very classy and minimalistic. The green-colored theme in the e-Sewa mobile application makes it easy to look at. The home page of the application showcases several features such as top-up, electricity, airlines, bus ticket, school fee, and other payment services. There are also separate tabs for popular services and new services which makes it easier for new users. Likewise, e-Sewa allocates a different section to display the latest promotion and offers available in the app. In short, the app is easy to use and filled with many quality features which make it one of the best digital wallets in the country.
2. Khalti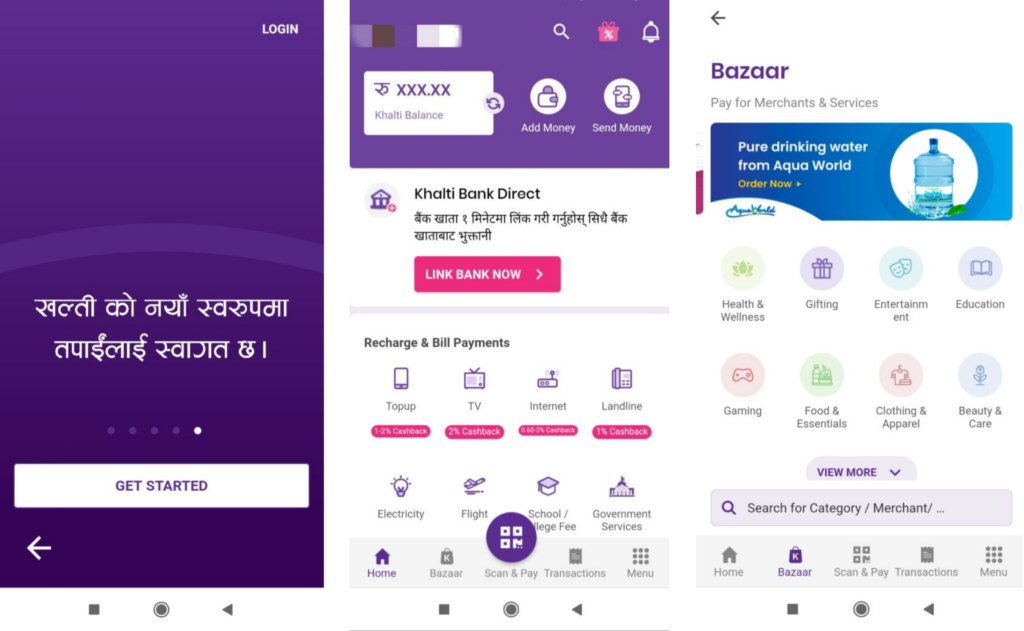 If you keep a close eye on the recent happenings in the IT sector of Nepal, you might already know that Khalti has recently got a totally new look. Khalti digital wallet is now fully developed using Flutter, a Software Development Kit by Google. What's interesting is that Flutter gives a similar UI on both Android and iOS. Furthermore, it provides an attractive interface that is easy to use on both types of devices. It means, now both Android and iPhone users can enjoy this new UI in Khalti. Besides that, Khalti has also added new exciting features such as Khalti MPIN, Khalti Points, Universal Search, and Bazaar section. In the latest version of 3.0.0, you can also see the help and support tab through which you can communicate with the Khalti app regarding your problems. This is probably one of the unique features of the Khalti digital wallet.
3. Cell Pay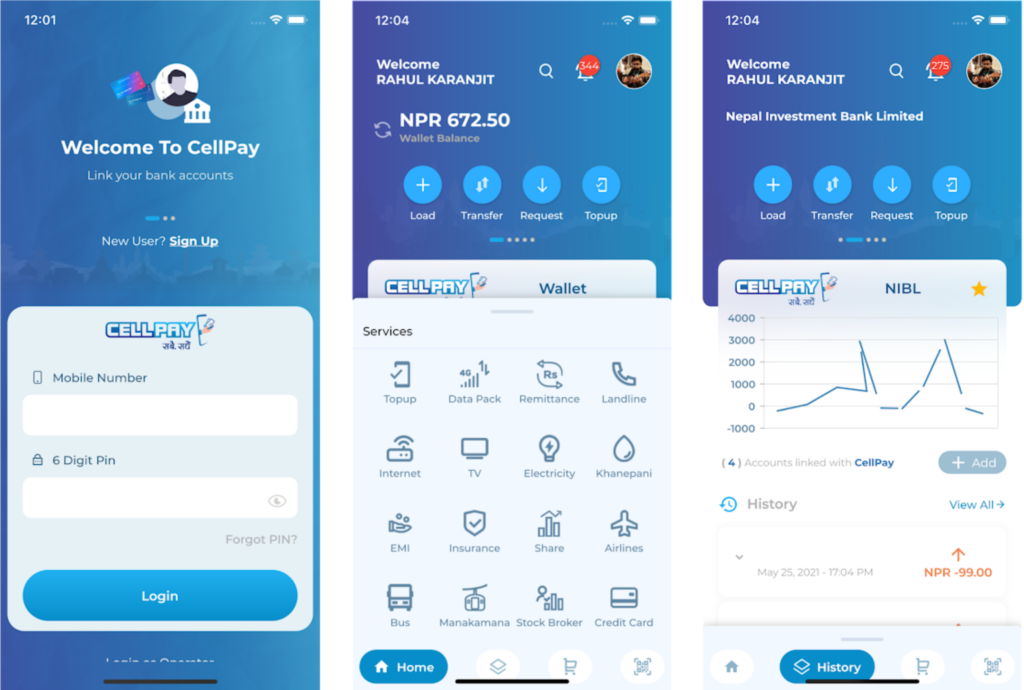 CellPay is a payment service powered by Cellcom Private Limited, a Payment Service Provider licensed by Nepal Rastra Bank. Currently, the CellPay service supports utility payments, merchant payments, and fund transfer services. With CellPay you can instantly transfer money via phone to family and friends from your bank account to theirs. Mobile Top-up & Bill Pay, Bill payment for water, electricity, internet, TV, and Merchant payment to different e-commerce are the available services with the Cell Pay app.
The Cell Pay app has become more beautiful and easier to use after the redesigning of the application. All the available services and features are easy to see, even for new users. It is so organized and so easy to use that even the newbies can easily roam around the application and discover the required features. However, this digital wallet app is not rich with features and services like other prominent digital wallets.
4. IME Pay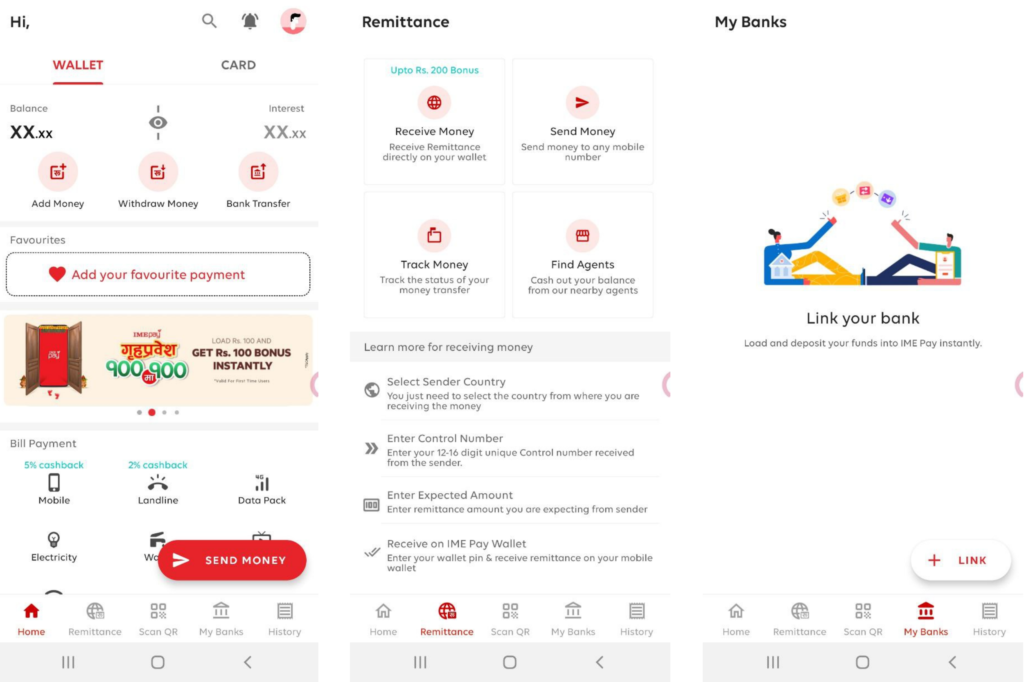 Talking about the IME Pay app UI, it's unique from its rival digital wallets. Unlike other digital wallets, there is a special feature of sending and receiving remittances from abroad in IME Pay. Due to this feature, IME Pay stands out as the optimal choice for those who constantly find themselves using its IME remittance services. All the popular services and one you'd require most frequently are placed on the home screen, which includes top-up, electricity bills, newspaper subscriptions, and more. Available both in the Play Store and App Store, the IME Pay app has fingerprint support for added security. However, with IME Pay, some people may not find its design to be as intuitive and minimalistic as its other counterparts.
Conclusion
Every coin has two sides. Each digital wallet that we have compared and contrasted here has both merits and demerits. One digital wallet may have an intuitive UI with lacking features while the other may have rich features with boring UI. So, as a user, it is important to find a digital wallet that best suits your interest and preferences. All the wallets that we have listed above have a good enough user interface. Therefore, what's important at the end of the day is that your wallet gets your job done. But one thing is sure that having so many payment gateways with such amazing interfaces help in improving the cashless economy of the country.