The cross-platform privacy-focused instant messaging app signal received millions of new users just hours after the latest tweet from the tech billionaire Elon Musk. The privacy-focused instant messaging app is widely used by security experts, researchers, and journalists until now. But after Whatsapp's new terms of service. Many Whatsapp users prefer signal overusing WhatsApp. The sudden spike in the registration of new users in signal delayed sending out the verification codes that are needed to activate new user accounts. However, the signal stated that it is negotiating with the operators around the world to fix the problem as soon as possible. 
What is Signal?
The signal is a free and open-sourced cross-platform encrypted messaging service developed by the nonprofit organization Signal Foundation and Signal Messenger LLC. Like WhatsApp, the Signal app uses the Internet to send one-to-one and group messages, which can include files, voice notes, images, and videos. It can also be used to make one-to-one group voice and video calls over the internet.
Why the Signal app?
Initially launched in 2018, the signal only uses the mobile number of the user to communicate, unlike WhatsApp and Facebook Messanger which access users' data which makes the signal one of the most secure messaging app. Even the Popular whistleblower Edward Snowden and WhatsApp co-founder endorse and urge people to use the platform.
Sailint Features of signal
Strong End-To-End Encryption & No User Records
Set a Screen Lock PIN On Signal Itself
Hide Messages From Appearing On Your Lock Screen
Verification of You're Talking To The Correct Person
Self-Destructing Messages
The signal is open source
You can run your own Signal server
Signal Overtook WhatsApp in India
We found a group of Tech Enthusiasts in Signal, you can join the group here: https://bit.ly/3s5qOBj
Signal vs WhatsApp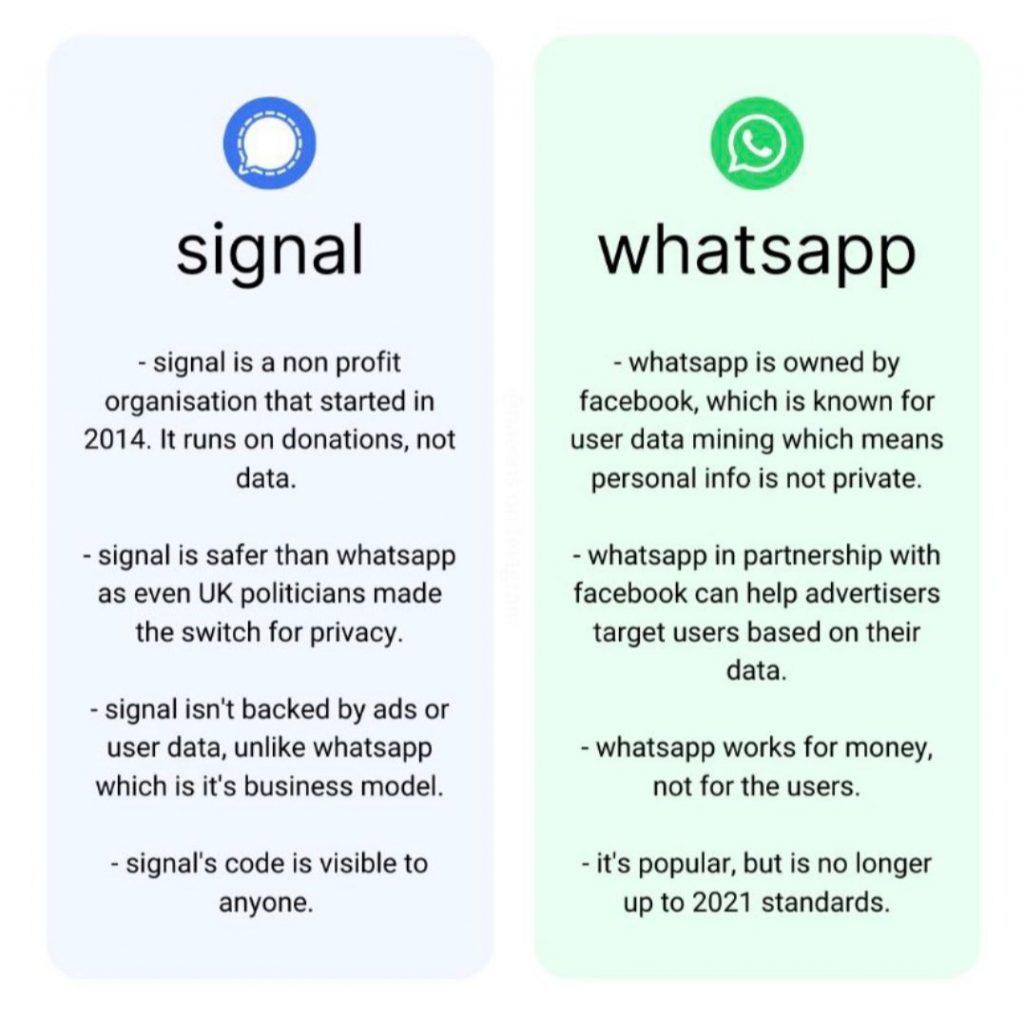 As compared to other messaging giants signal is relatively new to the instant messaging segment of the social media industry. It is certainly one of the most trusted and promising ones. Due to its open-source and nonprofit nature signal seems the app common users can rely upon.
Download Signal App:
So, Are you thinking of switching to Signal App?