As technology improves day by day, the digitalization and use of technology have spread to all sectors. Recently, the business and accounting sector has also seen the increased use of software and technology. From basic invoicing and billing to tax calculations and project management, accounting software is an essential tool for businesses today. Realizing this software requirement in the accounting sector, Whetstone Associates Pvt. Ltd. has introduced a complete web-based accounting software known as SaralBooks.
SaralBooks: A Made-In-Nepal Web-based Accounting Software
SaralBooks is an online process-driven financial management software. By using SaralBooks accounting software, one can track their accounts, inventory, and assets easily. With the motto "Companion for your growth", this is a complete financial management solution for non-profits. As their motto clearly states, this accounting software intends to help grow your organization with support from their expert accountants.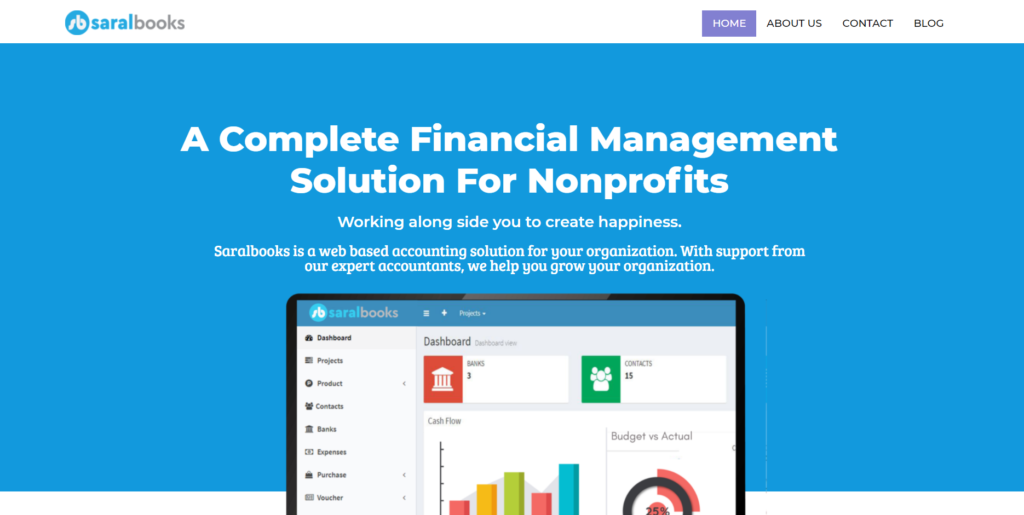 The Story Behind SaralBooks
SaralBooks is backed by a team of Chartered Accountants and IT professionals with over a decade of experience in management and software developments. During the years of experience in the financial consulting sector, they realized the huge gap between the software requirements and those available in the market. They discovered that most software in Nepal focused on accounts without providing any value in managing the organization process.
Furthermore, pre-existing accounting software lacked business intelligence. That's why, to fulfill this gap, they started the development of process integrated suites with the brand name "Saralbooks". SaralBooks is powered by Whetstone Associates Pvt. Ltd.
Top Features and Uses
1. Manage your accounts
SaralBooks claim to save 90% of your time on reporting with Saralbooks Accounts. It also helps to stay up to date with your accounts with its easy-to-use and powerful accounting module specifically designed to manage projects. Activities like online checking and approval, project accounting, handling user access, and managing field office accounts can be easily performed by using SaralBooks.
2. Manage your inventory
By using Saralbooks inventory, organizations can manage their inventory loss. SaralBooks inventory uses a Process-based inventory solution to track your inventory including managing your purchase orders and requisitions. Functions like purchase orders, inventory tracking, goods in and out, and warehouse transfers can be controlled through this feature.
3. Manage your fixed assets
It also helps in keeping track of every asset of your organization with fixed assets management module. Not only you can track your assets but also autorun depreciation and generate reports.
4. Manage your payroll (Coming soon)
In order to make SaralBooks more useful, it is coming soon with additional features. Soon organizations can manage their payroll through SaralBooks payroll management. In near future, the software will possess project-wise payroll and timesheets specifically designed for nonprofits.
About Whetstone Associates Pvt. Ltd.
Formed in 2017, Whetstone Associates Pvt. Ltd. comprises a team of Chartered Accountants and IT Professionals. They have been collaborating to develop full process-based organization management systems in Nepal. Whetstone associates have been helping to build systems that bring change since its inception. They started their development of process integrated systems through the development of a process-based Accounts system for Maiti Nepal, one of the largest non-profits of Nepal in the year 2018. Whetstone has been constantly upgrading and adding modules in its system in order to help organizations grow.