Rolling Nexus, Nepal's first Professional Networking Site is organizing "Rolling Bazaar Subisu Dashain Video Contest" on the auspicious occasion of Nepalese greatest festival, Dashain 2077. The company has come into operation to promote employment and entrepreneurship in Nepal with a mission to support institutional & human capital development with strategic as well as innovative technology-enabled operational solutions maintaining the highest level of socio-ethical standards.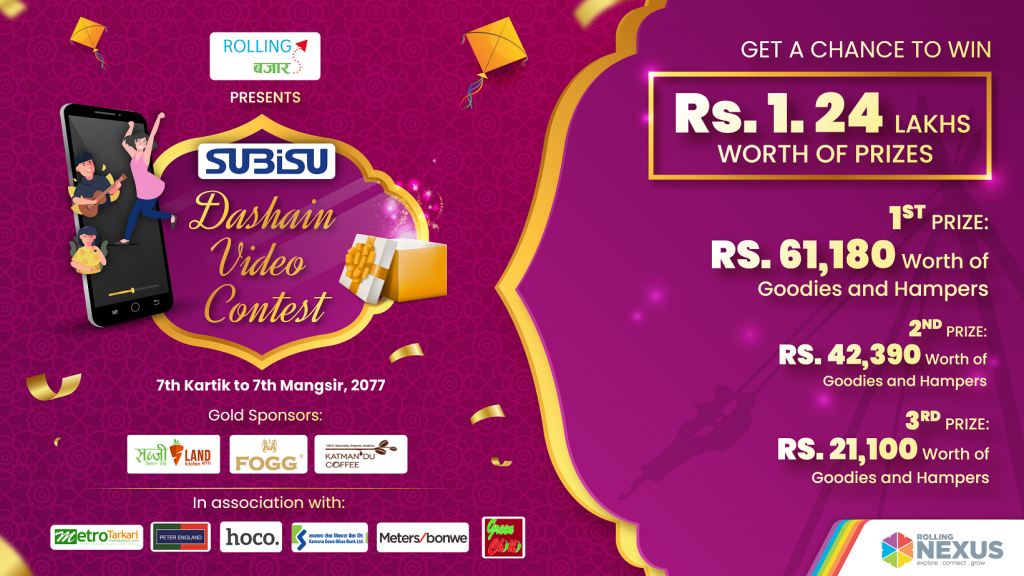 How to Participate?
If you are interested in participating, then do upload any videos of you singing, dancing, or videos highlighting your family having a fun/celebratory time that you have captured on your mobile phone to the Rolling Nexus Contest platform on their official page. All participants will receive a unique contestant number.
The total prize money for the contest is equal to one lakh 24 thousand rupees. The winner will get a prize package of Rs. 61,000, the first runner up will get Rs 42,000 worth of hampers and the second runner up will get a prize package of Rs 21,000 worth of hampers.
"The winner will be the one with the most views, likes, comments and shares on the video", says Pravash Rai, HR Manager of Rolling Plans Private Limited.
You can go to the official site of Rolling Nexus and create your profile to participate. This contest will be held from the 7th of Kartik to the 7th of Mansir. Pravash Rai also informed that the Rolling Bazaar under Rolling Nexus has organized the Subisu Dashain Video Contest intending to make the most fun out of the time spent at home during Dashain and Tihar.
Rules of Dashain Video Contest:
The Dashain Video Contest is open for all Nepali citizens and everyone above 18 years can participate.
The type of video that can be uploaded must fall within the description of "Entertaining" and may include dance, song, comedy, act, vlog, caricature, and talent showcase. It may be a tik tok video as well. It can be an old video or a new video can be made as well but it must be an original video. It can be an individual or group video but the participant who uploads the video must be seen in the video.
To join the contest, the participant should signup on the website here. The video can be uploaded from 7th Kartik, 2077. The size of the video should be between 15seconds to 90 seconds and should be a maximum of 300MB of file size.
After the participant uploads the video on the contest page of website, then friends/family can be invited by the participant to view, like, comment, and share the video. The participant receiving the highest number of views, likes, comments, and shares will win the contest. 3 top-ranked videos will be awarded gifts and hampers worth Rs 1.24 lakhs at the end of the contest.