 After successfully wrapping up the first edition in late February 2021, Revamp Nepal 2.0 is all set to kick off at 12:00 am on 27th August 2021. Originally scheduled to take place on 14th and 15th August 2021 the two-days event was postponed to 27th and 28th August upon an unanticipated influx in the number of applicants.
With the Covid-19 pandemic continuing to take tolls on the global health, economic and social environment, there is rarely a sector that has remained unaffected and has shuttered many small businesses and entrepreneurial ventures. The direct impact of the outbreak can be seen on these start-ups and small businesses to such an extent that many are on the verge of closing. Considering such a grim situation, REVAMP NEPAL 2.0 was initiated to help these start-ups and businesses get back on their feet and has since successfully cemented itself as a crucial event in a pandemic-struck Nepalese entrepreneurial ecosystem.
While the first edition of the event, Revamp Nepal 1.0 was set in a physical venue with around 10 start-ups participants and a footfall of around 400, the second rendition—jointly organized by FiBRO, SaralMind, TechSathi, and Idea Jar Digital—Revamp Nepal 2.0 will be an entirely virtual event that will host around 100+ start-ups active in the Nepali entrepreneurial ecosystem: each providing their best deals and offers.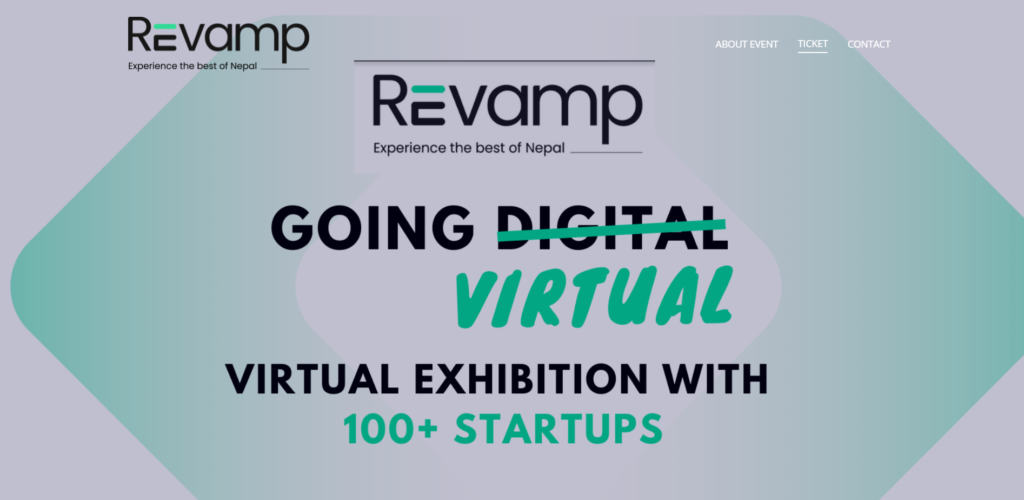 About Revamp Nepal
An exhibition cum networking event, Revamp Nepal features a diverse line-up of ventures, ideas, change-makers, and initiatives currently active in the Nepalese entrepreneurial ecosystem. Revamp Nepal provides a platform for participants to directly connect and interact with prospective customers, clients, and partners, and help them promote their products and services. The event aspires to contribute to the growth of the post-pandemic Nepalese start-up ecosystem.
Visitors can take part in the event through the official website, www.revampnepal.com on 27th and 28th August for free. You heard it right, there won't be any entry fees for visitors to join the event. So, make sure you register today and join the event to take full advantage of the event.