Khalti Digital Wallet has organized a Tiktok challenge competition on Nepal's biggest 10% cashback offer for its customers. Recently, it has announced a cashback offer for its users who could get the maximum cashback up to Rs 100 on mobile top-up.
Regarding this offer, Khalti has invited the TikTok users to participate in this campaign where they could win up to Rs 5000 on making a TikTok video. The best creative videos of the competition will win Rs 5000.
For the convenience of the users, Khalti itself has uploaded a video in its official TikTok. No entry fee is needed to take part in the competition. Similarly, they need to make a creative video on Khalti's ongoing biggest 10% cashback offer.
The campaign runs till 30th August 2021. Only the videos made within this date will be valid for the competition.
How to Participate in Khalti Tiktok Challenge?
The TikTok users can make a video where two characters deliver a message that recharging from Khalti helps to avoid the hassle of scratching recharge cards and saves customer's money from Khalti's biggest 10% cashback offer. They should keep up with the following terms and conditions:
The users must make a video regarding Khalti's biggest 10% Cashback offer
Similarly, they have to post it on their timeline and make it public with the hashtags #Khalti10percentCashback and #KhaltiCashbackChallenge.
The video must be uploaded within 30th August, 2021
Likewise, participants must tag Khalti's TikTok ID in the video
Regarding the campaign, Khalti Digital Wallet's Senior Social Media and Content Marketer, Ms. Rownika Shrestha shared,
"We have launched TikTok challenge on Nepal's biggest 10% cashback offer with the aim of encouraging customers to make digital recharge. We believe this program will help to encourage people to make online payments eliminating the hassle of purchasing and scratching the recharge card"
Know more about Khalti's 10% Cashback offer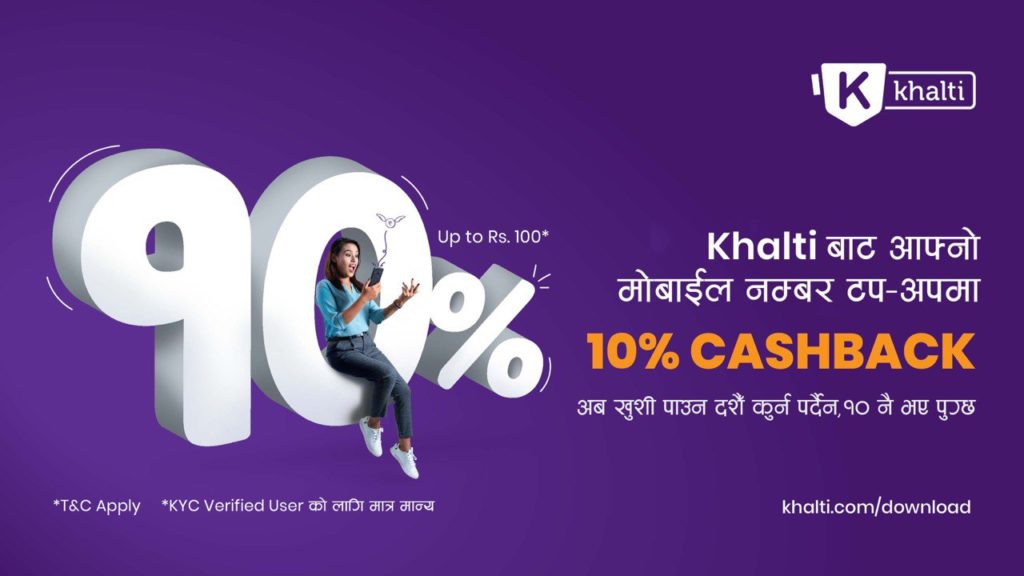 Khalti has introduced many offers time and again to delight its usres. Not only that, but also its attrative UI has acquired more than 1.9 million active users till date. With 50+ member banks and 5000+ Khalti counters, it is providing all the digital wallet services with wide range of payment options. This cashback offer is the highest among other mobile top-up offers till date in Nepal.