 Good news for Khalti users! Now you can get an instant cashback of 10% (up to Rs 100) on mobile top- up via Khalti digital wallet.
Releasing a press release on June 22, 2021, Khalti has announced this offer to encourage its customers to opt for digital recharge on their mobile number on the comfort of their own fingertips.
This offer is applicable for any number under the network of Namaste, Ncell or Smart Cell registered in Khalti. The users must have their Khalti KYC verified in order to enjoy this cashback offer.
Mr Sirish Shrestha, Khalti's Brand and Marketing Manager shared that they have introduced this "mega cashback" offer with the spirit of DIY (Do it Yourself). He added that it would solve the hassle of scratching recharge cards while one could simply top-up on their phone and in turn, get the reward.
Also Read: You can now Receive Money from 50+ countries in Khalti app directly via WorldRemit
How to participate in this offer?
As per the information provided by Khalti, this offer will exist for a limited time only. To enjoy this huge cashback, you should first verify your KYC account in Khalti digital wallet. Then, you can follow these simple steps to top-up recharge your own mobile number via Khalti.
Open Khalti app and tap on "Top Up" icon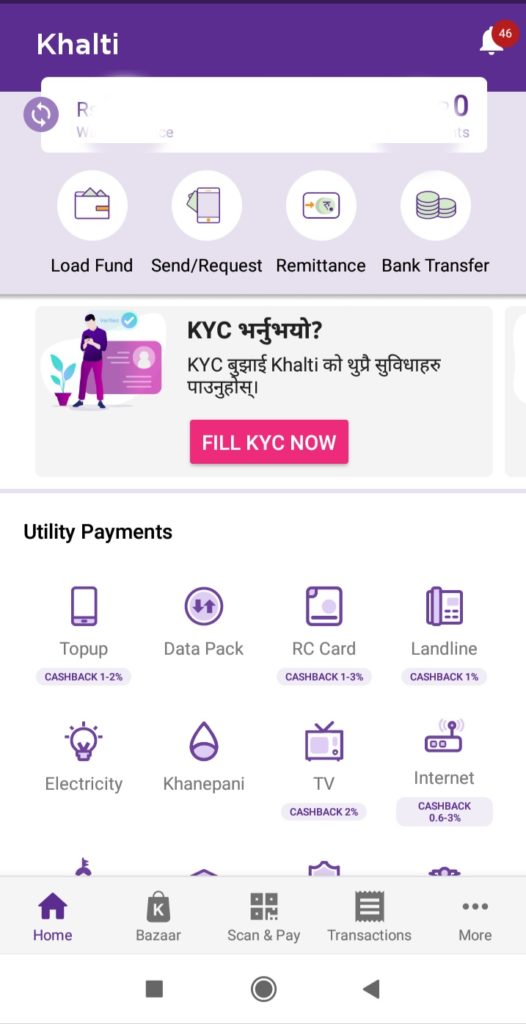 2. Enter your own Khalti registered mobile number and recharge amount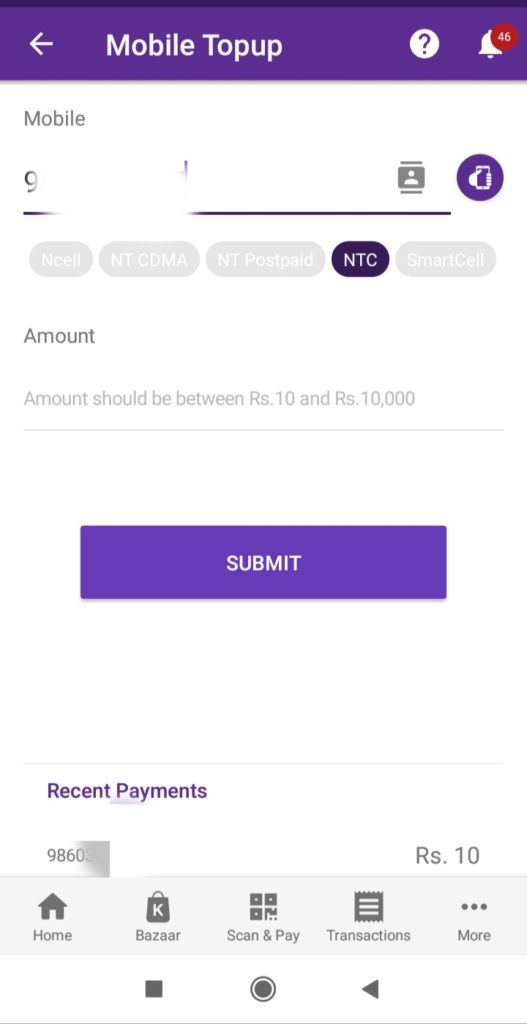 3. Then click on "Done" button and get an instant 10% cashback.
Remember that, you must top up the amount on your own mobile number registered in Khalti wallet. Otherwise, you'll just receive a normal cashback of 1 to 2%.
In addition to that, you might not find the cash back section while recharging but you'll get an instant cashback once your top-up is completed. Moreover, you'll get the maximum cash back up to Rs 100. When the cashback amount exceeds this sum, you'll receive it in a normal rate of 1%.
Khalti Cash Back Offer: Shaping the mobile top-up habit of users
Khalti has never failed to amaze its users time and again. Whether by introducing creative and hilarious memes, advertisements or by introducing amazing offers like these, it has already gained the customer loyalty. Furthermore, its informative sessions like "Khalti ko Kura" and other campaigns have fostered digital financial literacy to some extent. Being the first digital wallet with an open API, it is emerging with more upgrades and updates. And this cash back offer also would certainly acquire more new Khalti users.
Also Read: CellPay Introduces Anniversary Offer: Get a Chance to Win Samsung Galaxy F22
Digital wallets have significantly shaped our habit of recharging our mobile accounts. And with these kinds of lucrative cash back offers, more people are recharging their phones using digital wallets. The traditional method of scratching the cards for mobile recharge will now slowly cease to exist which would save both time and money. So, we hope you'll make the most out of this offer.