 Light, compact, and affordable are the features that highlight the specialties of the newly launched Redmi Earbuds S. But is that it? What else does it offer for the Nepalese consumers being the latest and cheapest TWS buds from a reputable company like Xiaomi? Let us dive into today's full review to find that out.
Redmi Earbuds S: Specifications
| | |
| --- | --- |
| Weight | 4.1g- Each Earbud, 36.3g-Charging Case |
| Driver | 7.2mm with DSP intelligent technology for ANC/ENC |
| Connectivity | Wireless (Bluetooth) |
| Body | IPX4 Dust and Water-resistant |
| Driver Sensitivity | 99 dB @ 1kHz |
| Frequency Response | 20 Hz- 20 kHz |
| Battery capacity | 3.5-4hr (single charge), 12hr (with charging case) |
| Bluetooth® version | 5.0 |
| Bluetooth range | 10 m |
| Charger | Micro-USB |
| Charging time | 2hr (Earbuds), 2hr (Charing Case) |
| Control | Physical Button |
| Audio Codec | SBC |
| Features | Mono + Stereo mode, Low latency mode (122ms) |
Price and Availability in Nepal
Redmi Earbuds S has been available in Nepal from Aug 14, 2020, across all 1800+ Mi offline stores and on Daraz and Sastodeal for a price of NPR. 3,199 and the only color variant available is Black.
Redmi Earbuds S Full Review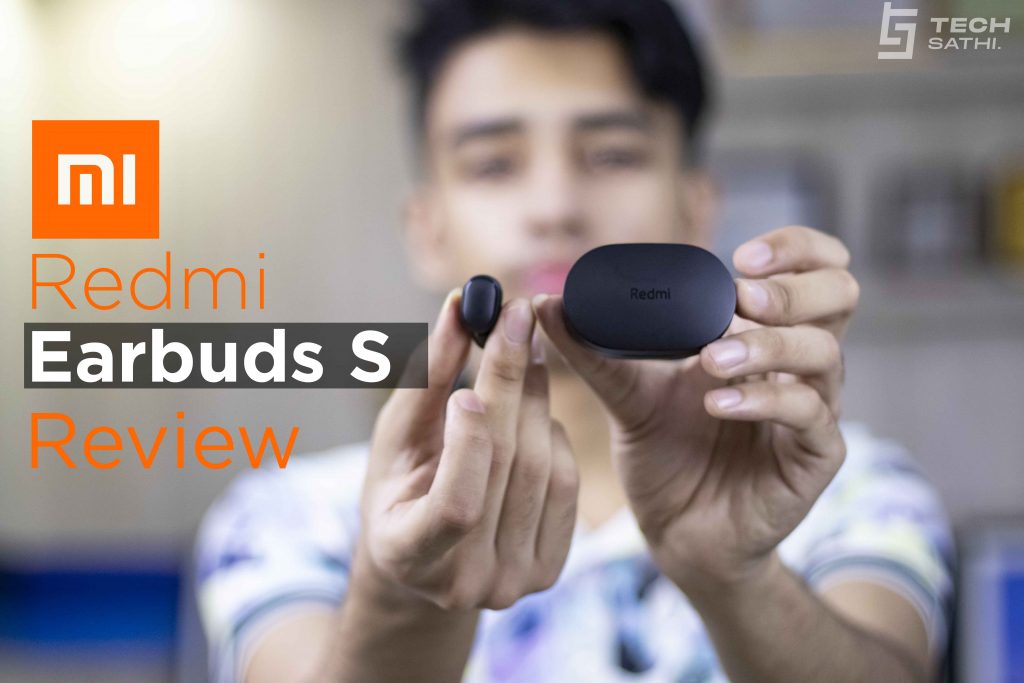 Unboxing
You get the buds inside the power case, two pairs of extra rubber tips, and a user manual on your purchase.
Build, Design and Comfort
Redmi Earbuds S can be considered a slight successor to last year's popular Redmi Air dots in terms of design and specs. The buds come inside a matte finish small and light power case. The exterior part of the case comes with a Redmi logo printed on top while the details regarding the product are printed on the bottom. There is a micro-USB charging port on the backside of the case which is kind of disappointing in 2020 as USB Type-C is already the new game.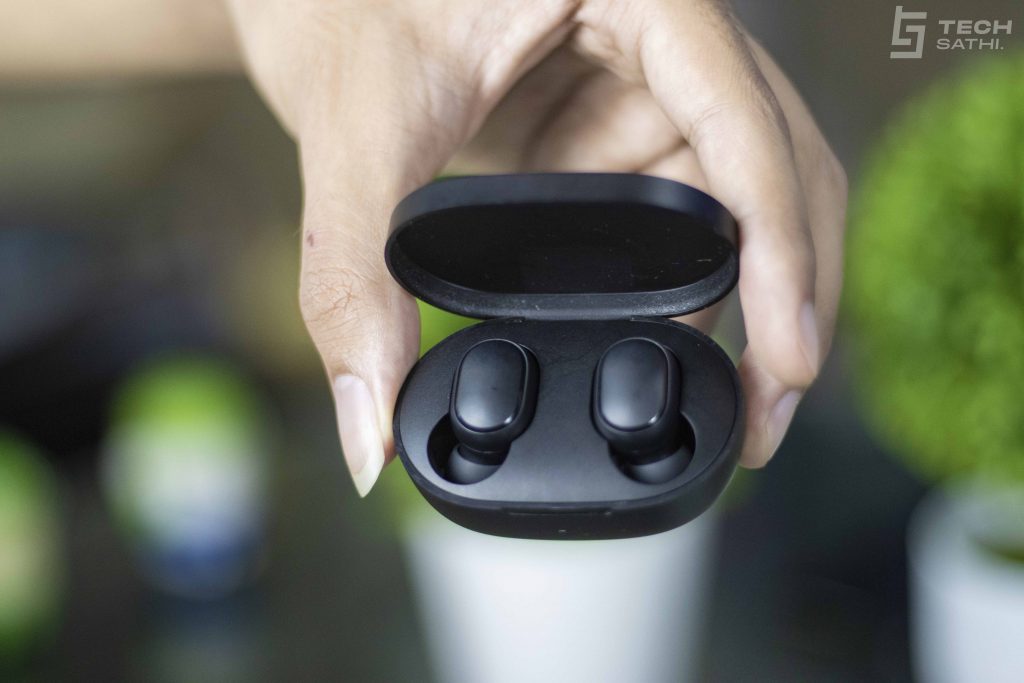 Inside the case are two capsule-shaped earbuds with LED indicator and magnetic charging plate on both. The letter 'L' and 'R' is engraved on the left and right earbud respectively to help you choose the right one. The large multi-functional physical buttons on both earbuds are responsive but pressing them surely causes some discomfort in the ear. There are also accidental button presses when trying to take the earbuds in or out of the ear. Personally, I highly like the touch controls in the Accurate AT- 01 buds which is available around the same price. The buds itself has rubber tip covers and the fit was perfect for me even during jumping and sprinting meaning its passive noise isolation is also good. However, during my long usage sessions, my ear canal became uncomfortable due to the hardness of the bud's tip. The buds are rated IPX4 for sweat and water resistance and they weren't damaged during my excessive sweating workouts.
Sound Quality and Usage
These Bluetooth 5.0 earbuds connect with my phone within 2-3 seconds of being taken out of the case. The buds can't connect to two devices at the same time but being TWS, they can work both in mono and stereo mode. It means that you can use both buds or just one at a time for calls and music as both buds have a microphone in them. The 7.2mm sound driver on these buds only supports the SBC codec which isn't much different when compared to AAC. I am not an audiophile but I do know that these buds have a mediocre sound quality which is expected for this price. The mid and high bass is elevated whereas the low bass is weak. The stereo separation is decent but male vocals sound slightly nasal. Overall, the sound quality isn't a deal-breaker at all. The best upgrade in these buds over last year's Airdots is Game Mode which greatly reduces audio delay during gaming and I can vouch for it due to my tests in PUBG Mobile.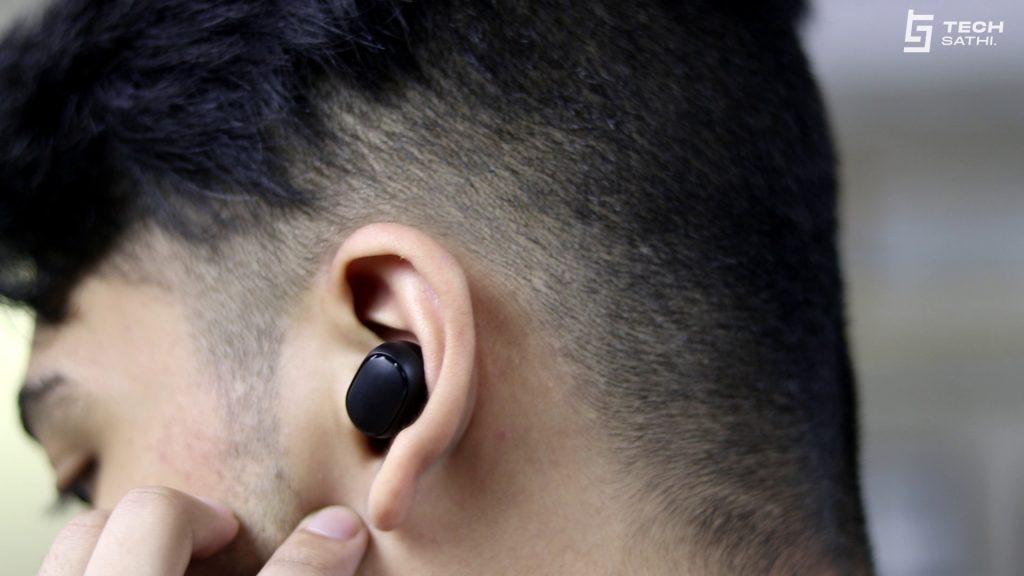 The physical buttons on the buds have a lot of functions which are all explained in detail in the User Manual provided. The game mode can be toggled by pressing the physical button on any bud three times quickly as two times only will summon the voice assistant. Also, I am not going to show the rest of the controls here as they are quite easy to learn but since we have gotten many questions about the buds not connecting to your device after some time or both buds being in Mono mode all the time, I will tell you had to do. To fix this, you will have to reset the buds. The steps to do so are:
Remove both buds out of the case and make sure they are turned off. To turn off, press and hold each earbud for 5 seconds until their indicator turns Red for two seconds.
Press and hold each earbud's buttons for about 15 seconds. The indicator should alternately blink red and white three times twice.
Release the button and place the buds back in the case.
Delete the buds from the list of paired devices in your smartphone and pair them again after taking the buds out of the case.
I hope that helps.
Also Read: Best TWS EarBuds Under Rs. 10,000 in Nepal
Battery Life
During my usage, Redmi Buds S lasted around 4 hours which was reduced to 3 and a half hours when in max volume. With game mode enabled, PUBG mobile can be played for around 3 hours as it takes quite a toll on the battery. For charging the earbuds from 10 to 100%, it took me 1 and a half hours. Though the case has no battery level indicator, I tried my best to empty it, and then charging it to full took me right under 2 hours. The indicator of the case blinks red while charging and turns off once it has been fully charged.
Verdict: Cheapest TWS Buds With Game Mode (PUBG Mobile)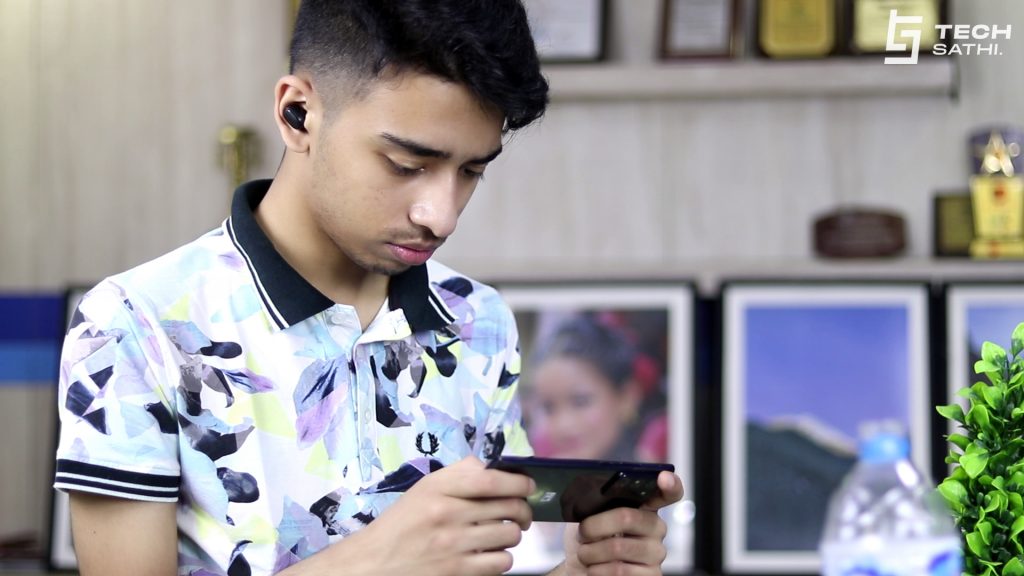 At this price range, only the AT-01 is able to compete with the Redmi Earbuds S. Check out both of our reviews to choose any you like. Also, if are already using last year's Redmi Airdots I would only recommend you upgrade it for that low-latency Game mode. For new buyers, this is the best entry-level TWS buds you can get in the market right now.