 Along with the digitization of Nepali consumers and increasing web services, the e-commerce sector of Nepal is really growing fast. In the urban area especially, the services for every needy thing are given by different e-commerce sites. From International to the local ones, the services are pretty going wide and various. considering this new wave of shopping sites and portals, we decided to list the online shopping sites in Nepal.
Top Five online shopping sites in Nepal:
We have chosen these online shopping sites in Nepal as the top five sites based on the services they provide and customer psychology.
Daraz is one of the most popular markets in Nepal. Daraz is the first name that comes to mind when anybody asks about the online shopping marketplace in Nepal. Daraz offers a huge range of varieties in its marketplace. From home appliances to tech gadgets, wears to wearables, furniture to stationery and so on, Daraz has been the first word to use for online shopping.
Daraz is mostly chosen because of the availability of products and their quality. Recently they have updated their app to include more features. Daraz's delivery and return policy is considered the best and most reliable here in Nepal. It ships products to most of the cities of Nepal.
They offer online wallets like eSewa and Khalti to purchase their product which makes it easier.
Hamrobazaar.com is one of the most popular shopping sites in Nepal among youths as it offers the platform to connect sellers and buyers individually and commercially. Hamrobazaar is which enables individuals as well as companies to list a wide variety of new or used products online. Hamrobazar.com is a great channel for connecting buyers and sellers.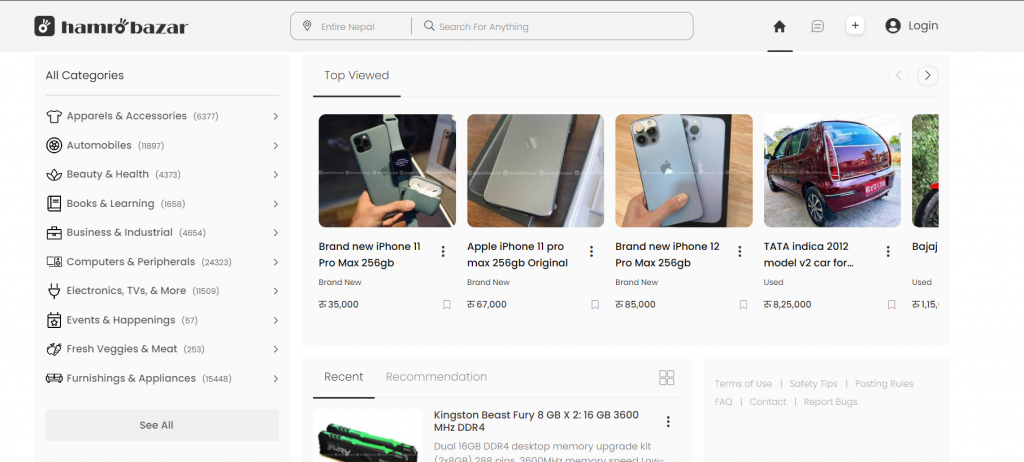 Hamrobazar.com is widely accepted as the solution which helps to list your products for free. When it comes to buying used or second-hand items, Hamrobazaar comes at the top.
Check our story: 3 Years of TechSathi; The Effort to Inform, Aware, and Educate Is Still On
Sasto Deal is also one of Nepal's biggest online shopping websites in Nepal and is also popular when comes it comes to Fashion wear. Often it seems to offer discounts and multiple campaigns also. They have updated their website and also launched their app.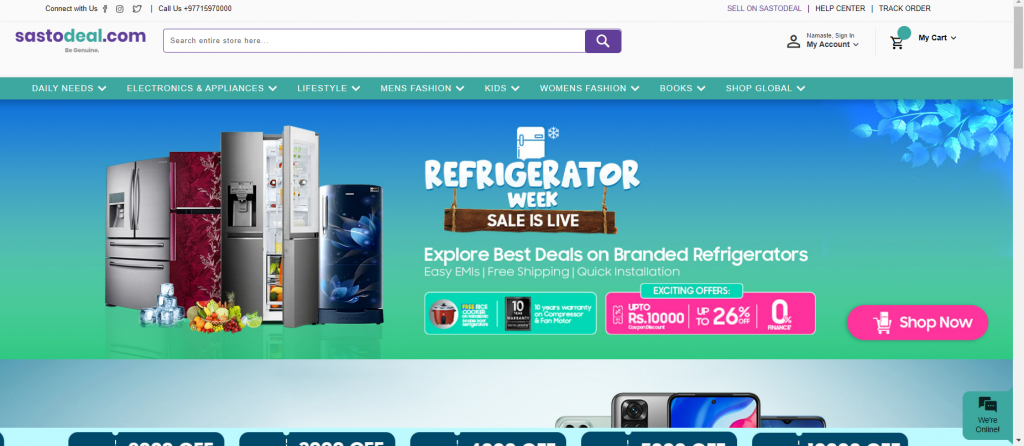 Sastodeal also delivers products to major cities of the country and offers payments from Visa Card or mobile wallets like eSewa, IME pay, and Khalti. As there are still people who prefer Cash on delivery, they have this option as well.
One of the interesting facts about Sasto Deal is they have partnered with Flipkart, the popular e-commerce site in India to provide services and products in Nepal with authenticity and quality.
Gyapu Marketplace is the fastest-growing e-commerce start-up that we can say while mentioning online shopping sites in Nepal. The company was launched during the peak of the COVID-19 pandemic in Nepal. The reason that makes Gyapu count in one of the emerging e-commerce in Nepal is their convenient service and product variation. The company deals in many categories and products including various options in consumer goods like electronics, computers, groceries, laptops, mobiles, smartphones, gadgets, home appliances, beauty, fashion, health, fitness, sports, and more.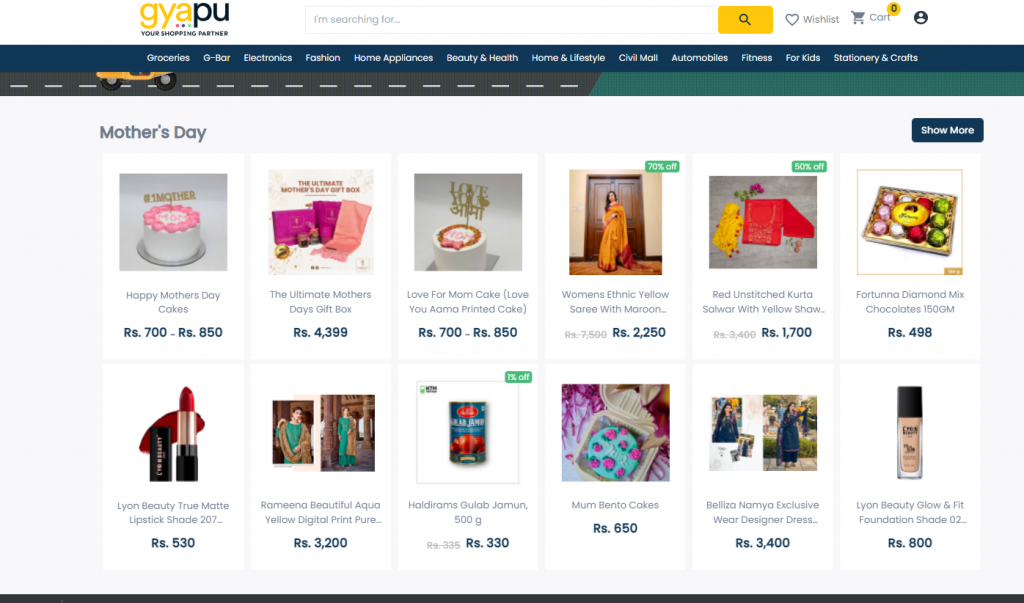 The e-commerce platform offers customers a hassle-free return and exchange policy as well as wide modes of payment options to choose from including e-Sewa, FonePay, all International and Domestic credit/debit card payments, IMEpay, PrabhuPay, CellPay, Khalti, ConnectIPS, and cash-on-delivery.
Smartdoko.com has something a convenient name for e-commerce among Nepali consumers. Smartdoko has been considered one of the searched online shopping portals as it offers the widest range of genuine products from 18 different categories and numerous sub-categories whereby the customers can enjoy hassle-free purchase of over 10,000 products which is now just a click away from reaching their doorsteps.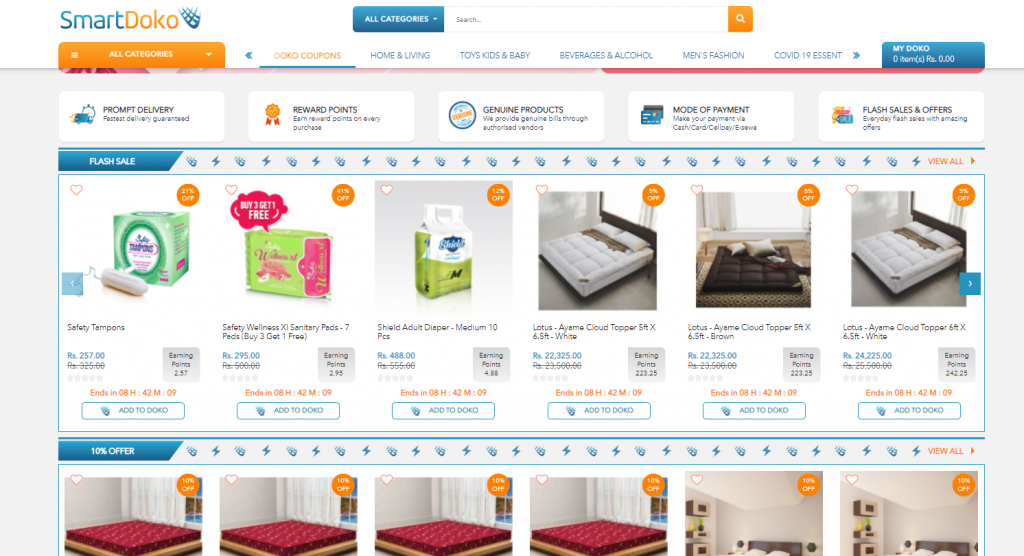 Smartdoko also uses various unique selling propositions like discount coupons, Easy Returns, and many more for customer engagement.
The internet and internet-based services are in the race to kiss the peak with the increment of Digitization. And e-commerce is obviously the crucial thing to make feel people about their services. The best thing about online shopping in Nepal is it is going as an interesting competition and takeover with multiple offers and services. overviewing the general stats and trends, we can say Daraz is really leading this category.