 Revamp Nepal 2022 was originally ideated to help uplift the Nepali startups that were heavily affected by the first wave of Covid-19 pandemic. Since then, Revamp's second edition, Revamp 2.0 also took place as a virtual exhibition of 100+ startups. Following the great success of both of the events, the organizing committee is also conducting the third edition of Revamp Nepal this Saturday, 30th April. The event will be held at Chaaya Center, Thamel. This time, the event holds one strong and true motto – #StrongerLocalEconomy.
Like every year, Revamp Nepal 2022 also holds the same objective that is to create an open space for all the startups to interact and communicate with their potential customers, clients and partners and promote their services or products.
Who are the Partners for Revamp Nepal 2022?
Unlike last time, the event is going to be held in physical spaces this time. Here is the list of organizers and partners for Revamp Nepal 2022:
Co-organizers: Fibro & IdeaJar Digital
Payment Partner: CellPay
Insurance Partner: Himalayan General Insurance
Knowledge Partner: Phoenix International College
Logistics Partner: Upaya: City Cargo
Internet Partner: Subisu
Investment Partner: Reliable Virtual Capital
Cloud Training Partner: Genese Cloud Academy
Reading Partner: KitabYatra
Legal Tech Partner: Mero Adda
Influencer Partner: Up Trendly Media
Technology Partner: SysQube Technology
Food Partner: The Denise
Multimedia Partner: Artseum Productions
Celebration Partner: Oho! Cake
Associate Partner: Tigg
Registration is Still Open!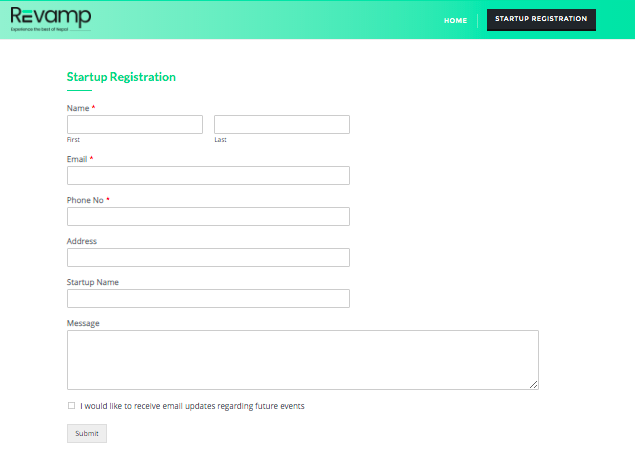 If you are currently running a startup and would like to be a part of Revamp Nepal, you can still register as one of the participants. For that, all you have to do is fill the registration form which is available in the official website of Revamp Nepal – revampnepal.com
Benefits of Registering your Business in Revamp Nepal –
Interact and meet potential customers and partners
Gain recognition from the startup community
Exhibit best deals and offers on your products and services
Make yourself known in the crowd
Revamp is FREE for Visitors!
If you are keen to learn about the growing startups and businesses in Nepal, Revamp Nepal 2022 could be your thing. You do not have to pay any entrance fee in the event and it is absolutely FREE. Exciting right?
You can visit different stalls, get to know about the journey of startups and businesses, interact with other visitors and enjoy the event to the fullest and make the most out of the holiday this time. Mark your calendars, because Revamp is all set to kick off on 30th April.
Also Read – 3 Years of TechSathi; The Effort to Inform, Aware, and Educate Is Still On