 After a long wait in pandemic lockdown, the Department of Transport Management (DOTM) enabled the form for an online driving license form on 2077-09-10. Since then, users have complained about the official site being down and not being able to submit the form for various reasons. To protest against the negligible effort of the government towards the maintenance of the server, Nepalese people have started a trend on Twitter with #UpgradeDoTMserver.
some of the tweets are as below
आइतबारदेखि बुधबारसम्म बिहान ६ देखि राती १० बजेसम्म लाइसेन्सका लागि अनलाइन आवेदन फाराम खुल्छ भनेर अनेक बहानामा सर्भर नै बन्द गरिदिने जहिल्यै ?#upgradeDOTMserver

— कोइराला बाजे ?? (@koirala_baje) January 6, 2021
सरकारी वेबसाइट बनाउन करोडौँ खर्च गर्ने सरकारले ती वेबसाइट #Maintain गर्न र #Functional बनाउन सर्भर #Upgrade गर्न किन नसक्ने?

कपडामा मसीले लेख्न छोडेर #Flex छाप्दैमा देश #Digital हुँदैन। खोइ #DigitalNepal?#upgradeDOTMserver https://t.co/PoG4mpjR40

— Barking Guy (@BarkingGuy) January 6, 2021
Everyone is facing the issue with the DOTM server so please tweet in Twitter mentioning #upgradeDOTMserver so that we will trend today in Twitter and all mainstream media will cover and the government will answer and give the solution.

— Kunal Sah (@DigitalKunalSah) January 6, 2021
Nepal Goverment is using the slogan of "Digital Nepal" but we still don't have robust server of very essential and used service 🙁
Are we daydreaming??
Everyone is facing the issue with the DOTM server so please upgrade it asap!#upgradeDOTMserver

— Bibek Dhakal (@bibekdhkl) January 6, 2021
??: I usually wake up at 6 for jogging.

??: ६ बजे उठेर licence फारम भर्नि हो !! ??#upgradeDOTMserver

— SUDEEP (@WagleSudeep) January 6, 2021
लाइसेन्सको फारम भर्ना भन्दा सजिलो त बरु ट्रायल कटाउन नै होला।#upgradeDOTMserver

— Lone aLpha (@lonealphaa) January 6, 2021
6 बजे भनेको देखि खुल्छ भनेको यातायातको license form ७ बज्दा सम्म siteनि खुलेन किन होला ? यसरी जनता लाइ झुलाएर बिचौलिया कहिले सम्म पाल्ने ? ६ बजे भने पछी ६ बजे किन नखोल्ने ? सधै site down जनताले किन खेप्नु पर्ने ? जनताको कर काहा उपयोग हुदै छ ? #upgradeDOTMserver

— Bedbyas Pokhrel (@bedbyaspokhrel) January 6, 2021
An Effort To Ease "Online Driving License Form" Processing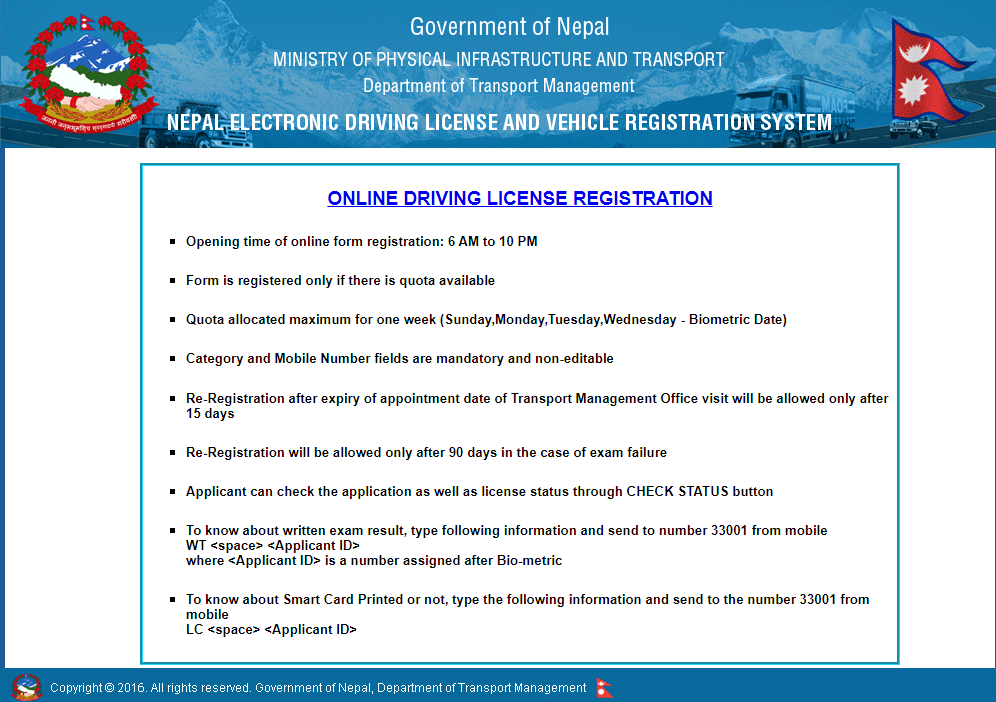 Digitization is a must in today's situation regarding the safety measures. It has made form filling process easy where you can fill your own form at home without hassle of being in queue for hours.
But, for long time now, due to overflow of traffic in official site, users has not been able to submit online registration form for acquiring license, which is really frustrating. You can submit it between 6-10AM in the morning. As seen on past, the form fill up quota used to quickly exceed. That's why applicants had to fill it quickly in first hour. As of now, the website isn't responding for the most part and even down for some time. Regarding the effort of government, DOTM published a notice regarding site server upgrade on 2077-09-20 but that doesn't seem effective for now.
To pressurize the government and DOTM for quick action regarding the server, #upgradeDOTMserver is trending on Twitter with the effort of youths of Nepal. You can also tweet using the hashtag to support the protest in hope that they update their servers to handle incoming traffic better.
For now, you can try to fill up an online form through the official website of DOTM here. For more information on the online driving license form, visit the official website of the Department Of Transport Management. The maximum quota is available on Sunday, Monday, Tuesday, Wednesday. So, you can try to fill it up during the mentioned days to maximize your chance. If there is no quota available you will get a notification as below.