Offermandu is a one-stop destination for acquiring all of your favorite offers and deals from all platforms across Nepal.
Offermandu promotes businesses, their services, and offers with the use of innovative depictions and memes, enabling people to acknowledge the offers in a meaningful and interactive way. Furthermore, they also post information about national and international scholarship giveaways and contests to inform the public about prospects in a single platform. It occasionally posts about deals from different brands, businesses, including those from outside the country, so that individuals don't have to search for the respective company's page or website or wait for it to surface in their feed.
Offermandu: One-Stop Destination for Offers and Deals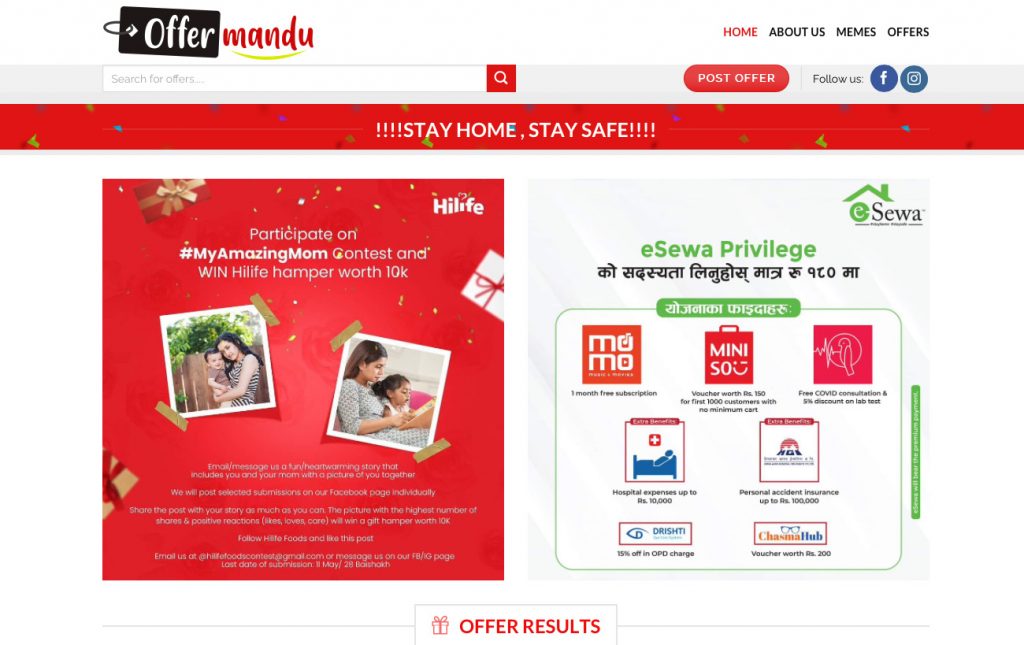 The Offermandu website has various categories with special offers on top and many other offers as per the subgroups, which include scholarships and competitions, an automobile and electronics segment, giveaways, online shopping division, entertainment and communications, banks, and online payment channel.
Also Read: Kabaadii: A Creative Platform for Nepali brands to promote their Products and Services
The concept of opening an online platform started when the CEO noticed that several deals and opportunities were being skipped by potential customers due to the absence of a standardized offer posting medium, which made prospective customers aware of offers and deals proceeding around them. In addition, he observed that businesses are overspending on advertisements simply to inform the public about their offerings. This made him realize the importance of a platform that displays all the best deals, offers, coupons available on multiple online platforms.
In a conversation with the CEO and founder of Offermandu Bijay Poudel, we got to know-how over the period of three months, Offermandu went through multiple pilot phases until the team was satisfied with the final mode of operation. Offermandu's official website and Facebook page were officially launched in February 2021.
Offermandu's CEO started his journey in building this virtual platform with 2 of his colleagues. Now they have a team of 4 members with 2 memers to help with the online marketing efforts. Being Nepal's only platform for fostering offers and incentives to the public, it intends to reach out to every customer who is in constant search for deals on products they want to purchase, which ranges from basic household products to luxurious products on the website.
The CEO also mentioned how he and his team aspires to use social media to engage as many Nepalese as possible. He also shared their plans to expand their reach and platform to India as Offerhindstan by December 2021 and to the USA by December 2022, both of which they already own domains for.
Online startup platforms like this play a significant role in bringing change in the way Nepalese people shop and correspond to innovation and technology. Offermandu serves a critical part by providing a reliable source of information while also granting consumers deals and resources that they don't want to miss out on. Visit Offermandu's website to be associated with the family of Offermandu and be informed about all sorts of offers and deals happening around you.