 Everybody knows about Nokia. It's a fact. Probably almost all of us have used it once in our life. Though Nokia almost disappeared for some time, it has again started to stand and has been adding products continuously adjusting with the current technology and innovation. For durability and reliability, Nokia phones are always praised. The Nokia phone was among the loved phones and still, people use it as a secondary phone. People sit around with Nokia bar phones in their pockets and attend the calls. Though in the new innovation, Nokia has brought a bar phone with earbuds where charging of earbuds is built within in the rear panel of the phone. Today, we will analyze Nokia 5710 price in Nepal, specs, and features.
Nokia 5710 Key Specifications: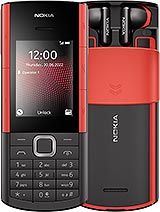 5.47 x 2.27 x 0.64 inches body
129.1g Weight
2.4 inches TFT LCD Display
240 x 320 pixels screen resolution
Unisoc T107 Chipset
1450 mAh Non-Removable Battery
Bluetooth 5.0
0.3 MP Camera
Built-in wireless earbuds housed beneath a slider; charging from the phone
2G, 3G, 4G Networks
Black/White, Red/White Colors
The phone has a minimalistic and attractive design but the center of talking is the earbuds it has hosted in its rear panel with a built-in charger in the phone. We can see, that the Nokia 5710 has a focused audio section. The innovation has constantly been evolving and the scene of earbuds housed beneath a slider surely is a new thing to see.
However we can assume its portability and it surely presents the new and pretty good design on the bar phones, while all of them have been same boring designs. It will be good to experience a new functionality and good-looking design. Additionally, The phone carries almost the same specs as the bar phones with a keypad that consists of alphanumeric + functional keys. Mentioning some additional specs, it features 2.4 inches TFT LCD Display with 240 x 320 pixels screen resolution. It has a 0.3 MP camera with LED flash whereas the phone will be fueled by a 1450 mAh Non-removable battery. Since it is a bar phone, it will have no issue with its portability. We can expect this phone in Nepal at around NPR 10,000.
Also Read:
Watch iOS 16 Review: