 Ever wondered if you can send money from one digital wallet to another digital wallet? It is soon being possible in Nepal.
NCHL has introduced the NEPALPAY Instant where you can send money from your connectIPS to any linked bank account, available mobile banking, or digital wallet of the recipient. This is one additional step in the implementation of the National Payment Switch and enhancement of the existing Retail Payment Switch.
This way, you'll find three network options- bank, connectIPS, and PSPs/wallets to send money to your recipient using NEPALPAY Instant in connectIPS.
NEPALPAY Instant facilities interoperable transfers and settlements in real-time
First of all, let's know about interoperability. Interoperability is the function in which any licensed digital payments system, mechanism, or instrument can link to another licensed system such that the API of them are interconnected and customers can access one platform through another one.
It means you have the freedom to choose which platform to use when you are carrying out financial transactions from one system, to another system.
Currently, there are PSPs, PSOs, wallets, QR, cards, and mobile banking systems under the payment eco-system in Nepal.
Nepal Rastra Bank had issued a circular on February 4, 2021, directing the PSPs, PSOs, and other payment companies to facilitate interoperable transfers. In that circular, it has named the following payment systems and instruments that can opt for interoperability:
Retail payment systems like mobile banking, mobile wallets, QR-codes etc.
Other member institutions under retail payment systems
Any retail payment systems declared by NRB time and again
Moreover, it has given the ultimatum of 6 months i.e. the end of July to integrate the interoperability function in their system. Following the suit, Khalti has integrated FonePay QR in its QR code payment system. Similarly, it has also integrated corporatePAY by NCHL where you can make business payments through Khalti Payment Gateway.
NCHL's NEPALPAY Instant and NEPALPAY Request and NepalPay QR are Offering interoperable payments and settlements in real-time under National Payment Switch (NPS)
National Payment Switch is the system/function implemented by NCHL to promote interoperability between payment systems like QR codes, cards, mobile banking, PSPs, and wallets. Nepal Clearing House Limited (NCHL) has implemented the NEPALPAY Instant and NEPALPAY Request options in connectIPS to enhance the National Payment Switch. Similarly, NepalPay QR is a feature that facilitates you to send money directly by scanning QR codes.
NEPALPAY feature in connectIPS enables you to try 3 different ways to send money apart from direct bank transfer. Now, you can send money to even wallets, mobile banking, or linked bank accounts using connectIPS. Previously, you could only send money or transfer funds to the linked bank accounts or either load the wallets.
How to send money using NepalPay instant in connectIPS?
You can access this service through the web application of connectIPS.
You can go to www.connectIPS.com and log in to your account.
Then, go to the homepage and click on the NepalPay Instant button under Fund transfer. You can either find it directly on the screen on the website.
In the mobile app, you'll need to swipe left in the fund transfer option.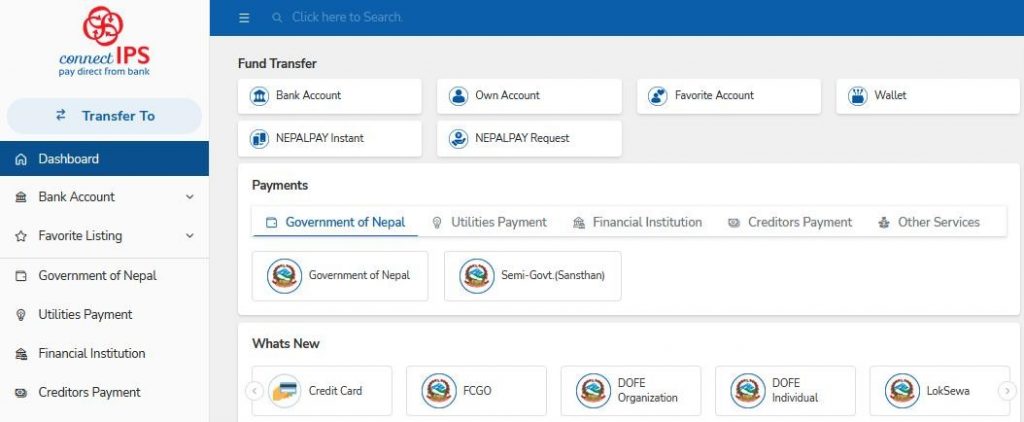 As you can see in the image above, there is the option for NEPALPAY Instant in the fund transfer section.
Then, in NEPALPAY Instant, you'll need to enter sender details like account number, transaction amount.
In the beneficiary details, you'll need to select network/ banks to which you are going to send money.
Among the networks, you can select among PSPs/wallets, mobile banking, or connectIPS.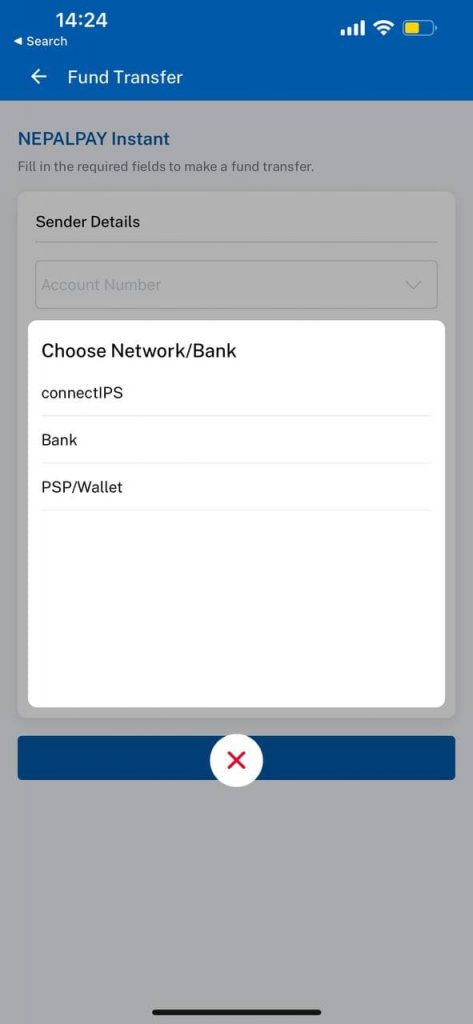 1. While sending money to PSPs/ wallets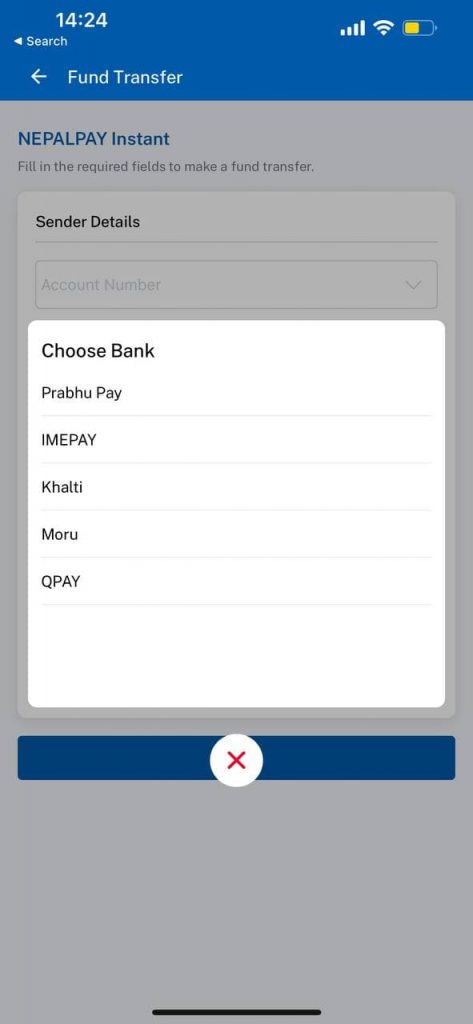 You'll need to choose the PSPs/ wallets of the beneficiary where they are receiving.
Among the destination wallets, you can choose either to send directly money from your connectIPS to PrabhuPay, IMEPay, Khalti, Moru, or QPay wallets.
2. While sending money to mobile banking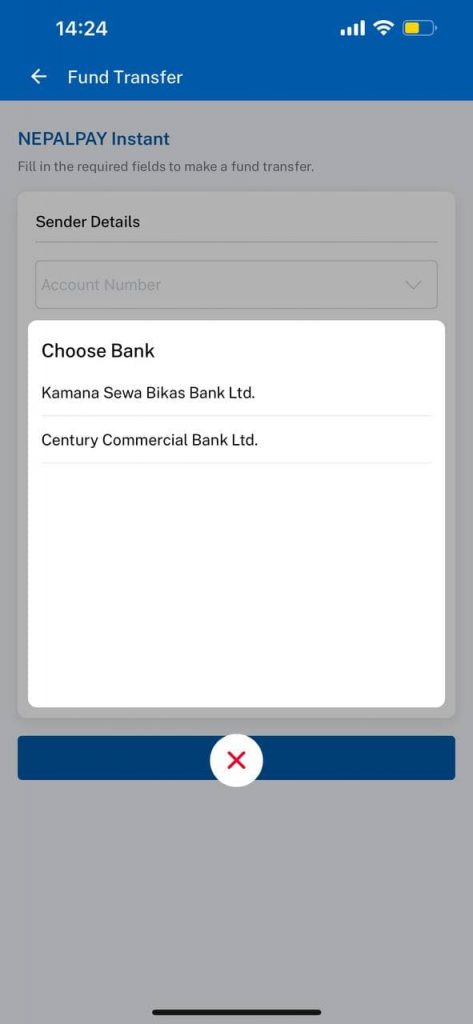 You can choose to send to the mobile banking from connectIPS directly from this option. It means the receiver's account is not necessary to be linked to the connectIPS. You can choose between Century Bank Limited and Kamana Sewa Bank Limited as of now. As per the officials of NCHL, other banks will also be added soon.
3. While sending money to connectIPS
This is similar to the bank transfer option which is already available since the inception of connectIPS. You can transfer money to the primary bank account of the receiver.
In this way, you can choose which network or bank to use while sending money to others and enjoy the interoperable payment feature.
Additional Developments by NCHL to Strengthen Interoperable Transfer
Besides these developments in the systems under NCHL, there are other add ons which are making the transfer of money easier than before.
#NEPALPAY Request where you can request for fund transfer to the sender
NEPALPAY Request is another new development by NCHL where you can send requests to your sender to send money through connectIPS. You can both receive and send requests in connectIPS for funds transfer or payments.
#Choice between fixed or variable amount to send
In the NEPALPAY request, you can choose a fixed or variable amount to be received from the sender.
For example, if Sachin sends a request to Sabina through NEPALPAY Request to send him Rs 50, Sabina can send Rs 50 only through the "Fixed" option. On the other hand, she can send more or less than Rs 50 through the "Variable" option. This option is available to the money receiver who requests the sender through NEPALPAY.
Moreover, you can check the status of requests received and request sent. This is a new feature for the first time in Nepal where you can request money in paisa too.
How is it possible for NCHL to integrate wallets, PSPs, and mobile banking systems?
NCHL is a PSO promoted by Nepal Rastra Bank itself and other BFIs. It is the operator of the National Payment Switch, which is the most awaited facility as per the Digital Nepal Framework. Under this national goal of interoperability, National Payment Switch is integrating major payment systems in order to provide a common payment platform for the users. This would reduce the hassle to download many apps for single purposes and all since they are still not interoperable.
Since it is promoted by major banks, the banks can easily accept their network infrastructure. There are more than 60 BFIs already connected to its connectIPS e-payment system. And the popular wallets are also integrated into its system. Hence, it has the ability and resources to integrate major platforms into the system of National Payment Switch. In addition to that, it is doing so as well.
With the new add-on of NEPALPAY Instant, NCHL is all set to drive the digital economy along with the coordination and integration with other payment systems for the greater good. This will ultimately. benefit all the users, payment systems, BFIs, and the government by the proper utilization of digital payment systems.
Also read: Why did NRB reduce the daily per-person domestic remittance limit?