Nepali Patro, as the name suggests, is a calendar app. It is catered to serve basic calendar functionalities. It comes along with additional features such as news feed. I and many Nepalese basically use it to check Nepali dates, festivals and other major events. Nepalese are using it to view public holidays and much more. It also lets you choose between Nepali and English Language for basic interface.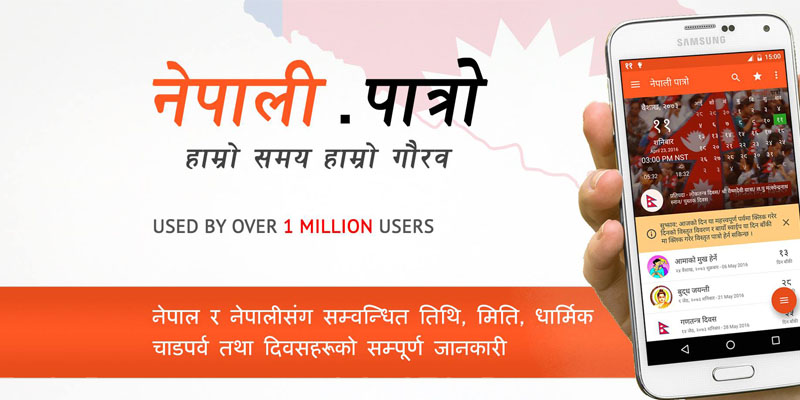 Why should you install Nepali Patro?
Well, a calendar is a part of daily life for everyone. But what sets Nepali Patro apart is that it lets you add your events to the calendar and shows everything in Nepali format of dates. It is customized as per a typical Nepali's needs. It offers you basic things you find on a normal calendar along with a date converter, Rashifal (Horoscope) section, Foreign Exchange section, Suva Sait, and a news section.
Major Features
Calendar
Primary feature of Nepali Patro is that it provides calendar in Bikram Sambat with corresponding dates in AD. The app also provides events associated with the dates in the calendar.
Complete Festivals, Events and Government Holidays
The app provides information on Nepali festivals, calendar events with some history about the event with tradition to celebrate festivals.
Panchanga and Suva Sait
Panchanga provides informaion on auspicious time to initiate religious events and Shuva Sait for doing major tasks.
Rashifal
Provides Daily, Weekly, Monthly and Yearly horoscope as per Nepali Horoscope, i.e, Lunar Calendar.
News and Exchange Rates
The app keeps you updated with current News sourced from various News portals based in Nepal. Besides this, the app will provide you updated foreign exchange rates.
My Events
We can also add reminders for personal events; make it one time or repeat as per Bikram Sambat calendar. Using this, I've added birth days of all my family members to repeat every year and added multiple notification like "Buy gifts" notification before 7 days at 2pm and "Place order for cake" to notify before 2 days at 9am before the birthday.
Look and Feel
I currently have version 5.0.2 of the app installed on my One Plus 6T. I find the app interface pretty intuitive. The design is good, nothing extraordinary. But it is not hard to get comfortable using it after a while. I would prefer an option to customize the color as deep orange is not my personal favorite. But I do understand why it looks the way it looks.
Platforms
Nepali Patro app is available for both Android and iOS devices as well as a web version. It is also available for Mac and PC. On top of that, they also have a Chrome and Firefox web app.
To view the list of all their apps along with social media integration: Click Here
Other Apps from Nepali Patro Team

Conviction
For Nepali Android and iOS users, Nepali Patro is a must-have calendar app. Although it looks and sounds perfect, they have their own glitches and inconsistencies too. However, the app seems to be getting better with each update so that can be considered. I can't think of any other Nepali calendar app that is this smooth on my device.

User Ratings (

6

Votes)

6.3