In recent days numerous people are stating about the buffering issue of the internet in social media and all the social media posts of ISPs are also filled with complaints of slower internet speed after 6 PM . Today we will try to go into deep into this and find out some reasons, by the way, the article writer is not a network specialist so some data may be incorrect and this post will go through multiple edits if some correction is sent via network specialists.
How does the Internet really work?
When you enter any website or try to search for any content on the internet then your device sends the request which goes via a different procedure and searches in the DNS record, For example, all the government website is hosted in Nepal so it goes through NPIX and hits the Nepali server located at singh durbar , but if any website is hosted outside the country then isp search either its hosted in Nepali CDN or not? if hosted in Nepali CDN then they feed you from CDN otherwise they send the request to the nearest server or to the minimum server near Nepal.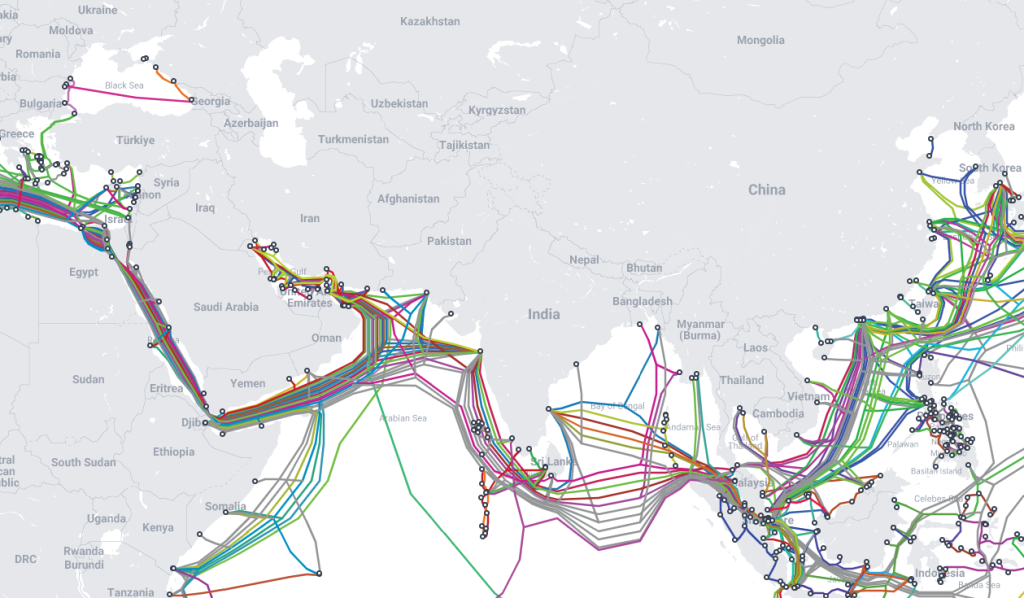 What's the status of the number of consumers of ISPs in Nepal?
As per the registered data till Bhadra by Nepal Telecommunication Authority, There are Total of 2,253,115 Fiber Internet connections in Nepal. Among them, Worldlink is at the top Then Nepal Telecom, Vianet communication Dish media, And gradually ahead.
Speed test shows the Actual subscribed speed but why internet runs slow?
As we have already discussed In speedtest.net there is an option to choose the location of the server, when you asked about the slower internet somehow they showed the same speed test and they make to believe you that the internet was working fine, but the reality is that's the speed within the country or in the local server which was their own server.
Why ISP doesn't it provide sufficient international bandwidth to users?
See this is a long story but let's try to summarize it, the Internet is free for everyone but we are paying for the infrastructure, as we are a landlocked country we don't have access to submarine cable so we have to pay for the bandwidth directly to the Indian company like tata, airtel which costs around 4 to 8 dollar per MBPS, remind once 400 TO 800 RS per MBPS, but now due to high competition they have to decrease the pricing of the package of the internet and have to increase the package size also so to make the proper benefit and to run the operation smoothly they start caping on international bandwidth.
Why after 6 pm?
See after 6 pm everyone comes homes and starts surfing the internet due to which the traffic increases drastically and it goes out of the control from isps , neither they can add surplus bandwidth for that time neither they can control the situation then they start saying random reasons to customer which then customer speaks in social media . The below graph also shows the usage graph or behavior of the internet usage in nepal .

Why Tech savvy only feels slower internet but not their family members?
As we already know how the internet works, Your family member mostly uses Youtube, Tiktok, and Facebook, whose CDN (Content delivery network ) Is available in Nepal due to which isp can provide sufficient amount of such speed to the user so your parent does not have to face such issue, but tech-savvy used multiple sites in the loop regardless of server location. If there comes the talk of international bandwidth then companies starts showing their face so tech savvy feels the issue in the internet.
Does Bandwidth is only the reason?
It's the topic of debate but it's not 100% sure also it depends on isp to isp also how they have managed that bandwidth and how their installation has been done. If isp has a surplus amount of international bandwidth available but also users are feeling issues then there might be issues in the isp system and management of bandwidth and their devices, but if everything is fine but bandwidth is not surplus then yes there is an issue in the bandwidth which should be upgraded.
How much bandwidth does literally does Nepali isp buy?
As of now techsathi don't have actual data but taking the reference of another news portal like techpana below is the data how much bandwidth does ISP buy?
| | | |
| --- | --- | --- |
| Company | Bandwidth | Total number of customer |
| WorldLink | 400 Gbps | 681944 |
| Nepal digital service | 200 Gbps | Supplies internet to many companies |
| Subisu | 180 Gbps | 236831 |
| NTC ( GSM + fiber ) | 175 Gbps | 291284 + 20,319,968 (Num of data user may differ) |
| Ncell (GSN) | 140 Gbps | 87,31,252 ( Num of data user may differ) |
| Vianet | 130 Gbps | 240729 |
| Classic Tech | 60 Gbps | 242618 |
| Dish Media | 40 Gbps | 155257 |
| CG Communication | 15 Gbps | 36023 |
| Mercantile Communication | 2 Gbps | 2088 |
Many isp share Bandwidth with each other which you can search on the internet, so let's not battle on this data but NTA should investigate on how much they are buying and selling.
You may love to read : Toll Free number of Your isp 
What will be the solution then?
See if we need a solution in this matter we think everybody should be aware and raise their voice against them.
1) What consumer can do?
-) Confirm their power level is below -25 db
-) Complain regularly in the government portal
-) Dont trust local speed funda
-) should invest on infrastructure if needed, should have a good coverage
2) What isp can do?
-) Plan some separate plan for users like us with a bit higher price
-) Manage the bandwidth properly
-) Should avoid the refurbished onu/ont .
-) continuos free calls to support until they don't solve your issue
3) What NTA should do?
-)Plan and fast execution of connection to submarine cable, in rocket way
-)Regular check of the infrastructure of isp companies
-) Monitor the buying and selling and user ratio of bandwidth
-) Monitor the usage of a toll-free number and awareness of users regarding the toll-free number
-) Should monitor the issue registered in the portal
-) Should support the companies for fair gameplay so no one can die.
-) Should regulate its own policies and signs, like knowing my bandwidth portals.
-) Should make it compulsory for companies to show their bandwidth-sharing ratio
Does there is any chance of a cheaper internet?
After reading this all article you still want cheaper internet then sir we are sorry, the pricing in Nepal is best if we get proper and undisrupted. And if ISP becomes more transparent on the package and sharing info as of now we should be ready to pay a bit higher than a normal package also