 Currently, the use of B2B software has started to get priority in the digital business
segment of Nepal. These businesses have been using GetDesk software more frequently for managing their customer support centers as they have grown.Among such companies, VoxCrow is at the forefront of aggressively expanding services.
Table of Contents
VoxCrow is a voice-based company. The 'GetDesk' call centre software, which has
been put into operation, makes the complicated arrangement of phone calls easier by
changing them.
85+ businesses and organizations like Phonepay, Foodmandu, Bhoj, Aramex, Biz
Bazaar, Pathao and other digital business companies are using this technology for
managing their customer service centres.
In big organizations like Buddha Air, Norvik Hospital, Care Nepal, Tilganga Eye
Hospital, Garima Bikas Bank, Shangrila Bikas Bank, Moko Wallet, City Express, Sipradi,
CG Holding, as well as in the National Identity Card and Registration Department under
the Ministry of Home Affairs, phone calls are also made by the customer. The company
has been managing that system.
You will love to read: Why does Your Internet Starts Buffering After 6 pm?
This company is easily managing the call centres run by large organizations and the
phone call facility used while listening to customer complaints.
VoxCrow's GetDesk system is becoming very popular recently as it manages the
performance of voice-based companies in a very simple and easy way.
Sushant Rai, Chief Executive Officer of VoxCrow, says that the company is
aggressively expanding its services to large companies.
What is VoxCrow known for?
VoxCrow has transformed from being just a provider of call centre technology to a creator of advanced yet cost-effective communication solutions in Nepal. The goal is to help Nepali businesses adopt digital communication systems and increase transparency in call data, which has been a challenge until now.
The company's software provides a detailed view of every call made in various departments such as customer service, sales, telemarketing, IVR, voice broadcast, and more. With the help of their software GetDesk, VoxCrow has improved business communication and made it more efficient, effective, and cost-efficient. As the company continues to grow, they aspire to bring in products that will revolutionize the way people communicate, making it more effective and affordable.
What is GetDesk?
GetDesk is software for customer service centre management brought by Voxcrow
company. This technology is becoming popular for customer service centre
management. Many companies and organizations are simplifying the hassle of phone
call management through its use.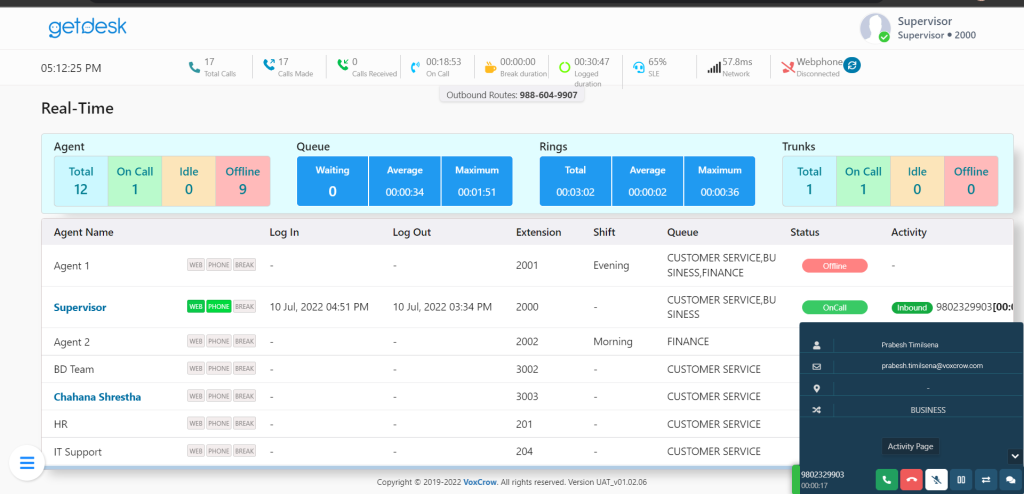 How to get VoxCrow's GetDesk (Call Centre Software) service?
According to the company, this service is suitable for those organizations which receive
100+ phone calls a day.
The company charges such companies from 40,000 to 50,000 rupees for initial setup.
Currently, GetDesk is available and categorized into Basic and Business editions.
According to the company, after the setup, the service of GetDesk can be availed at 4
thousand to 5 thousand per user per month.
How VoxCrow is the best call Centre software for small businesses?
GetDesk is designed for Nepalese businesses and organizations, regardless of size. Whether you're a small or medium-sized enterprise, you can start a call centre operation with just one customer service representative or expand to a large operation with hundreds of agents.
Our software caters to businesses of all sizes, from startups to big corporations. We understand that small businesses often face budget and resource constraints, as evidenced by our clients who have grown over the years. GetDesk includes features that meet the needs of small business CRM and ticketing, eliminating the need for additional software. SMEs need a solution that automates tasks.
The company claims that the role of the company in making phone calls in
Nepal is manageable by changing the customer service centre management.