Neema Academy has launched a digital learning platform on STEAM courses named Junior Megamind for the school students. In the launch event held on April 10, 2022, at Hotel Himalaya, Junior MegaMind was introduced to all the dignitaries, academicians and school principals present there.
Neema Academy has collaborated with Durshikshya to develop and introduce this learning product.
What do Neema Academy and Durshikshya aim to offer through Junior Megamind?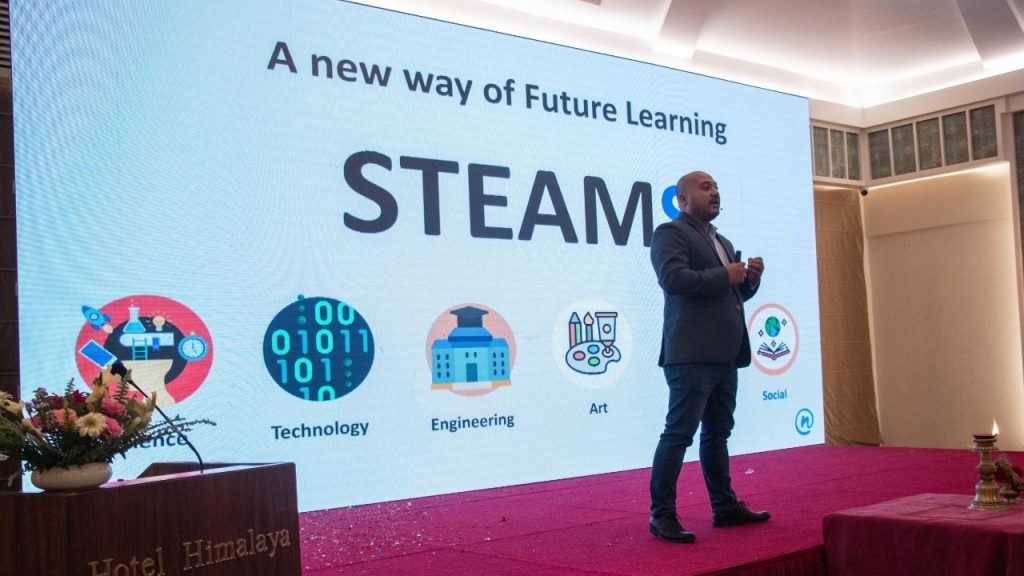 Neema Academy is on the quest to enhance the education system of Nepal by making education accessible to everyone. They aim to change the way the primitive teaching-learning pedagogy that is prevalent in the schools of Nepal by introducing this tech-based learning platform that will make students learn faster.
In this regard, they are exploring innovative learning materials, partnering with various content providers in the national and international arena, and introducing them to Nepali Education Fraternity to make them globally competent.
With the sole intention of bridging the existing gap between national and global education, Junior Megamind is launched in the joint collaboration of Neema Academy and Durshiksya. It is a learning platform that will be available on both mobile and web platforms. As an easy-to-go mobile app, it will be available for both Android and iOS devices.
About Junior Megamind
Junior Megamind is a digital bundle of STEAM courses offered by Neema Academy in collaboration with Dursikshya. As the name prevails, the program aims to uplift students' learning capacity so that they can explore their areas of interest. start the journey to becoming a "Megamind".
STEAM Education is an approach to teaching and learning that combines Science, Technology, Engineering, Arts, and Maths to guide students in inquiry, discussion, and problem-solving. It basically, facilitates them, how to think outside the box.
It is adopting dual methods of learning through online and offline classes that use STEAM le. Science, Technology, Engineering, Art, and Mathematics with extra doses of Coding concepts in which leaders can delve themselves into the world's most sought-after concepts.
As stated by the phrase itself, Junior Megamind is a learning package for younger growing including Robotics, Artificial Intelligence Coding in four different phases i.e.
Foundation Level (Grade 1,2 & 3)
Intermediate Level (Grade 4 & 5)
Advanced Level (Grade 6 & 7)
Expert Level (Grade 8, 9 & 10)
The team plans to run programs and courses both online and offline.
| | |
| --- | --- |
| Online Approach | Offline Approach |
| 96 Live Classes | 12 School Visit |
| 3 Classes Per Week | 1 Visit Per Month |
Moreover, the learners, parents, and teachers can evaluate the learning of the students through Activity Sheets and then access their performance. Additionally, the students will learn about cyber hygiene through this platform.
Why Junior Megamind?
Junior Megamind aims to develop futuristic skills in the students from the very early phase of schooling. As per Neema Academy, the several reasons for choosing Junior Megamind as a learning platform for the young students are:
Problem Solving Ability
Creative Thinking Ability
Good Communication
Logical Thinking
Leads to Innovation
Builds Confidence
Connect Learning to Life
Adaptive Skills
Generally, our Nepali Education goes with the hypothetical model of imagination and pedagogy that is oriented towards writing and scoring trends only. Unlike popular, regular belief, today's world demands our children be more competitive, skilled, and structured in real life. Sadly, the currently available curriculum itself is not enough to cater to the growing needs of today's harsh competitive world.
Regarding this launch, Krishna Prasad Pandey, CEO of Dursikshya shared,
Adding to this, Dr. Subarna Shakya, Director of IT Innovation Centre, TU and Advisor of Information Technology Committee Gov. of Nepal advised both Neema Academy and Dursikshya to curate courses in Junior Megaminds that are easier to learn and comprehend by young students and also introduce contents in multimedia form."
At the launch event, Prof. Dr. Dilli Raj Sharma, TU Dean/ Faculty of Management showed some light on the present tragedy of digital literacy among the teachers at Tribhuvan University. He said,
Irrespective of the age and academic levels, schools can now offer the best STEAM courses to their students with the Junior Megamind program. It is the best opportunity for all the schools to implement this particular program and to aid students to explore beyond the CDC-approved curriculum. With the Junior Megamind, both students and schools can pave the way for tech-friendly, skilled, adaptive, and competitive human resources.
About Neema Academy
Neema Academy is a prominent eLearning Platform in Nepal. It is an ed-tech startup founded by Neema Education Foundation (NEF) in 2018. It primarily aims to uplift the quality of the existing education system in Nepal by introducing creative and high-standard learning materials through its easy-to-use digital learning platform. This team comprises academicians and educators with over 30 years of experience in the Nepali education sector.
Moreover, Neema Academy aspires to help learners by providing them with interesting ways of learning that encompass gamified content, interactive quizzes, 2D/3D videos and animations, live classes, and many more.
About Dursikshya
Founded in 2020, Dursikshya is one of the leading technology training companies in Nepal. Dursikshya is building a manpower pool for global industry requirements with a mission to enable students with high-quality, practitioner-led, immersive learning that prepares them to be job-ready from day one.
Furthermore, their curriculum is aligned with real-world job roles that are in high demand in the industry, ensuring that students not only learn but also master skills to become career-ready professionals.
With the launch of Junior Megaminds, Neema Academy and Dursikshya are going to contribute to lessening the challenges of e-learning i.e. curriculum, pedagogy, and evaluation.
You can join Junior Megaminds in Neema Academy through this link.
Also read: DigiConnect Nepal Announces Merger With InfoTmT Inc., USA