Nepal Clearing House Limited (NCHL), established on 23rd December 2008, has been allowing banks and financial institutions (BFIs), corporations, government, and the public to experience safe, secure, and seamlessly convenient payment and settlement services. From manual cheque clearing to Electronic Cheque Clearing (ECC), and then to establishing national payment gateway through the introduction of NCHL-ECC, Interbank Payment System (NCHL-IPS), and connectIPS, NCHL has been able to replace the conventional system of payments and fund transfer by digital transactions and payment practices. The newly introduced service in NCHL is "corporatePAY".

Systems and Services introduced by NCHL for the betterment of financial transactions:
| | | | |
| --- | --- | --- | --- |
| S.N. | Products by NCHL | Main Purpose | Beneficiaries |
| 1. | NCHL-ECC System | Electronic Transfer of Cheques | Banks and Financial Institutions (BFIs) |
| 2. | NCHL-IPS System | Interbank Payment System | Banks and Financial Institutions |
| 3. | connectIPS System | Online Fund Transfer and Payment (P2P, C2G, C2B, e-commerce payments) | BFIs, government, creditors, merchants, businesses, capital market and public |
| 4. | connectRTGS System | High value and urgent banking transactions | Banks and Financial Institutions |
| 5. | corporatePAY System | Funds transfer; bulk transactions like salary, SSF, EPF, CIT, tax payments, vendor payments | Corporate clients of member banks and financial institutions |
Among the above products, the connectIPS system and NCHL-IPS system are integrated under the consolidated Application Programming Interface i.e. National Payments Interface (NPI). In these five categories, the newly introduced service in NCHL is the corporatePAY system.
What is corporatePAY?
corporatePAY is a system provided by NCHL for its member banks and financial institutions (BFIs) to render easy payment services to their corporate clients. It is a platform that allows corporate and business customers of member banks and financial institutions (BFIs) to make digital payments to their customers, clients, employees, creditors, and the government.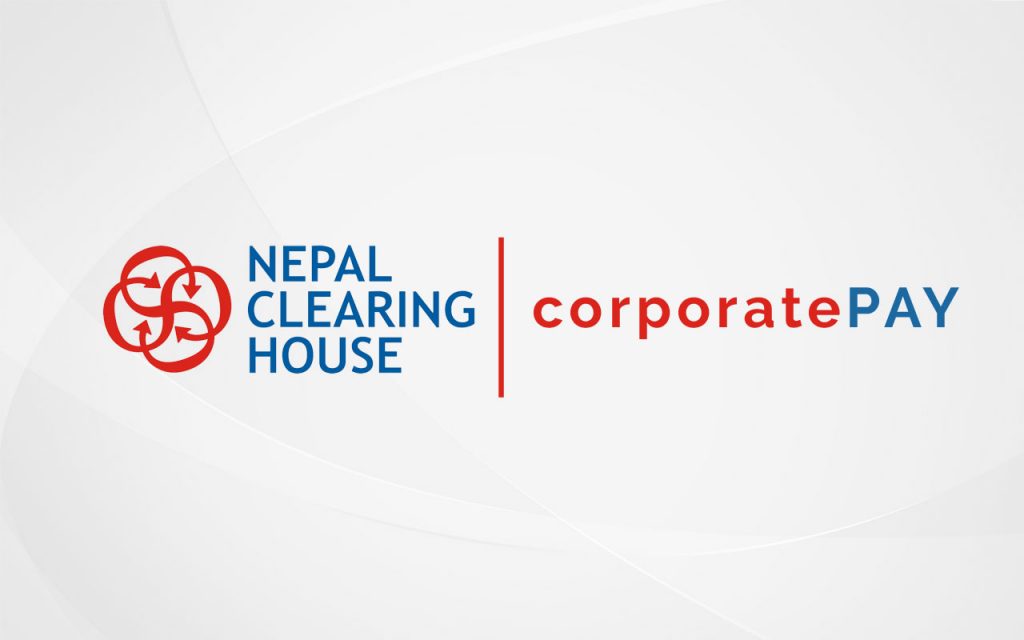 It allows the business customers to process real-time payments through the connectIPS e-Payment system and non-real-time bulk payments through the NCHL-IPS system, with all the necessary multi-user controls required for such business transactions.
What Services Does it Provide?
corporatePAY renders a wide variety of services to the corporate clients of BFIs. They can enjoy following services through the use of corporatePAY:
Interbank & Intra-bank Fund Transfers
Salary Payments
Vendor Payments
Government Tax and Revenue Payments
Social Security Fund (SSF), Employees Provident Fund (EPF), Citizen Investment Trust (CIT) Payments
Creditors/ Service Payments
Like connectIPS, corporatePAY has multilayer authentication and security provisions for secure payment. It is a single channel to carry out multi-banking transactions by the companies. Similarly, they can link more than one bank account for transactions and make payments without the physical presence in the bank's branches. It is available on both public and private networks (as required by the companies), and transaction limits are flexible which can be set by the member banks themselves.
How Can Corporates Register in corporatePAY?
Corporate needs to contact its nearest bank branch for enrollment
They are required to submit required details, documents, and the list of the authorized users to the bank for enrollment
Bank will enroll the corporate in the system, create users and apply authorization limits
Obtain the login and other details through a secured communication channel by each of the users
Currently, there are 18 BFIs (11 commercial banks, 4 development banks, and 3 finance companies) who have partnered with NCHL to provide corporatePay services to their corporate clients. Among them, 5 commercial bank's status is live whereas, the remaining 13 BFIs are still in the testing status.
The list of BFIs that have partnered with NCHL for corporatePAY:
Commercial Banks:
Sanima Bank Ltd.
Himalayan Bank Ltd.
Mega Bank Nepal Ltd.
Machhapuchhre Bank Ltd.
Global IME Bank Ltd.
Nepal Bangladesh Bank Ltd.
NICA Bank Ltd
Civil Bank Ltd
NMB Bank Ltd
Prime Commercial Bank Ltd
Nepal Credit and Commerce Bank Ltd
Prabhu Bank Ltd
Development Banks:
Garima Bikash Bank Ltd.
Muktinath Bikash Bank Ltd.
Mahalaxmi Bikash Bank Ltd.
Kamana Sewa Bikash Bank Ltd.
Financial Institutions
Goodwill Finance Ltd.
Reliance Finance Ltd.
ICFC Finance Ltd.
corporatePAY is a newly introduced service by NCHL that would enable companies and business houses to make payments and financial transactions through a safe, secure, and convenient system. It is a multiple payment system that can serve as a one-point payment gateway to make payments to various groups like customers, clients, employees, government, vendors, and suppliers. And the merit of this system over other products by NCHL is that the member banks can set their own transaction limit by themselves. If you want a single system for multiple payments to various parties in your company, then corporatePAY is the one you could vouch for.
Also Read: Getting Started with connectIPS, An extended Product of Nepal Clearing House
How would this system help reduce costs incurred in payments by the companies that have been in practice till today? What significant improvements can corporatePAY bring in the current condition of payments by corporate bodies? Dropdown your comments!