After officially entering into the Nepalese smartphone market, Poco is all set to engage smartphone lovers and especially Poco fans through meetup. This is the first-ever Poco Fans meetup organized by the company, where you can participate and engage yourself with other persons sharing similar thoughts towards Poco. Here, you will find all the details about the meetup happening in 2021.
Opportunity To Grab
Xiaomi Nepal has always been a fan favorite. They never fail to interact with their customers in every possible way. We saw and attended many Xiaomi fan meetups. It is always a fruitful session where you learn about the company and expresses your love towards them. This is one of many great ways to share your ideas and expose yourself to the ever-growing tech world. After all, the more information you share, the more information you gain.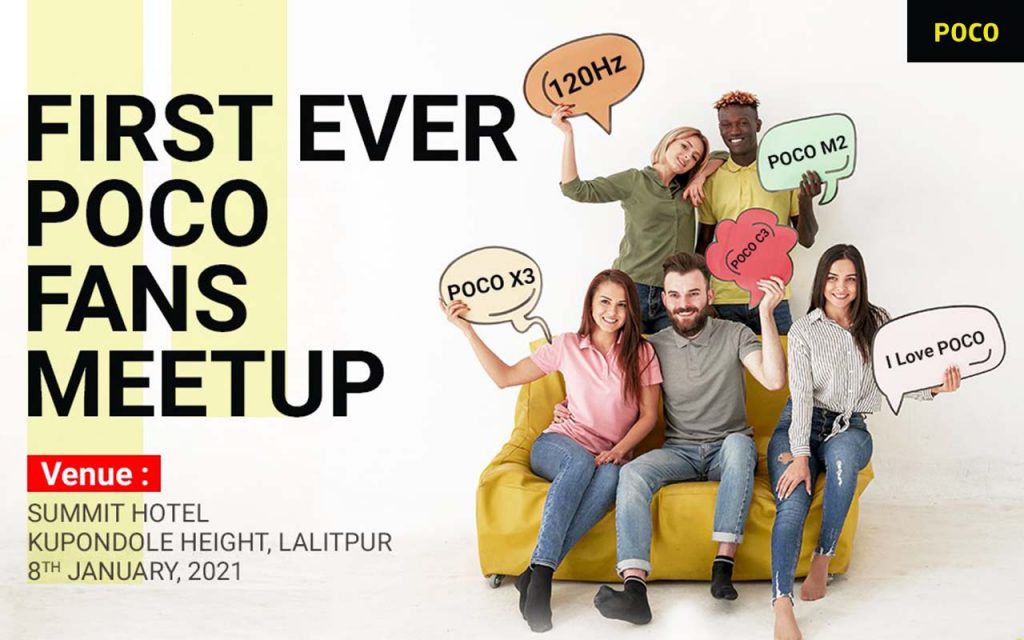 Continuing the trend set by Xiaomi Nepal, Poco is set to organize its first-ever Poco fans meetup this January, 2021. You can participate in fun games to relax yourself from all stresses of lockdown. In addition, you can participate in giveaways to win exciting gift hampers from Poco. This is a great chance to engage yourself in fun activities and learn a thing or two.
Get Chance To Meet General Manager Of Poco Nepal
Sourabh Kothari is the current General Manager of Poco Nepal. Even before this, he has been involving in fan meetups of Xiaomi Nepal and knows exactly what fans need. He is a great and inspiring personality to meet if you want any suggestion to succeed in big tech companies. You wouldn't want to miss any chance to express your thoughts about Poco Nepal and how they can continue to impress their fans even more with GM Sourabh Kothari.
Also Read:
Poco M2 Full Review – Greatest Contender Under NPR. 20K !
Poco Fans Meetup Nepal:
Date & Location
Date: 8th January, 2021
Location: Summit Hotel, Kupondole Height, Lalitpur
Register Here
You can submit the form provided below in order to register for the meetup. For more info, you can visit Poco Nepal official Facebook page too.
Poco Fans Meetup Registration Link: https://bit.ly/3h7mEUp