 Table of Contents:
connectIPS is an extended product of Nepal Clearing House which is available in both web channels and mobile app. This is a single payment platform that allows you to link one or multiple bank accounts then use one of such bank accounts for payments i.e Pay Directly from your Bank Account. Users can link their bank accounts from any of the member banks and financial institutions.
Features and Services

connectIPS can be used as a payment gateway for fund transfer and biller/service payment. This instant payment system has various channels like web, mobile app, payment processor gateway in various websites, and fund transfer service in mobile/internet banking of major banks and financial institutions. The proficiencies and services like captcha where the user has to enter captcha to control automated tools in every login through a web portal (wherein connectIPS is integrated as payment processor/gateway), dual authentication which uses the username, password, transaction password and/or transaction OTP for each of the transactions, ensures the high-level security.
The third-party payments to the service providers known as biller payments is a payment solution initiated from web/mobile app channels to help users with more payment options while reducing costs and enabling them to transact directly from bank accounts Other accessible services are government payments(Company registrar, Tax, Passport), travel and tour, school/college fee, insurance premium, stockbrokers, and several others. Such services are enrolled by the member BFI's.
Payment processor which is an online payment gateway available at web portal checkouts of various service providers such as government portals (Loksewa, Passport, CRO, Financial Comptroller General Office) e-commerce and insurance websites, TMS of NEPSE and plenty others which executes the transaction by passing the transaction data and details to the relevant party.
Self account verification in connectIPS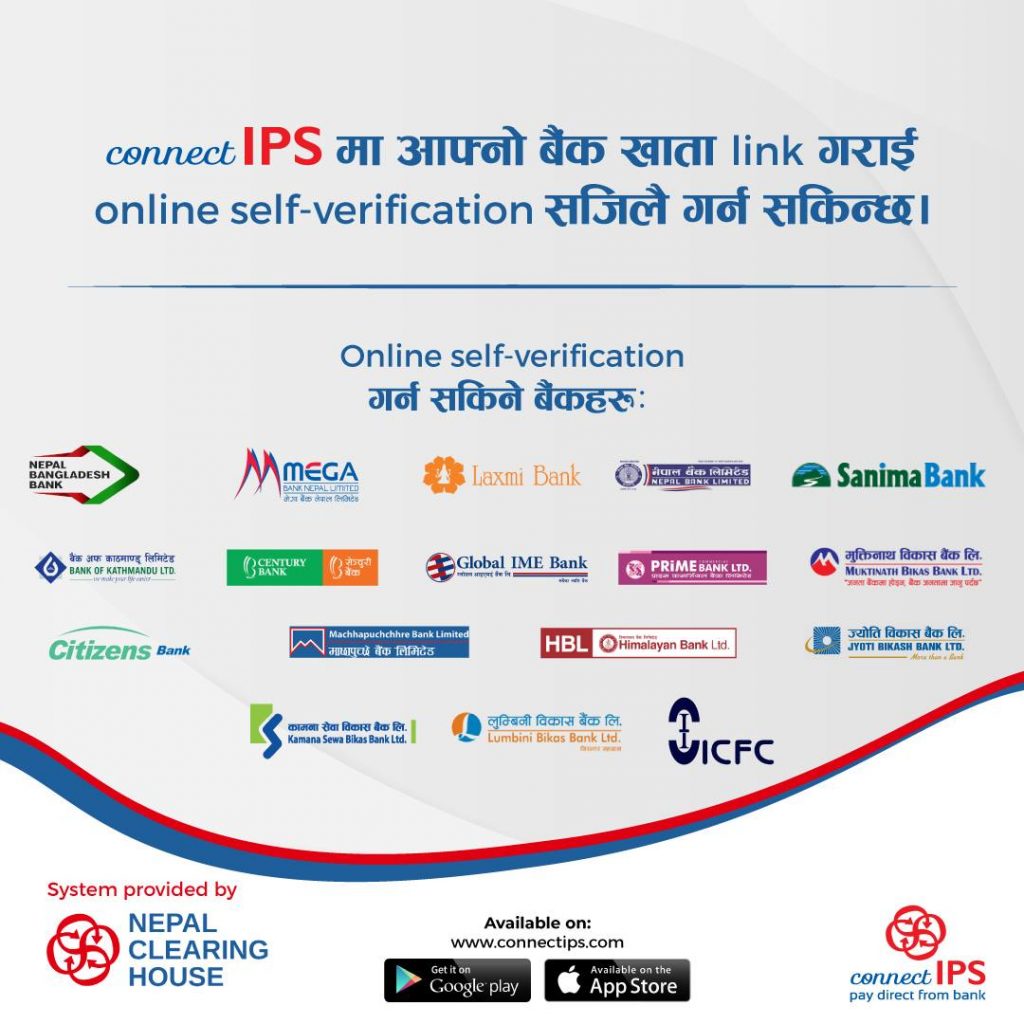 Customers of BFI's who have enabled self-verification features can self-verify and activate the linked bank account in connectIPS, so that the user does not require to go to the bank branch counter for account verification and activation process. Users can self-verify their account by following a procedure. If users' bank is enabled for this feature, the option of a self verified account will be available in their pending bank account list.
How does the Payment System Operate?
The payment transactions are processed directly from/to the bank accounts. The transactions are generally instantaneous at both the end of the sender and the receiver. Multiple mobile wallets are associated with connectIPS to assist them in unloading/load funds in their wallets. Choosing connectIPS at the checkout of the web portal means you pay directly from your bank account for this process to take place users need to select connectIPS at billers portal when they are ready to pay and sign into connectIPS with username/password and in the end select the bank account from which they want to pay and confirm with the credential i.e pin or one time password.
To be associated with ConnectIPS:
Getting Started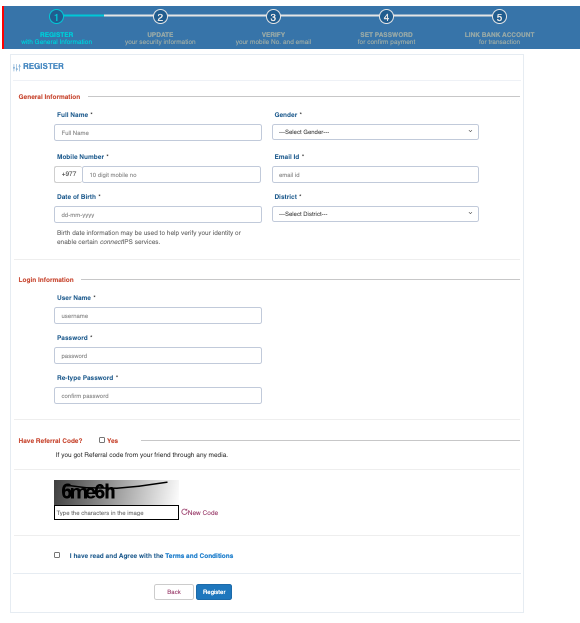 In order to fraternize oneself with connectIPS one needs to enroll as a user and verify their mobile number and email address. Secondly, bank account needs to be linked to the connectIPS user and ultimately one needs to verify and activate their linked account. You can even link multiple bank accounts in connectIPS.
To register, generic information like full name, gender, email id, mobile number, date of birth, your district, needs to be inscribed. Username and password need to be included in the login section.
Password section has strict standards, with the purpose to make users set a complex password.The password must include 8 characters where at least 1 must be alphabet with minimum 1 uppercase and at least 1 number and 1 special character.There is another small section where referral code can be entered if you got a referral code from your friend through any media.
Also Read: NCHL Brings API Banking Based Digital Payment for Corporate Sector
Transaction restrain
Transaction limit is per user per bank. However, limits for self-verified accounts differ as per banks and financial institutions Banks and financial institutions may have distinct restraints consistent with their internal approach and it may change as per Nepal Rastra Bank's regulation.
| | | |
| --- | --- | --- |
| Transaction | Online Channel | Mobile Channel |
| Maximum amount per transaction Bank Account | NRs. 10,00,000 | NRs. 1,00,000 |
| Transaction Per Day Count | 100 | 100 |
| Maximum transaction amount per day | NRs. 10,00,000 | NRs. 1,00,000 |
| Maximum transaction amount per month | NRs. 50,00,000 | NRs. 10,00,000 |
| Transaction Per Month count | 3,000 | 3,000 |
connectIPS : Fees and charges 
The majority of the service payments are free of charge to the customers. Nonetheless, the transaction fee for fund transfer and some of the biller payment is Rs 2 to 15 applicable for the user which is on the basis of the transaction amount slab.
The payment data is captured, processed, and transmitted in a highly secured environment with end to end encryption. The customer's information isn't reciprocated, only the status of the payment is shared with the merchant.
You can find the connectIPS on