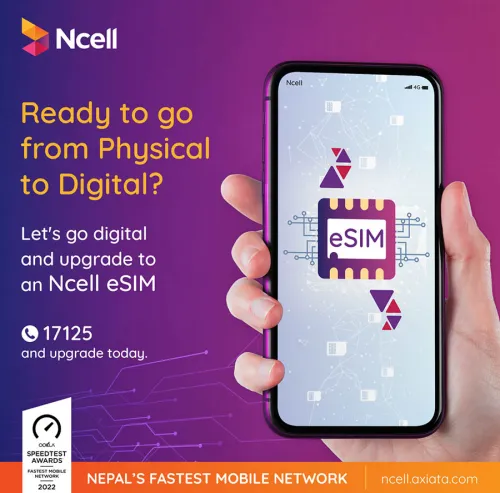 Ncell Axiata Limited has started distributing eSIMs. This service started from today that is Friday, 25th November 2022. The company has requested all the customers to take the merit. eSIM stands for embedded sim which is a virtual sim card technology that trashes the physical sim card. It is like a chip that comes in a phone or a smart watch as a part of the motherboard itself and it supports telecommunication service.
How to get the Ncell eSIM?
You don't need go anywhere to fetch the SIM if you already own and use a Ncell SIM. You can simply upgrade your current SIM card to an eSIM by sending a request to the company vis SMS. Here's a step by step guide of the process.
Open the messaging app in your phone.
Tap on 'start chat' and type 17125 in 'To'.
Now, type your citizenship number and email address.
Tap on send button.
After your message is reviewed, you will get a call from a call from the Ncell representative for customer identification.
Sending message for upgrading is free as you won't be charged. In case you don't want to send message, you can also go to the nearest Ncell centre to upgrade your physical SIM card.
Indeed, anyone who has an eligible device can take eSIM from Ncell. This procedure was for old customers of Ncell. You can also get it with the 'starter pack' of your choice by completing the necessary procedures from any Ncell center even if you are a new customer. In order to avail the eSIM facility, the customer must have an eligible mobile phone.
After you get the eSIM, you can dial *#06# to know if your mobile e-SIM is working or not. If the detail with Embedded Identity Document (EID) appears on your mobile's display, be confirmed that then the eSIM is active on your mobile.
In present context, the use of connected devices is in increasing trend among both consumers and businesses. Hence, Ncell believes that e-SIM will play an important role in the development of information and communication technology. You can also register more than one eSIM depending on the brand and model of mobile phone. However, only one number will be active at a time.
Benefits of eSIM
Using eSIM is comparatively convenient than using a physical SIM card. To get a physical SIM card you have to fill a form and attach a photocopy of your citizenship and glue a passport size photo in it for each different operator and number. In order to exchange it with another SIM card you will need to visit the operating office which makes the process a bit troublesome. But in case of eSIM you can do it all from your device instantly. Furthermore, you can add multiple SIM profiles of all different operators in the same eSIM. So just in one tap you can change the operator.
Normally, a smartphone can adjust any 2 simcards at once. You cannot use SIM card of more than two operators at once. Also, the two SIM card slots cannot adjust 2 SIM of the same operator. However; if you have a eSIM compatible device, you can easily add upto 5 SIM profiles of different operators and swap them with convenience.
A physical SIM card and easily be taken out of a device and inserted into the other. These days, we use our phone numbers as our identity. In every form we fill, may it be a form of opening bank account or a simple form we fill in college/school for identity. This means it's directly related to our security. If you loose a phone with a physical SIM card, anyone who finds it can easily insert it in their device and get access to everything where you have your phone number added. But, a eSIM cannot be taken out of a device, so even if you lose a phone with eSIM, people cannot take it out of your device as it's embedded. So, your bank accounts, e-wallets and all are secure. So, eSIM protects your identity and takes care of your security.
eSIMs are way too small than physical SIM cards. Hence, it obviously consumes less space of a phone. Similarly, no physical SIM cards means no card slot in the device. Ports in the device makes the device a bit dirty as dust can enter in it. No port means no dust entering in the device. Therefore, apart from making the process of changing operator easy, protecting the space on phone, eSIMs assist you in keeping your device clean and safe.
Also Read: Bishal Panthi's Project "Rudrakshya" takes him to the Top 5 of the Business Innovation & Technology Challenge