Despite numerous notices from NRB regarding the prohibition of gambling and trading in betting sites and apps in the name of Fantasy games or any betting games, PSPs and PSOs in Nepal are still facilitating for payments in the betting sites and apps during this World Cup 2022, allowing users to involve in illegal gambling.
At the dawn of the World Cup 2022, Nepal Rastra Bank had released a notice stating that it is illegal to trade or bet on the sites like 1X Bet or involve in any gambling activity through any mediums. To prevent such activities, it had also called on the Payment System Providers (PSPs) and Payment System Operators (PSOs) to not allow payment services for these type of activities.
Even the Section 125 of the National Penal Act 2017 prohibits the act of gambling and betting in Nepal.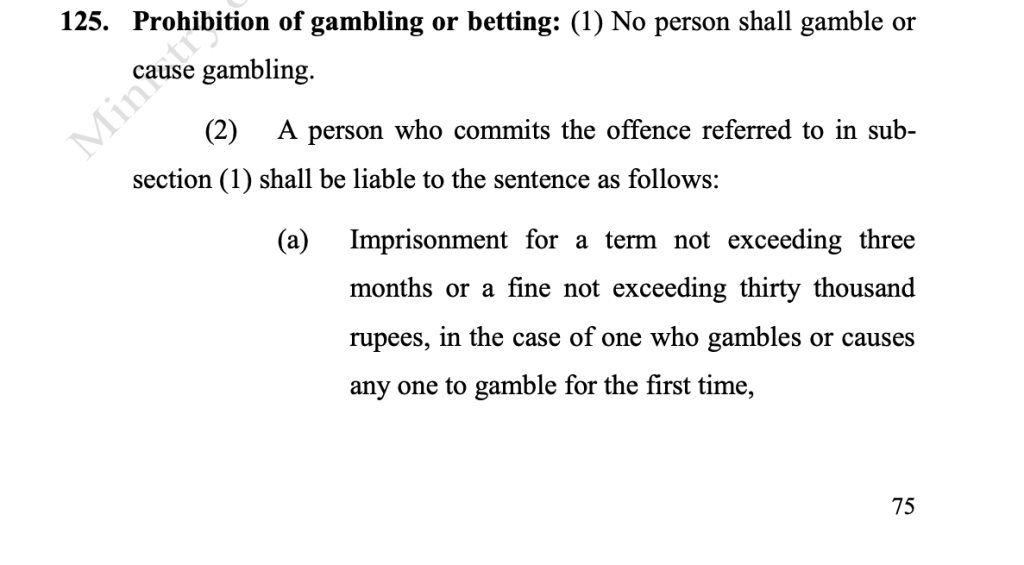 Does NRB know about it or is just having a blind eye towards these gambling under its nose?
Since a couple of years, online gambling and betting through the means of Fantasy Premier League, 1X Bet, and trading of funds through illegal means like Hyperfund etc. are rampant in Nepal. A few of them were confiscated by the authority whereas a large mass is still remained untouched.
PSPs and PSOs on betting sites and apps; Why do they still appear on payment options?
Being the license holder as a PSP or a PSO from Nepal Rastra Bank, payment systems are not allowed to involve in any of the payment services that are used in paying for illegal activities like gambling or betting.
However, a new betting app is in the market that works solely on bet funds deposited by the users. The name is : Team 11.
Team 11 has most probably targeted to boom with a large number of users depositing money in this World Cup 2022. Since an estimated 20-25 lakhs people might be watching the World Cup, some games like Predict and Win can be an easy medium to bring in more cash from the users who would like to earn money on the greed of a handsome return.
And they also have a scheme that shows how much a user can get in return if their team wins. This certainly looks like easy money with a very few investment starting from Rs 500.
Any user who first enters in the app can see the estimated return they can get after their selected team or player wins.
For example, Person A is betting on the Match between Tunisia and Australia, selecting Australia. Then they pay a basic deposit of Rs 500 using the payment systems available in the app.
If Australia wins the match, they will get a bonus of Rs 100 totaling the return Rs 600. If Australia loses the match, the deposit of Rs 500 is gone. They don't get a refund.
This scheme looks like nothing but just another Ponzi Scheme, where the new entrants get the money circulated from early investors.
Even NRB-promoted payment systems are facilitating the payments on such illegal apps like Team 11
If you register to Team 11, you will get to see this app looks like genuine app with a clear mission and vision. However, as long as it is illegal, this app is subject to legal and policy treatment by the concerned authority because it is clearly supporting gambling.
And the PSPs, PSOs supporting for installing this app are also not an exception.
A wallet named MyPay is publicly promoting its followers to install this illegal betting app Team 11 through its Facebook page.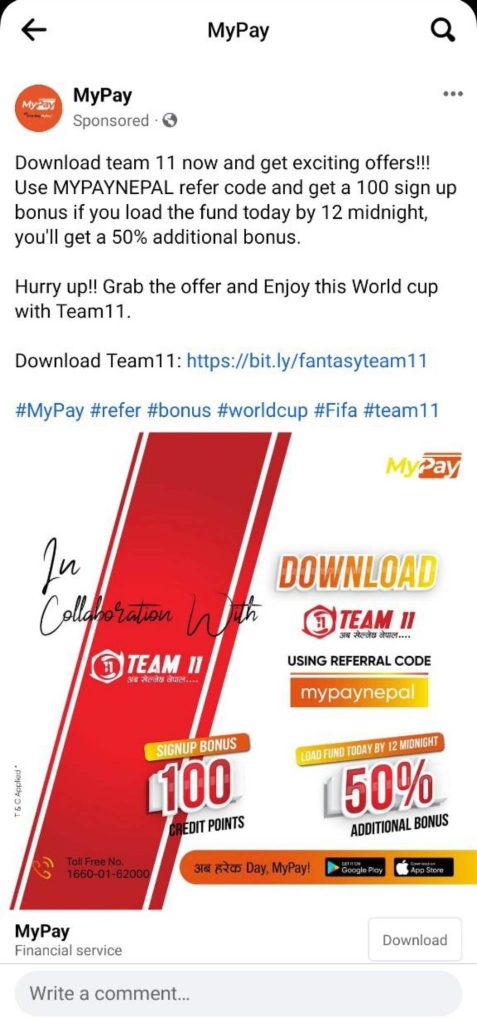 Surprisingly, it is an irony to see NRB-promoted PSPs and PSOs, supporting online betting by facilitating making payments to deposit money to Team 11. In this app, there are options like internet banking, mobile banking, wallets and even cards to pay online.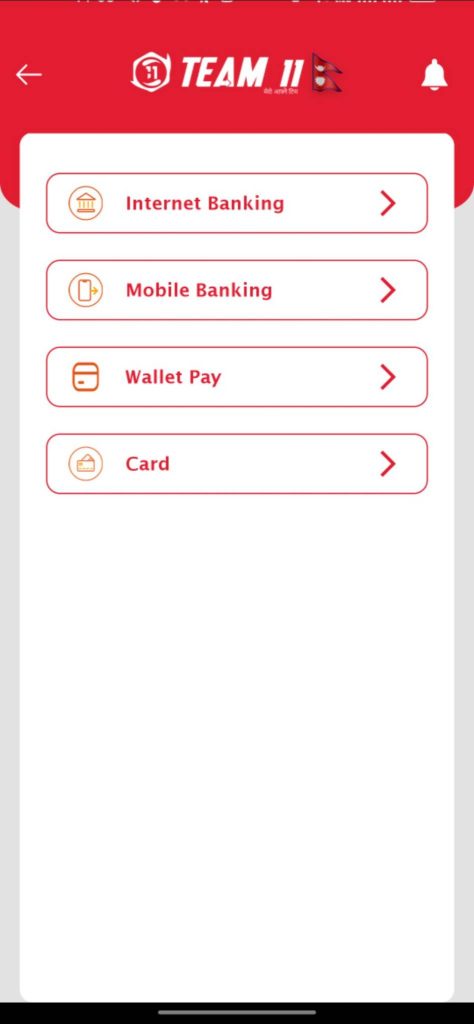 You can find more than 25 commercial banks, even the finance companies in the option of mobile banking to pay.
The players bet on the real games that are happening throughout this World Cup 2022. They get back their initial deposit with the bonus amount if the team wins. If their team loses, they get nothing in return.
The money goes straight to the account of Team 11.
Here, NRB seems to overlook such activities happening publicly in the name of Fantasy league during World Cup 2022.
However, a question may arise on your mind. If these are illegal, why are games like Rs 1 ma iPhone, Daraz 1 rupee game, or even predict and win contests legal?
Repeating the history, a lot of brands will now get into a spree of announcing predict and win games on their social media pages, where the followers would comment predicting the winner of a certain match and they can win some exciting gifts or cash prizes.
Similarly, you might have played 1 rupee game in Daraz where one pays Rs 1 on selected cart items and gets a chance to win the gifts through lucky draw.
Another popular game is eSewa's iPhone offer in Rs 1 or iPad on Rs 50.
These three examples also seem like a Ponzi scheme but they are not illegal because either you do not need to pay anything to participate or you will get a refund if you do not get to win the promised prizes. Such are marketing gimmicks that are used widely by many brands and companies around the world and do not fall under gambling activities.
On the other side, gambling means that your money does not return to you once you lose the game. Hence, it might cost you a lot if you keep indulging in such. Hence, betting in the name of Fantasy Premier League or World Cup is considered illegal.
Despite NRB's notice on prohibiting such illegal games and trades, such activities are still rampant.
Why do people engage in gambling even knowing it is illegal?
There are a few reasons that you might also relate to.
Easy return
Low investment that you won't regret losing
Easy to participate
The developers of gambling sites and games have deeply understood those common human psychological aspects and program their apps or sites in such a way that the users can not get rid of this dopamine feed. The rewards they get hits their nervous system to keep engaging into the game hoping to win any time even if they are losing on a row.
And that is made easier by the payment systems where the users can deposit the bet amount online using such means and just wait for the match to end, hoping their team will win.
This has a detrimental effect on youths where they are addicted to involve in such gambling without getting into actual work. This leads them to lose their hard-earned money into a game whose outcome they can not control.
Team 11 is just an example, there might be other betting and gambling apps which we might not even know. But the common concern is that, these apps and sites are still growing between numerous notices from the NRB and other government units to prohibit such activities. And even if they come under the light, the concerned authority like NRB does not seem to take action against them.
Does the policy intervention from NRB means just revoking the license of the PSPs and PSOs or also monitoring the compliance as stated by the unified directives for payment systems?
To the readers,
Although you might feel like the regulatory authority is not aware of such activities, we suggest you not to involve into such illegal betting or gambling activities. The reason, you know it very well.
Also Read: Gambling through Digital Payments Still Going on Under the Shadows of Fantasy Premier League