Ncell, One of the largest telecommunication service providers in Nepal has brought yet another offer on the occasion of Christmas and New year 2021. With the "Dami cashback" offer Ncell prepaid customers will get the double balance on recharge.
Ncell Dami cashback offer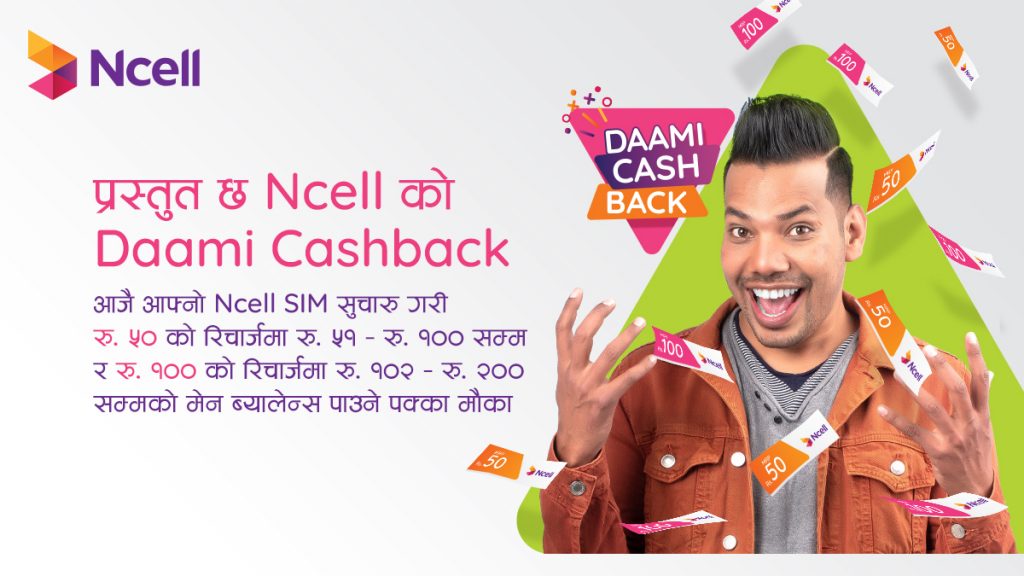 Ncell claims that some lucky users will get instant double cashback on their recharge, while others get sure short increased amounts on their main balance. Through the offer, Ncell hopes that the double cashback offer creates a good value for the prepaid customers. The cashback amount will not be available to transfer as well as it doesn't clear the previous sapati. Other than this the cashback balance will act as the same as the main balance and also available for inter-carrier services like voice calls, text messages and will also be available for the purchase of Ncell data packs.
The offer is available for the prepaid customers of Ncell. At the first recharge of 50 Ncell customers will get rs 51 as the main balance rather than the usual 49.02. Similarly, users who recharge rs 100 will get 102 rs rather than 98.02 which the users normally get. As the recharge increases customers will get more bonus balance upto the double recharge amount.
The offer is valid for 15 days starting from today poush 5 and ends at poush 20. The bonus cash balance will be valid for a maximum of 3 days and can be used for voice data and SMS and applicable on all networks. The offer is valid only on the recharge of rs 50 and 100 however it is available regardless of recharge medium.