Nepal's first Bank, Nepal Bank Limited has launched its Visa Credit Card to ease its customers. Mr Deepak Regmi, Manager of Card and Digital Banking Division at NBL announced this through Facebook live on June 28, 2021.

Since it's establishment in 1994 B.S., the customers could not enjoy this service of credit card facility. Now, with the introduction of NBL Visa Credit Card, individual NBL customers can enjoy numerous credit facilities that a plastic card can give.
NBL Visa Credit Card
Like other commercial banks, NBL has also partnered with VISA: a leading global payment partner, to operate credit card facilities. The customers can use it in paying for purchase of goods and services, using ATM services and booking Hotels and flight tickets. The e-commerce transaction facility will soon be enabled so that the customers can pay for their purchase on e-commerce platforms.

What are the features of it?
NBL Visa card comes with a dual interface. It means you can either use it with a magnetic chip or even contactless. You can use it in either of the two ways:
Use it as a chip- based card: Insert the card in POS machine or other reading devices for process
As a contactless card: Just show the card in device and it would proceed the transaction
Credit Limit and Interest
Let's start from the credit limit. NBL has set the limit for its card holders ranging from minimum NRs 20,000 to a maximum of NRs 500,000, with an interest rate of 2% per month. Similarly, the card holders can withdraw the cash up to 10% of their limit from ATM counters.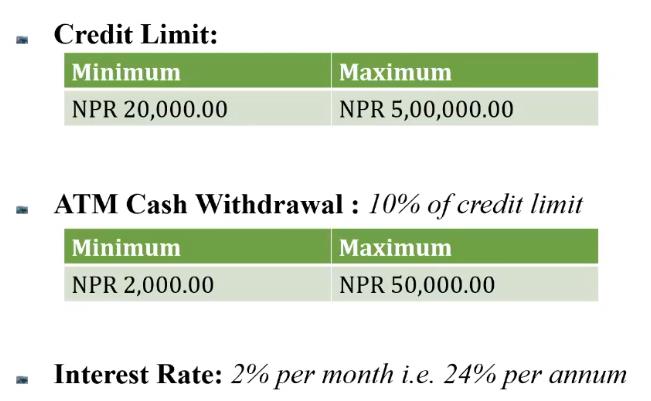 NBL Visa credit card has the following features: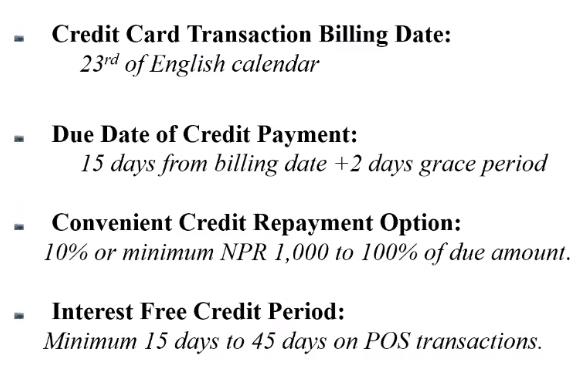 NBL has set the transaction billing date starting from 23rd of English month. And the credit card bills payment would be due up to 15 days from the billing date. It comes with a +2 days grace period. It means you have to repay your credit card bills till 17 days of the billing date.
Likewise, one should pay 10% of due amount or a minimum of NPR 1000 as a credit repayment to continue the credit facility. The card would be blocked if this payment is due for the third time. The credit period is provided for a minimum of 15 days to 45 days.
Know About Fees and Charges
Besides the issuance fee of NRs 750, the bank charges other fees for providing the card facility. The customers should pay an annual fee of NRs 750 to continue this service. Similarly, if you lose your card, the replacement card fee amounts for NRs 750. If you forget or lose your PIN, the bank charges NRs 50 for re-issuing the PIN.
In paying late for the credit bills, the customers should pay an additional amount of NRs 300 if their account is overdue. Moreover, if they would like to spend over limit, it would cost them an additional NRs 500 per instance. To enhance their limit, the cardholders should pay NRs 500.
How long does it take to issue NBL Credit Card?
NBL credit card takes 3-5 days for card production once the request for issuance reaches the head office. Then, the card center prepares the card and delivers to its respective branches within 10 days inside the valley. For the branches outside the valley, it could take up to 21 days in card delivery. Similarly, the bank has its credit card customer center to assist its customers with any card related issues.
Also read:

Here's Why and How to Pay for Credit Card Bills through connectIPS
A step towards digitalization!
Though NBL has introduced this facility this late, NBL credit card would help the bank to expand its business area and accumulate more fee income to the bank. Like its debit card, NBL as introduced the Visa Credit Card with its partnership with Nepal Investment Bank Limited (NIBL). With the introduction of this service, NBL has taken a step towards integrating its banking system into digitalization. Nepal Bank Limited has a wise network of 211 branches across the country and has 86 terminals.
Similarly, it is one of the first banks in Nepal to provide online account opening and KYC verification through Nagarik App. So, being the first bank of Nepal, it has been trying to keep up the pace with digitalization and NBL Visa Credit Card is an outcome of it. You can contact the bank for issuing your first NBL Visa Credit Card. Stay updated with us for more updates.
For more information about credit card, click here.