 With the expansion of banking services, usage of credit card is also increasing at a considerable rate. Either it is easier to make payments with more cash back offers or it helps to build your credit scores in the banks, whatever the reason maybe; the significant usage of credit cards can be seen as another brick in the wall of the digital economy.
In 2020, Nepal witnessed a 30.17% rise in credit card users than that of 2019 and the number is continuously increasing.
Acknowledging this surge in credit card holders, most of the commercial banks in Nepal are having a healthy competition by providing attractive offers in discounts on credit card issuance and payments.
How is the Credit Card Service like in Nepal?
Credit card refers to a plastic card issued by the bank to its customers, which enables the holder to make payments for the purchase of goods and services based on their promise to pay back to the bank in due date.
Unlike debit cards, you do not need to pay from your own bank account, instead, the bank provides you a line of credit with a certain transaction limit for some days, which you need to pay within the given credit cycle.
Inshort, it is a form of loan (with a certain rate of interest) that you borrow from the bank to make payments to purchases you make in general.
In Nepal, you can choose various options of credit cards if you are eligible according to the criteria set by particular banks. The most common types of credit cards provided by the banks are:
VISA Credit Card
MasterCard
Most of the commercial banks in Nepal have been providing a credit period of maximum 45 days. It means if you have been issued a credit card service on the 1st of May, you must repay the amount within the 15th of June. Some banks even provide a grace period of maximum 1 day, otherwise you are entitled to pay the additional fine. However, isn't it better to pay back the credit bills within the credit cycle?
How to pay your credit card bills?
There are two options (both offline and online) when it comes about paying your credit card bills to the bank.
You visit to the bank and renew your credit card by paying off the bills in cash/cheque
A better option is to pay through online mediums like mobile banking, digital wallets and PSOs like connectIPS
A lot of mobile banking and digital wallets have options for credit card payments in their system. However, if you would like to reduce the transaction fee in making those payments, you can pay it through connectIPS.
Yes, I'm talking about connectIPS, a product of Nepal Clearing House Limited (NCHL) which enables you to pay to third party merchants or banks directly from your bank account at a comparatively lower price.
Why choose connectIPS for Credit Card Bill Payment?
connectIPS has a payment option for credit card bills where you can select the bank you would like to pay for the credit card and pay easily at a lower cost. Lets see the transaction fees incurred while making credit card bills payments through connectIPS: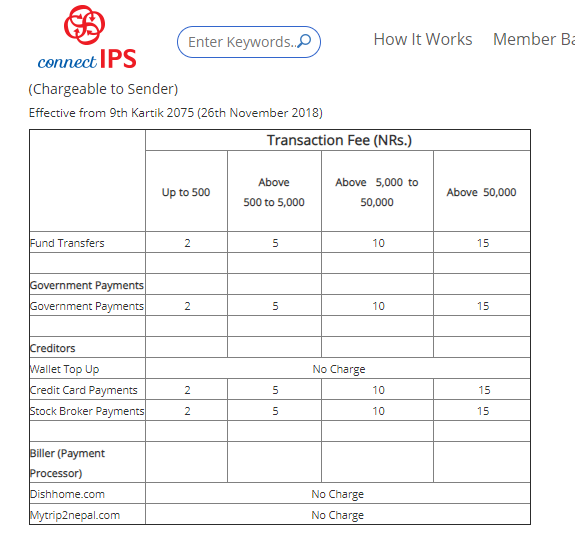 As you can see above, on paying for credit cards- connectIPS charges you only NRs 2 for amounts up to NRs 500, NRs 5 for NRs 500-5,000, NRs 10 for the payment above NRs 5,000- 50,000 and NRs 15 for the amount above NRs 50,000.
A lot of mobile banking apps and digital wallets charge you minimum NRs 10 to 15 per transaction for credit card bills payment. Moreover, the amount rises as per the transaction slab. With connectIPS, the maximum charge you pay is only NPR. 15, whatever the amount may be.
Isn't it cool to know that you can save some chunk of your expenses? Well, I think this is going to help a lot of regular credit card users. Moreover, you can pay to any among 20 commercial banks listed there through a single payment gateway.
How to make credit card bill payment through connectIPS?
Since you are enlightened about the pros of choosing connectIPS as a payment gateway for credit card bill payment, let's know about how to make those payments?
First of all, you must be a registered user of connectIPS system and should have linked your bank account.
Check this article for further details on linking bank accounts and self-verification processes.
Once you are registered, you can enjoy the service of credit card bills payment through it. For this, you can follow these simple steps:
Also read: Debit Card VS Credit Card: How to Make the Most Out of Them?
Step 1: Sign in to your connectIPS account.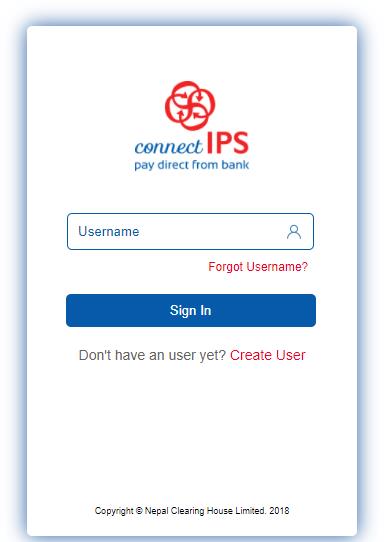 Step 2: Scroll down the dashboard and click on the "Card Payment" icon.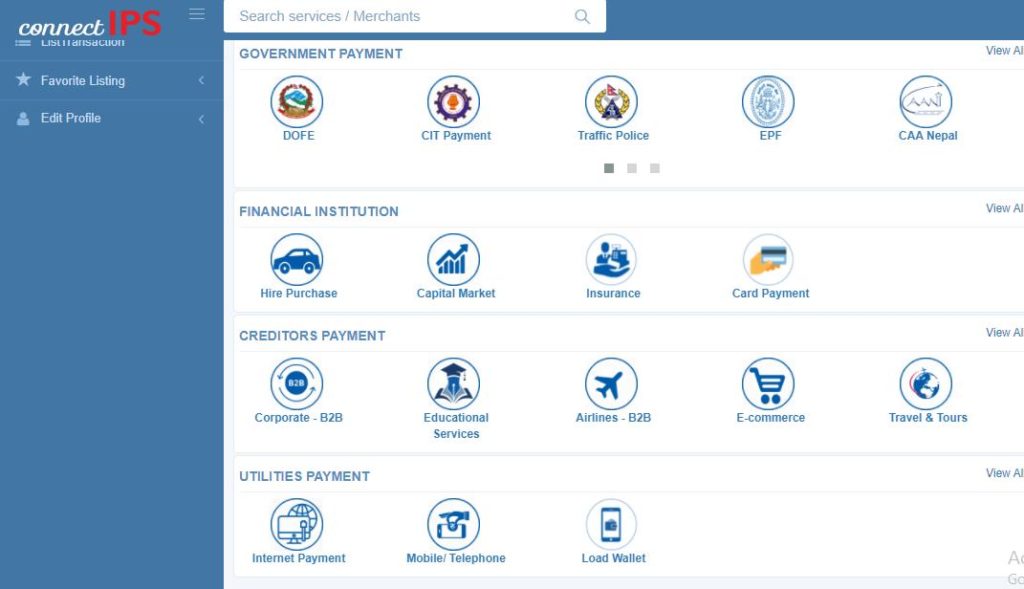 Step 3: Select Credit Card. For Himalayan Bank Users, you can click on "HBL Credit Card" icon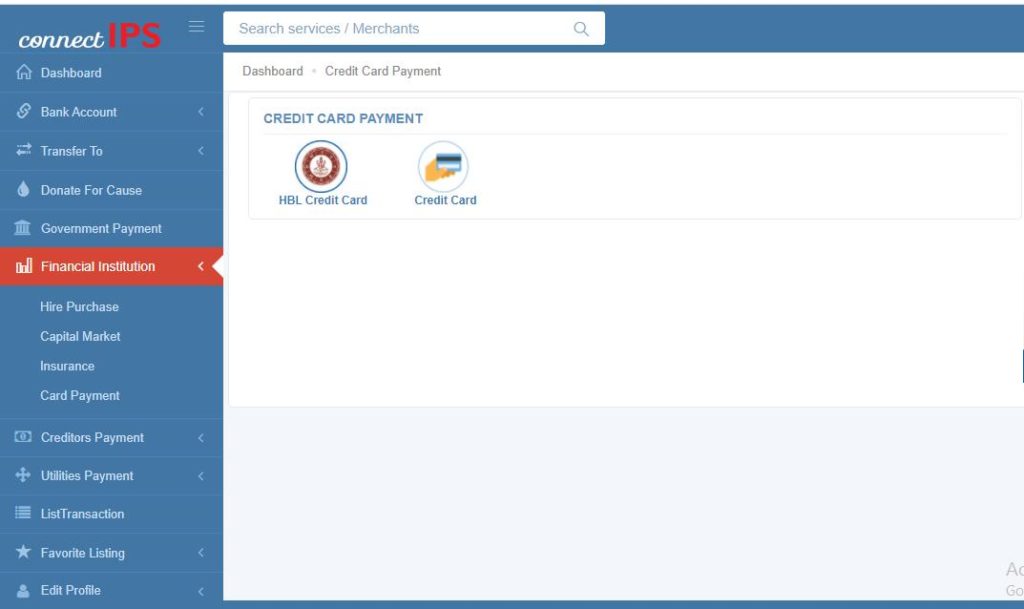 Step 4: Fill up the details like bank account, card type, transaction amount, card number and cardholder's name. Then click on the "Transfer" button.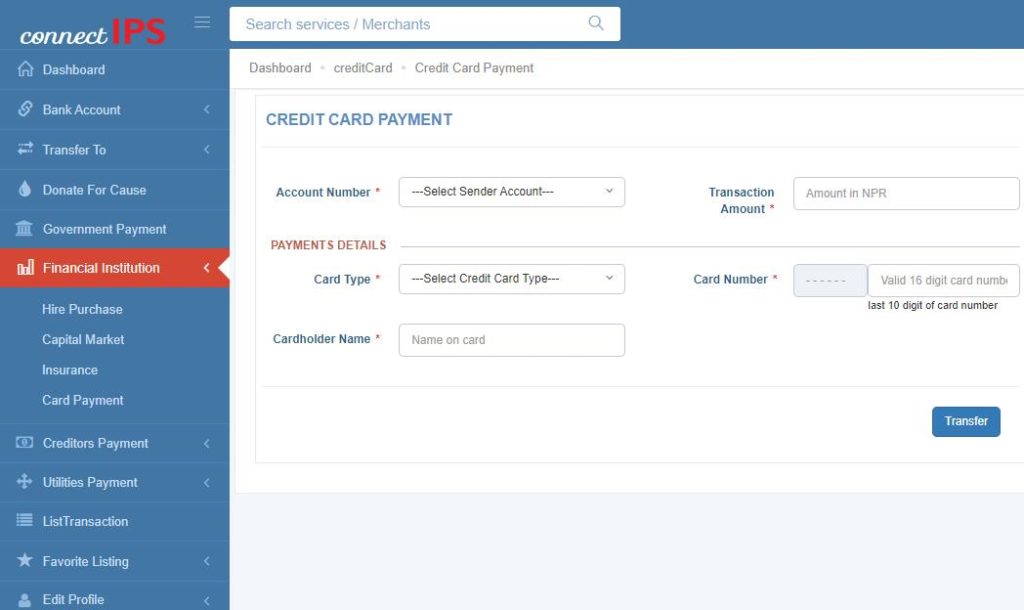 Step 5: You'll have to enter a 6-digit connectIPS transaction PIN and submit to complete the process.
With these simple steps, you can make credit card bill payment from connectIPS. connectIPS has been providing one-stop solution for an array of the financial transactions since its inception back in 2018. It is a single payment platform where you can link multiple bank accounts and pay directly to the merchants and financial institutions. Unlike digital wallets, one does not need to load the amount in it since its system directs to the bank account while making payments. And unlike mobile banking/ internet banking systems, connectIPS offers payments to any of the financial institutions/ merchants through any of the bank account listed there, which makes it a single payment platform integrating all the banks in its payment system and facilitating interoperability. Moreover, its comparatively lower transaction fees and a higher daily/monthly transaction limit makes it attractive for the users who opt for online payments on a regular basis. Which of the services in connectIPS do you use on a regular basis? Please comment to share your views.
If you are a Standard Chartered Bank's credit card holder, this link might be in your favor.