Digital payment, electronic transfer, online payment and settlement, top-up, etc. are the major buzzwords in the fintech sector. While payment service providers (PSPs) like eSewa, Khalti, fonepay, IME pay are serving to make the dream of attaining the digital economy come true, Nepal government has also placed its mark in this campaign of joining hands together to provide convenient and secure payment services to the people. For this purpose, Nepal Clearing House Ltd., the Payment Service Operator (PSO) licensed by Nepal Rastra Bank has been offering new products and services to make digital payments and clearing hassle-free and accessible for individuals, BFIs, businesses, and governmental units. To date, it has been providing services through its five major systems- ECC, ConnectIPS, NCHL-IPS, connect RTGS, and NPI. Recently, it has also started its new business payment platform- CorporatePay for its corporate clients.
Among all of them, the most popular service by NCHL for general customers is ConnectIPS.
It is an e-payment system established as a single payment platform to allow the bank customers for fund transfer and service payments from various channels directly from their bank accounts. Unlike digital wallets, load/unload of funds is not required since the user's bank account is directly linked with its system, making payments easier. However, there's an added option to load your wallets through it. In addition to that, you can link multiple bank accounts in this system as per the requirements. With its multi-layer authentication for registration and making payments, complex password requirements, and the requirement to enter a captcha in every login; connectIPS has been creating its own value in the terms of maintaining user's privacy and data security. It has been providing the following options for payments:
Payment to the governmental bodies for tax, Loksewa, Passport),
Funds transfer between own accounts, other bank accounts or connectIPS users
Third party payments like broker's payment, insurance premiums, B2B creditors payment, e-commerce websites, travel & tours, airlines, mobile/telephone recharge and other utilities
Getting started with connectIPS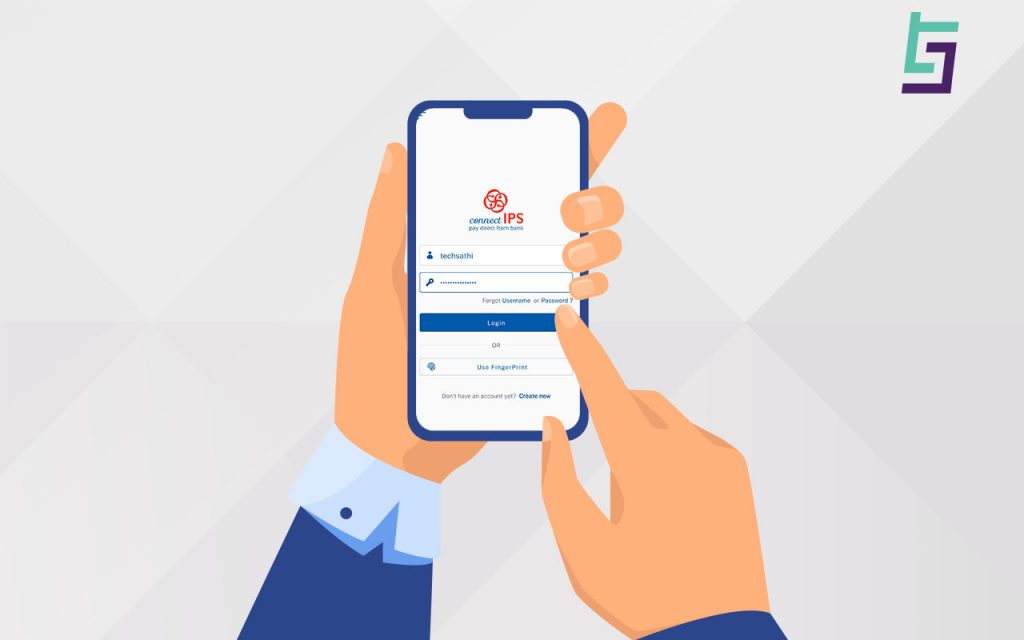 To date, there are a total of 63 members BFIs in connectIPS (25 commercial banks, 25 development banks, and 13 finance companies). Among them, 20 have allowed their users to verify the link bank by themselves in ConnectIPS. You can register through the following steps to use this system:
Visit connectIPS
Click on the user account
Fill up your details, create a username and password and then agree to the terms and conditions there
Then log in to connectIPS by your username and password
Answer the security questions for verification whenever you login afterward
Enter the code sent to your mail or mobile number and verify your ID
Set the transaction limit (From Rs 5000 to Rs 100000 for individuals) and transaction password
Submit the OTP to verify your transaction password. (Remember, this transaction password is needed every time you make payments)
Finally, fill up your bank details and then link your bank account to connectIPS.
How to Verify Bank Account in connectIPS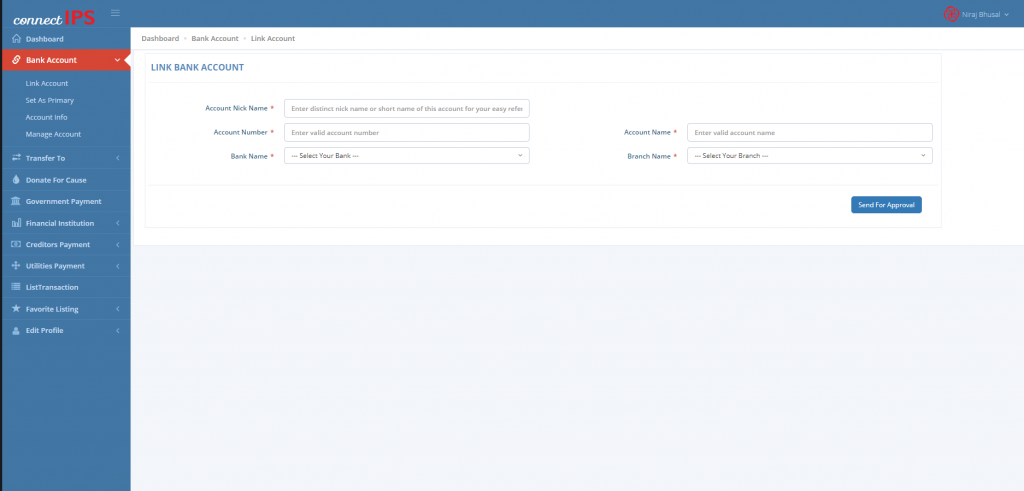 To Link and verify Bank Account in connectIPS, follow these steps:
Login to connectIPS
Then, click on the Dashboard< Bank Account< Link account. Fill up the required details and click on "send for approval"
If your bank provides self verification option, go to Bank Account<Self verify account
If it is in pending status, go to Manage Account< Pending Account< Self verify account
Enter the OTP sent to your mobile or Email and submit by agreeing to terms and conditions
You will get two micropayment deposits in your linked account which you will get informed from mobile/internet banking or bank statement
Enter that micropayment in Verify Micro Deposit and submit
You'll see "Accepted" status after your linked account is verified online
Here's the list of selected BFIS that provide self-verification service in connectIPS.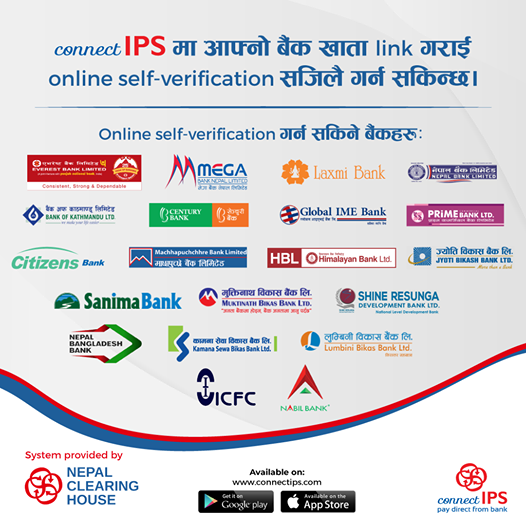 Individuals can make biller payments upto Rs 10,00,000 from the web application and Rs 1,00,000 from mobile channels.
NCHL claims to be heading towards the "Cashless Economy" as contributing to the campaign of Digital Nepal Framework of Nepal Government by introducing these services in digital payment and clearing ecosystem. With the increasing number of member banks, companies, and governmental units under this system, Covid-19 has triggered the use of digital payments among general users as well, be it in transferring funds, making payments, trading shares, or even paying taxes and other fees. As a result of this, a total of Rs 155 billion of government payments alone has been transacted through NCHL in this first quarter of FY 2077/78.
Also, Read || How to Change Security Parameters in connectIPS?
Well, what kinds of services are you using more often in connectIPS? Are you satisfied with services they are providing? Drop down your comments.