 Machhapuchhre Bank Limited (MBL) has successfully integrated NEPALPAY QR in its mobile banking app, MBL M-Smart, such that its customers can now scan and initiate QR payments available at various merchants and payment gateway. MBL has also initiated acquiring merchants for this.
MBL is one of the first banks to join the National Payment Switch (NPS) and to enable NEPALPAY QR. MBL has over 6 lakh mobile baking users and has already acquired over 6,500 QR merchants.
The business customers of MBL can now be enrolled as merchants to manage their receivables from their customers using MBL M-Smart or any other instruments enabled with NEPALPAY QR.
NCHL is promoting QR payments through integration with the banks
NEPALPAY QR has been implemented and operated by NCHL as an implementing infrastructure of the NepalQR standard issued by Nepal Rastra Bank as part of the National Payment Switch. The infrastructure allows for the deployment of independent QR schemes and facilitates the interoperability of QR at the merchant and network levels.
Apart from MBL, NCHL has already joined hands with Himalayan Bank, NIC Asia Bank, Kamana Sewa Bikas Bank, and Focusone Solutions Pvt. Ltd. as well as other BFIs in process of initiating the acquisition.
The enabling of QR in the mobile banking app of MBL and acquiring of merchant QR are expected to further increase the digital transactions at the retail level. MBL has been serving its customer from its 164 branches, 8 extension counters, 165 branchless banking points, and 203 ATMs spread across the country.
How can you pay through NEPALPAY QR in Machhapuchhre Bank's MBL M-Smart app?
Open the MBL M-Smart app and log in to your account
On the homepage, click on the Scan to pay option through the QR icon at the mid-bottom of the screen
Then, you can scan the QR code available at the merchants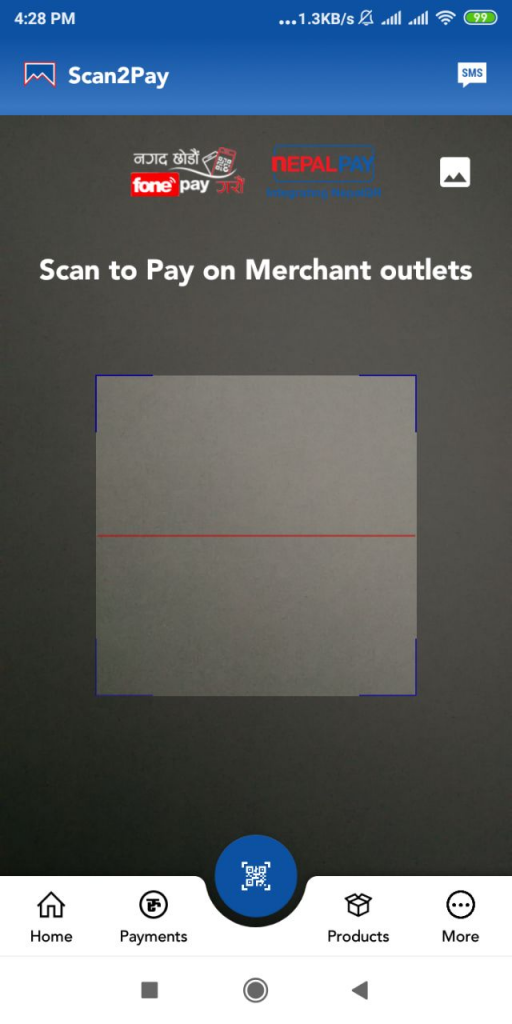 Enter the amount to pay and then proceed with your mobile banking PIN
Know more about NEPALPAY QR by NCHL; How is it aiming to transform the digital payment ecosystem in Nepal?
NCHL aims to unify payments by integrating various payment ecosystems like PSPs, PSOs, digital wallets, and mobile banking systems. NEPALPAY QR is one of the instruments developed by NCHL to implement the National Payment Switch (NPS).
NCHL has been facilitating the member BFIs, PSPs, and PSOs for the implementation of various instruments and use cases of the National Payment Switch. Under this journey, it has recently completed Phase I of the National Payment Switch (NPS) related to non-card-based retail payments. Moreover, it has been trying to introduce the NEPALPAY Card to introduce Nepal's own card payments.
Know about NEPALPAY Card
NEPALPAY Card is another project under National Payment Switch which is to be developed by NCHL. It is developing Nepal's own card so that the users can also pay through their cards digitally. With the introduction of the NEPALPAY Card, NCHL looks ahead to disrupt the card market as well.
In the latest conversation with Neelesh Man Singh Pradhan, CEO of NCHL, the company is introducing NEPALPAY Card very soon such that the users can apply for Nepal's own card. At present, the debit/credit card market in Nepal is operated by global companies like Visa, Mastercard, and Amex. On the other hand, Nepal's own SCT card is also slowly reviving after the slowdown of its acceptability.
Along with this, NCHL has also developed exciting features like NEPALPAY Instant, NEPALPAY Request, etc. to give the freedom to select payment options in the hands of the users themselves.
Read our article for more details about NEPALPAY Instant and NEPALPAY Request.
You can download the MBL app of Machhapuchhre bank from Google PlayStore and App Store.
Please visit www.machbank.com for more details.
Also read: NEPALPAY QR Announced as an Implementing Infrastructure of NepalQR