IME Pay has been a youthful digital wallet brand in Nepal that has a lot of features that keep you hooked up with it while making digital payments. Obviously, it is its delighting cashback offer if you see the benefits from the consumer's end. And there are more new benefits that give a hint that IME Pay is not just a digital wallet, it is more than that.
5 Reasons that Make IME Pay More than Just a Digital Wallet
Indeed, IME Pay is the first digital wallet to get licensed as a PSP from Nepal Rastra Bank. By PSP, it means that the wallet can provide digital payment facilities to the users through its listed merchants and vendors, along with providing bank transfers and other digital banking facilities.
More than that, now it has rebranded the definition of a digital wallet by not just being limited to the typical digital wallet that provides a range of facilities like mobile top-up, utility payments, e-commerce payments, hotels and ticket booking, online voting, etc.
We have created a list of 5 reasons that make IME Pay more than just a digital wallet:
#1 Earn Money while you are sleeping through IME Pay's amazing 7.13% interest rate
The first and foremost perk of using IME Pay is the interest you get in the IME Pay Super Wallet. It is the only one digital wallet in Nepal that provides interest like a bank. Hence, the money you have as the IME Pay wallet balance can also earn you interest.
#2 The only digital wallet having both physical and virtual cards with an NFC feature
IME Pay is the only wallet that has both physical and virtual debit cards supported by Visa. As the name reveals itself, virtual visa cards are digital versions of debit/credit cards supported by Visa company.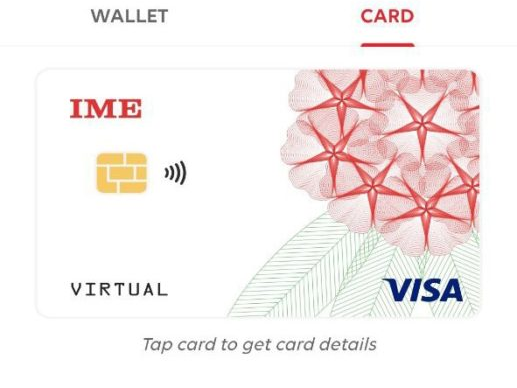 On the other hand, the physical card is similar to the debit card you can get from the bank. The only difference is that it uses your IME Pay wallet balance as the card balance. You can also link your bank account to the IME Pay wallet. And most importantly, you can get it for free, and even change the PIN without charge by yourself.
And, it comes with a Near Field Communication (NFC) feature which facilitates the "Tap and Pays" option. It means you do not need to enter your PIN to use the physical card provided by IME Pay. You can simply show the NFC icon to the POS and make easy payments with a single tap.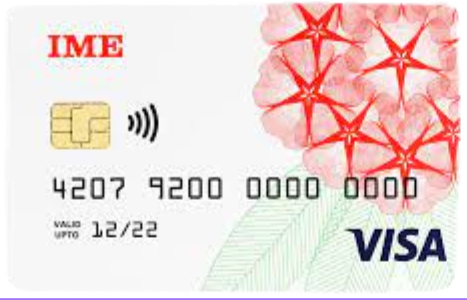 Similarly, you can enjoy any discounts or cash backs that Visa allows to its cardholders and get the experience of both digital and card-based transactions.
#3 Easiest remittance processing through the broadest network
IME Pay is the subsidiary company of IME Group, whose IME Remit has disrupted the remittance industry in Nepal. And now, IME Pay has led this legacy even further by linking remittance with technology.
It also allows you to send money from 435,000+ international locations and 200+ countries to Nepal. Also, the money that you receive from the remittance can be directly deposited into your bank account, which provides you with an additional 1% interest on the deposit. Apart from that, you can leave that money in your IME Pay wallet too which gives you 7.13% interest as of now.
#4 Send or receive money even outside the IME Pay Network; Enjoy IME Remit facilities even through IME Pay agents
Almost all of the PSPs and PSOs in Nepal are working towards maintaining interoperability among the other peers in the digital payment industry. IME Pay has its own pros where you do not need to be a member of the IME network in order to receive the remittance money.
Once you are notified that you have been sent the remittance to your bank or IME Pay wallet, you can simply go to the IME Pay agents and give your registered mobile number to them and receive the money. This way, you can even receive remittance without an IME number.
The IME number is a special number that can track the remittance till it is received by remittance. So, any IME Pay agent can help you with IME remit. Due to this flexibility, IME Pay has not only become a digital wallet but also has supported the digital remittance industry at large.
Likewise, IME Pay is the first digital wallet to offer all 4 QR code payment options (except NEPALPAY QR). You can scan the QR code of all popular QR code providers like Fonepay, Union Pay, IME Pay itself, and Smart QR.
Similarly, it has the widest network of cooperatives that allow you to transfer money from one cooperative to another. There are already 48 member cooperatives under the IME Pay network.
You can either send or request money through the app and also link your bank account of 26 Commercial banks, 18 Development banks, 19 Finance companies, and 1 Cooperative.
#5 Peerless Cashbacks and discounts
Well, IME Pay is popular for its comparatively higher cashback and discounts on many of the payments to vendors and merchants.
It has cashback and discounts higher than other digital wallets in some particular payment options like:
| | |
| --- | --- |
| Payment Option | Cashbacks |
| Mobile Recharge | Up to 5% |
| Data packs | Up to 2% |
| Internet Charge payments | Up to 2% |
| Cable Car | Up to 5% |
Apart from that, you can also earn extra money by referring IME Pay to your friends. It is offering you Rs 25 each time when your friend downloads the IME Pay app and completes KYC verification using your referral code. Your friend too will get Rs 25 instantly to their newly formed IME Pay wallet. Isn't it amazing?
How could we forget about its festive offer? This Dashain- Tihar too, IME Pay has brought amazing offers, discounts, and gifts to the users. Click here to know more about IME Pay Digital Dashain-Tihar Offer.
With these interesting perks and features, IME Pay has been operating as more than just a digital wallet. And thanks to its holding company IME Group which has facilitated to link this digital wallet with the banking channel and has blended the banking features too like, interest, remittance, physical and virtual cards, etc. These factors give a clear hint that IME Pay is on the way to becoming a digital bank in Nepal.
You can download the IME Pay app for both Android and iOS devices.
Also read: All About IME Pay Digital Dashain Tihar 2079 Offer; Get Loaded with Daily Prizes, Discount Vouchers, and Even Scooter in Bumper Prize