IME Pay has recently added QR based payments from FonePay. According to them, this wallet provides all QR Payments through the IME Pay wallet app.
With this integration, now IME Pay accepts the QR payments from the QR payment service operators like Smart QR, FonePay, UnionPay and IME Pay itself.
On March 1, 2021, Nepal Rastra Bank had brought Nepal QR- Standardization Framework and Guidelines into effect in order to guide for integrated QR based payments in Nepal. Before that, the situation was such that the users were required to have separate mobile wallets for separate QR codes available for the payments. This created a burden to download the wallets as per the available QR service operators and providers while making payments.
To solve this issue, this guideline came into effect along with allowing the payment service operators (PSOs) and payment service providers (PSPs) to develop an integrated system where almost all the QR payments could be accepted by a single wallet/ payment system as much as possible.
Paying attention to the aforementioned situation, IME Pay has integrated majorly used QR code based services into its system so as to provide a one-stop solution for making QR based payments.
How Would it Benefit Users?
For instance: If A has to pay for the merchant through QR code, it could be easily done using IME Pay app, regardless of the type of QR code operator available at the payment terminals. It would not matter whether the merchant has QR code powered by Smart QR, Union Pay, FonePay or IME Pay. However, IME Pay app is a must to enjoy this service.
About IME Pay
IME Pay is one of the major payment gateways in Nepal, developed as a digital wallet by IME Digital Solution Ltd., a subsidiary of IME Group. With its 1 million customer base, it is present in all the 77 districts of the country and can be accessed from 100+ banks as well as through its 25,000+ agent networks. With this achievement, IME Pay aims to stand as an instant, hassle-free, secured and reliable digital wallet in Nepal. It offers a wide range of services as:

After the integration with Fonepay, the majorly accepted QR Code service operator in Nepal, IMEPay stands as a more convenient digital wallet that can accept any major QR code available in the country. Now one can get rid of the nuisance of downloading separate payment apps for separate QR code payment.
Funds transfer
Utility Bills Payments
Merchant Payments through QR
Online Ticketing and booking
Remittance
Bank Linking
Financial Payments
Interest on wallet
Request for money option
How to pay any merchant from IME Pay via QR Code?
Go to "Home" and tap on "QR Code Scanner" tab on the menu
Place your QR Code scanner on Merchant's QR code
Once scanned, tap on "Pay"
Enter amount to be paid and bill number for reference and tap on "Proceed"
Enter your 4-digit pin and tap in "Confirm"
You will receive in-app notification on your IME Pay once your payment to the merchant is successful.
QR Code Based Payment: An Indicator of Digitalization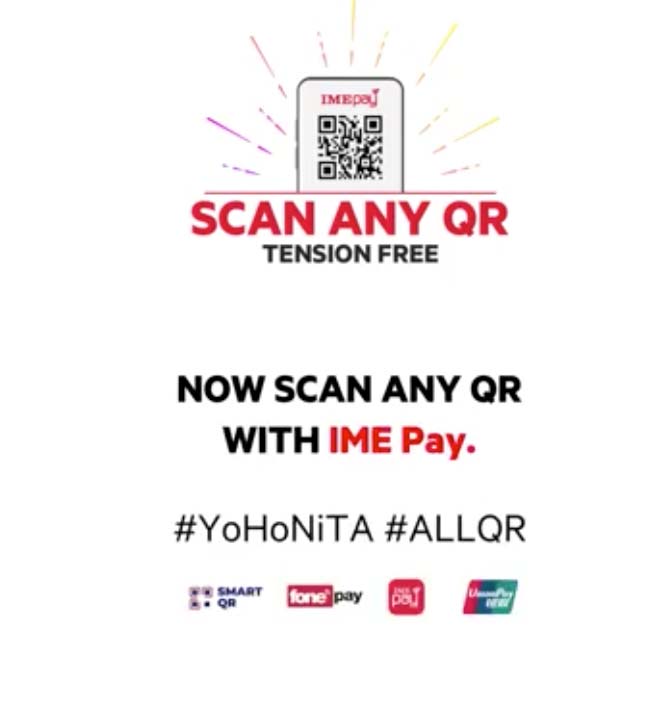 QR code payment is a contactless payment method where payment is performed by scanning a QR code from a mobile app. This is an alternative to doing electronic funds transfer at the point of sale using a payment terminal. QR based payments have revolutionized the overall process of payment, being one of the unique and advanced payment methods in the fin tech sector. It was started by FonePay in Nepal in the year 2012.
Fast forward to present, there are 10 PSOs and 27 PSPs licensed by NRB which are providing QR-code payment services in the country, where the most popular ones are Fonepay, IME Pay, Khalti, PrabhuPay, QPay, UnionPay, SmartQR and others.
Similarly, major commercial banks have also launched their own mobile banking apps with QR code based payment options. In this regard, Fonepay has enjoyed the first-mover advantage to its fullest. The majority of QR codes services in these banking apps are powered by FonePay. According to Fonepay, they have provided QR code payment options to 50+ banks till date.
And now, with the integration between IME Pay and FonePay, the interoperability of PSPs and PSOs in terms of QR code payment has finally became a reality. It has paved the path towards reliable and convenient payment options, since this very event has aligned with the three objectives of Nepal QR – Standardization Framework and Guidelines i.e. interoperability, scalability and security.