Kedar Ghimire's Comedy Hub is a drama based Nepali comedy show broadcasted at 8 PM every Wednesday in AP1 HD. As the comedy program is calling for votes from the viewers to the performers, you can vote your favorite comedy hub performers via Sajilo Pay digital wallet.
Eighteen comedians including Himesh Panta, the comedy champion, appear in the show. The performers give their standup comedy experience and amke the audience laugh out loud.
You, as an audience, have the authority to vote your favorite contestant enabling him/her get the bragging right of being the most voted one every month.
SajiloPay is the digital wallet partner of this show through which you can vote for your favorite contestant.You can vote for your favorite contestant and help him/her to get merits every month.
How to vote your favorite Comedy Hub performer via Sajilo Pay?
You can vote up to 5 performers through Sajilo Pay following the steps below.
Download the Sajilo Pay app through Google Play Store for Android devices and App Store of iOS devices..
Create your account and log in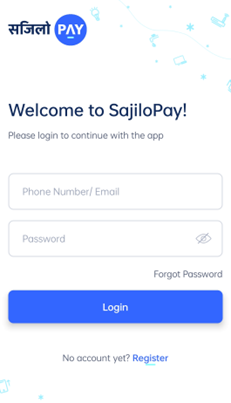 Scroll down the home page and tap on 'Sajilo Campaigns'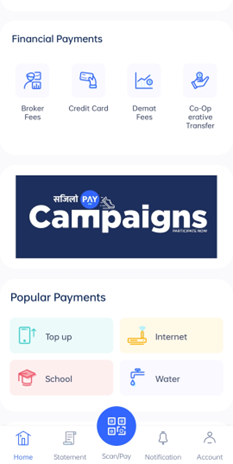 Tap on 'Comedy Hub performer'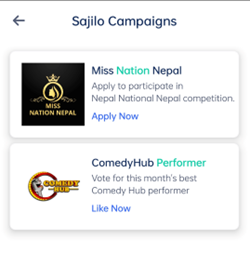 Tap on the name of your favorite performer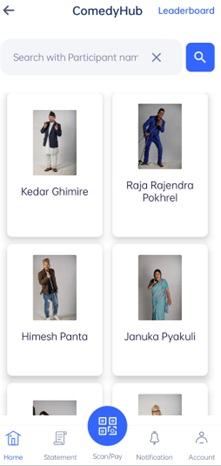 Last but not the least tap on 'Like now' and confirm your vote.
How to create an account on Sajilo Pay?
Install Sajilo Pay app through Google Play Store.
Open the app and tap on 'Register' to create an account.
Enter your valid mobile number and tap on the 'Get Registration Code' button.
You will be sent an OTP code. Enter the code and tap on 'Confirm'
Fill the details needed accordingly.
Create a strong unpredictable password and a 4-digit code so as to secure your account.
After the account is created on your behalf, you will be a registered Sajilo Pay user.
About Sajilo Pay
Sajilo Pay is another emerging and popular Nepali digital wallet. It is the first ever multilingual Nepali digital wallet that features 11 ethnic languages spoken in the country. They are :
Maithili
Tibetan
Newari
Tamang
Tharu
Magar
Doteli
Gurung
Rai
Limbu
Sherpa.
It also features national language Nepali and the lingua franca (English).
Through Sajilo Pay, you can make the following transactions:
Utility bills payment: electricity and power bills, water supply bills, DTH and TV cable bills etc.
Landline & telecommunications Bill Payment
ISP, Internet & Broadband Bill Payment
Buy & Renew Insurance Policies
Domestic Flights Ticket Booking (get up to RS. 800 cash back)
Government services bill payment
Pay for ride sharing & carpool
Movie ticket Booking, hotel booking, antivirus, cable car ticket booking, bus sewa ticket booking, etc.
Send/request fund, bank transfer, send/receive remit, broker fees payment, credit card transfer, Demat fees payment, Co-operative transfer etc.
You can load your Sajilo Pay account through E-Banking, Mobile Banking, Connect IPS, Debit/Credit Card or by linking their bank account. Linking bank account can help you make easy and direct payments.
Also Read: "Nepal Address" – The Easy Address Locating Service