Imagine getting a payment app in your own native language! Well, this is a reality now. SajiloPay, an emerging digital wallet in Nepal is available in more than 10 languages.
On the auspicious occasion of Dashain, SajiloPay has introduced multilingual features in its app with amazing offers. With an aim to introduce all the languages of Nepal in its app, it has currently brought 10 languages other than Nepalese and English.
There are other 10 local languages that the users can choose accordingly. This digital wallet is available in:
Maithili
Tharu
Tamang
Newari
Magar
Gurung
Rai
Limbu
Sherpa
Doteli
All of them are native languages of Nepal. Some people who are more fluent in their mother tongue can still find difficulty with the Nepalese and English languages. To solve this problem, SajiloPAy has introduced this app where the users can select any language they are comfortable with. Moreover, they are looking forward to adding more languages in the days to come.
However, as of recent development, this app will only include multilingual features for essential registration details and instructions. According to them, they would develop and update the features collecting the reviews of their valuable users. They anticipate people's engagement in this so that they could ensure authenticity and error-free language.
Know more about SajiloPay
SajiloPay is a digital wallet by SajiloPay Payment Services Pvt. Ltd. This private company is a Payment Service Provider (PSP) licensed by Nepal Rastra Bank. The company mainly aims in promoting digital financial inclusion in remote and rural parts of the country through innovative solutions like this. Through this multilingual feature, they are trying to include more and more Nepalese into the digital payment eco-system. They aim at catering services to the people who are still being banking access in Nepal.
Available Features
Like other digital wallets, SajiloPay also offers payment options like mobile top-up, bank linking option, utility payments, bank transfers, financial payments, and government payments. You can also pay your broker, renew your Mero share and DEMAT accounts. Similarly, getting travel and event tickets online is easier here. In addition that, there are already 4 remittance options available there.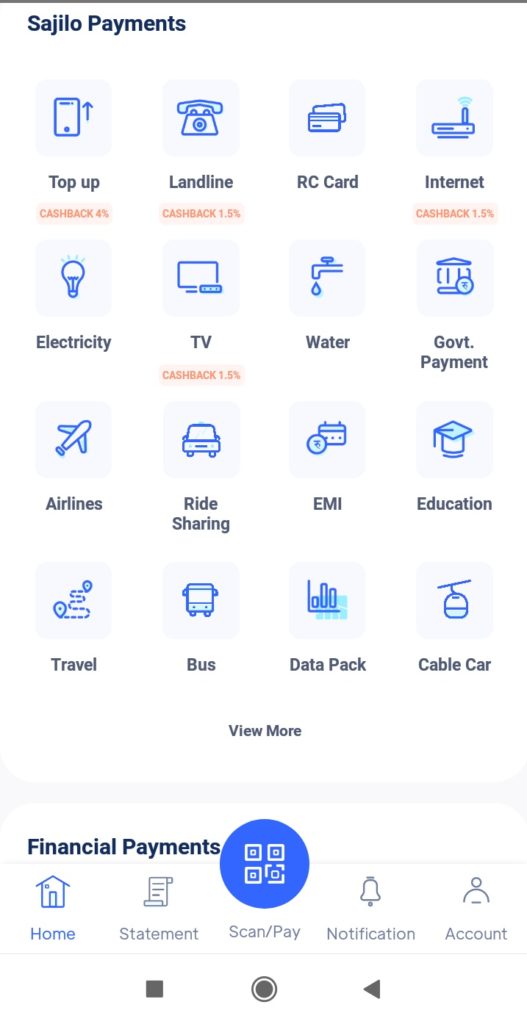 You can load your wallet through your e-banking, mobile banking, debit/credit card, linked bank account, or connectIPS. Moreover, you can also make payments through the QR code scan option which is available at the bottom of the homepage.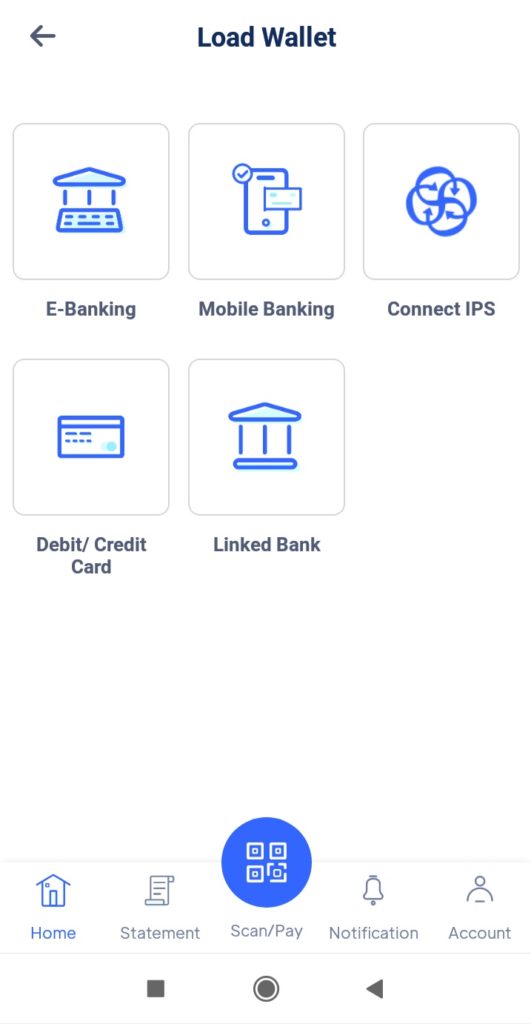 There are 28 ISPs listed in SajiloPay where you can pay for internet bills. Moreover, there are cashback options available in the app. You can get up to 1.5% cashback on internet bills payment and up to 4% cashback on mobile top-up. Additionally, you can get loyalty points on using SajiloPay for digital payments. However, some features like school fees payment, water bills, broker fees, credit cards, etc are still in progress.
This is a ritual of all the PSPs, supported by the requirement by NRB that one needs to verify the KYC account in order to make payments above Rs 5000. You can verify your KYC in an instant in the app.
SajiloPay is available for both Android and iOS devices.
What are their plans to capture the market? Are there any offers for the users?
Since the app is for native language speakers, there's no doubt on offers. For this, SajiloPay has started a 3 stage collaborative campaign for its users such that they can also update accordingly.
The first stage campaign calls for participants to identify any linguistic errors in the app and suggest/make corrections in the already existing languages excluding Nepali and English. They can drop their review on Maithali, Tharu, Tamang, Newari, Magar, Gurung, Rai, Limbu, Sherpa, and Doteli languages (list 1) Among every incoming participant, 1 winner for each language (10 winners) will be chosen through a lucky draw for the prize money of Rs. 2,000.
In the second campaign, a list of words that are yet to be translated found in the app/website can be translated by the participants in Maithali, Tharu, Tamang, Newari, Magar, Gurung, Rai, Limbu, Sherpa, and Doteli (list 2). Here, 2 participants from each language (i.e., 20 SajiloPay users) will have the chance to win prize money Rs. 4,000.
For the third campaign, SajiloPay users can add any other language besides those already existing in the app. For this, list 1 and list 2 shall be translated, based on their linguistic accuracy and authenticity first three participants will be announced winners, to take away Rs. 7,000.
You can give your feedback from the customer support section. For that,
Log in to your SajiloPay account
Click on Account option on bottom right corner
Scroll down and click on customer support option
You can either call or send an email to the company
How to select language on SajiloPay?
Log in to your SajiloPay account.
Either click on your name on the top of the homepage or go to the Account option on the bottom right corner.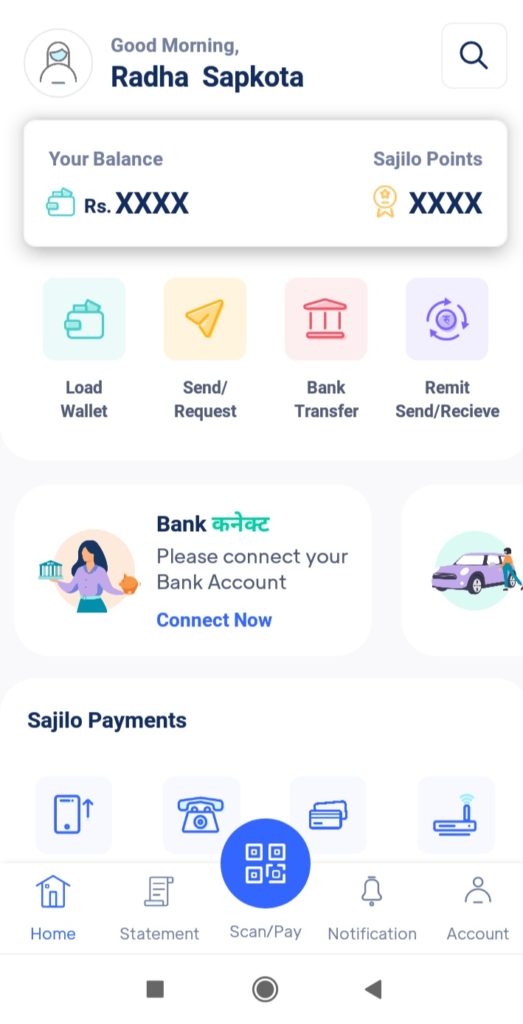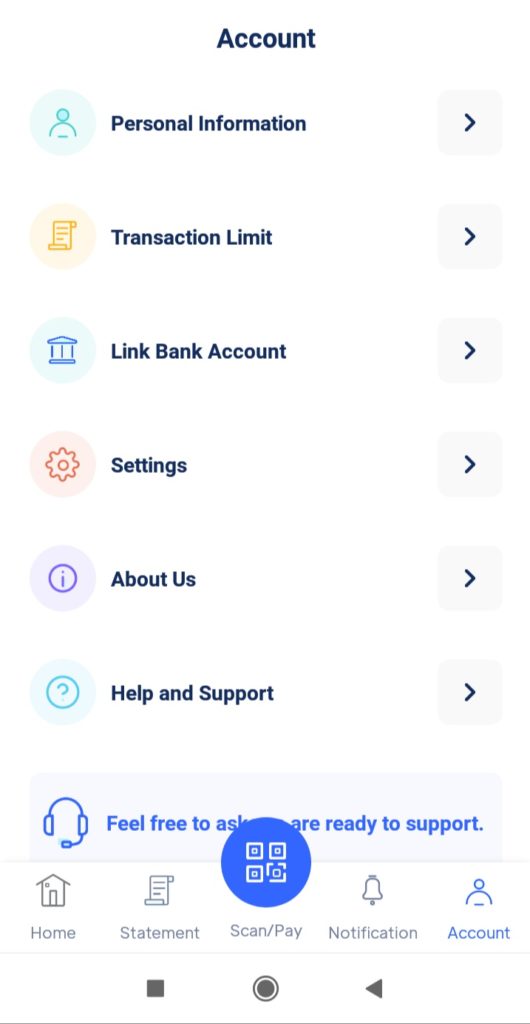 Click on the "Select Your Language" option
Choose any of the languages available there.
As soon as you click there, the language setting changes in an instant.
SajiloPay; Empowering Native Language Speakers with Digital Inclusion
There are many people in Nepal who speak their mother tongue language only. Since most of the digital wallets and PSPs are limited to Nepalese and English language only, this app stands out amongst its peers. As the name itself stands in the Nepalese adaptation of "Easy", SajiloPay aims in serving comfort for its users. It introduces this feature to appreciate and embrace Nepal's linguistic and cultural diversity, with its aim to include every Nepali language in the app. As it will add more languages soon, it envisions people from the remotest and isolated place to be able to use digital wallet service in nearest future that too in their own language.