 The Clubhouse is an invite-only social media app for iOS and Android that enables users to engage in audio chat rooms with up to 5,000 individuals. It is a revolutionary type of social product primarily focused on audio. It allows individuals all over the world to interact, share stories, make connections, strengthen friendships, and meet interesting new people. This drop-in audio chat app was created by Paul Davison and Rohan Seth in 2020. According to CNBC, it was appraised at over $100 million by May, despite having just 1,500 users at the time.
How can you join Clubhouse ?
To join, an existing Clubhouse user must issue you an invite via their app, which will allow you to set up an account. If you've been invited, you'll receive a text message with a link to a sign-up page in the app. Users of the Clubhouse can't just invite anybody who wants to join.
Clubhouse wants users to explore different conversations. You enter each room as an audience member. If you want to talk, you "Raise your hand" by clicking the raise hand icon, and then the speakers can choose to invite you up. You'll also have the option to unmute yourself once you've requested to speak by clicking the raise hand icon and the moderator has granted you access. When someone joins, they can choose a topic that intrigues them; the more details they provide about their interest, the more conversation rooms and users the app will suggest them to follow or join.
Rooms in Clubhouse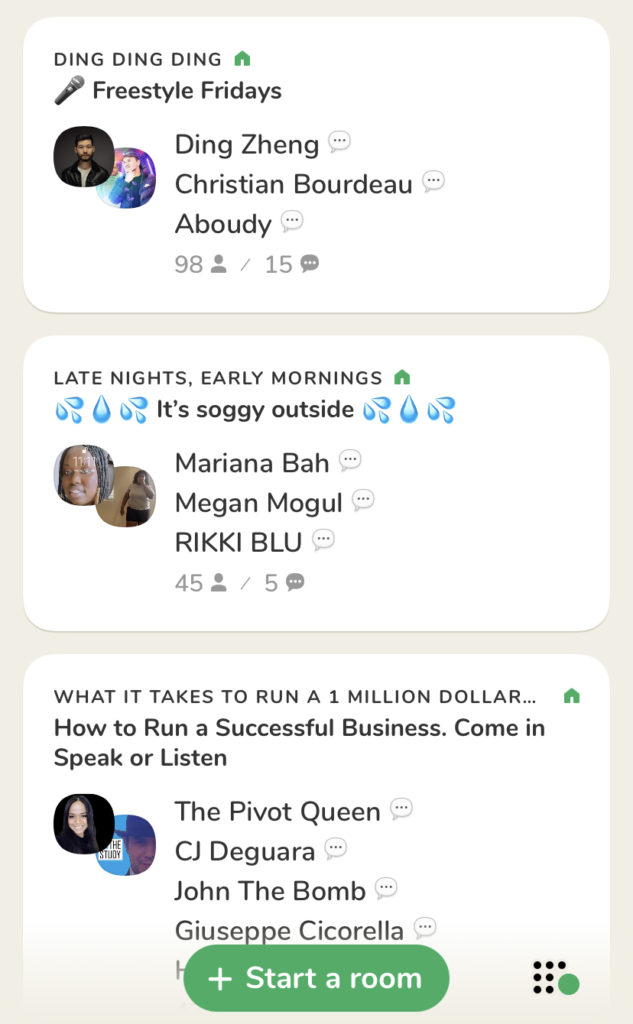 The Clubhouse has a multitude of ' rooms'. When users with invites first access the Clubhouse app, they will see open virtual 'rooms' with other people discussing. These 'rooms' are available to the public so that individuals can enter and leave as they please. Clubhouse rooms are frequently hosted by experts, entertainers, entrepreneurs, artists, and several others. One can even create their own 'room'. The clubhouse provides users the feeling of being in the midst of an intriguing live podcast. It enables them to listen to interesting individuals talk about a variety of issues through interactive discussions and conversations.
Anyone can create a "room" that other users can join. There are moderators, speakers, and audiences in each room. Listeners can "raise their hand" to request to talk, and moderators determine who gets to talk. Although the principle of the 'room' is pretty simple, the effectiveness of each room varies greatly depending on who is the moderator and how many users are listening. Rooms might have a handful number of individuals or thousands and might last a few minutes or several hours. Every discussion and conversation occurs in real-time, these discussions aren't recorded or accessible later and individuals are free to move around different 'rooms'.
The next Social Media hit?
The image of this social media platform is partly based on its exclusivity. The company plans to enhance Clubhouse for everyone and make it accessible to the rest of the world, as it presently needs people to be invited to the platform by an existing user. The clubhouse is a pretty exceptional app. The fact that it emphasizes social audio, distinguishes it apart from other social media platforms and helps it stand out.
The Clubhouse is also getting a lot of momentum in Nepal, as well as among Nepali users living overseas. The way it connects people to have in-depth conversations while also allowing them to share stories, build connections, and meet new people is remarkable.