If you are a customer of Himalayan Bank, CellPay has a lucrative offer for you. Nepal's first payment service provider with both wallet and bank linking feature, CellPay has introduced this offer where you can get a chance to win Galaxy A52 by linking your bank account and making at least one transaction.

Gear Up to Win Samsung Galaxy A52 and Other Sure Shot Prizes
Not only Galaxy A52, but also there are other sure shot prizes to the users. Cell Pay has partnered with Himalayan Bank Limited where you can simply link your HBL account into Cell Pay's bank linking system and then process for a transaction to win a sure shot prize of a voucher worth Rs. 200 from Gyapu Marketplace and 1GB data of NT or Ncell. Similarly, every week one lucky user can win gift hampers from Local Farm and Energizer Nepal.
How to Participate?
This offer is available only to the new customers of Himalayan Bank Limited. So, if you have got an HBL account, you can avail for making a transaction by linking your account to CellPay.
HBL customers will receive an SMS with a link that directs to bank link service of CellPay
Click on the link and follow the bank linking procedure
It you have not got the link or do not have CellPay, you can simply download the CellPay app, verify your KYC account and link your HBL account
Then make a first transaction from CellPay with your HBL account
One must process the transaction with a minimum cart value of Rs 1000 to avail for Gyapu sure shot voucher offer
Pay Attention to the Terms and Conditions *
One wouldn't like to lose their chance of winning in any offer if they are eligible for that. So, better to have a look on what the terms and conditions are to participate in this campaign.
As CellPay indicates, the terms and conditions are:
The customer must be link their HBL account in CellPay.
The offer is valid for HBL new customers only.
In order to be eligible for the lucky draw, the Customer has to do any one transaction within the campaign duration.
To avail of your Gyapu Gift coupon worth Rs.200, the minimum cart value needs to be Rs.1000
The winner will be selected on the basis of a lucky draw. All decisions made about this campaign by Cellcom Pvt. Ltd. are final. Cellcom reserves the right not to award prizes, to disqualify entrants, if there are any illegal or fraudulent behaviors.
Wondering How to Link Your Bank Account?
The users must verify their KYC account in order to link their bank account. And this offer is valid for only the new customers of Himalayan Bank who link their account to CellPay.
You can follow the steps below to link your bank account:
Login to your CellPay account and go to "MANAGE ACCOUNTS"
Click the + icon and select your preferred bank and then fill your account number, check the terms and conditions box and click on "ADD ACCOUNT"
Then you will get an OTP number in your SMS
Fill your OTP Number and then your PIN and click on "CONFIRM"
A message will pop up "ACCOUNT ADDED SUCCESSFULLY" which indicates your bank is linked.
Remember, you need subscribe to mobile banking and your name, mobile number and account number must match with bank records to link the bank account.
Get to Know More About CellPay: What Makes it Different than Other PSPs?
CellPay is a payment service provider, developed by Cellcom Pvt. Ltd. It is the first PSP licensed by Nepal Rastra Bank to provide both wallet option and bank linking option for making payments. With around a wide network of 200,000 merchants and 20 member BFIs (17 commercial banks, 2 development banks and one finance company), CellPay is providing both the service of a mobile wallet and a payment platform link connectIPS. It means you can avail for making payments in two ways:
Either you load CellPay and make payments from load amount
Or, pay directly from the linked bank account
CellPay is available for download on Android , iOS and Huawei version.
Services Offered
Like any other payment service provider, one can opt for making payments digitally over a mobile application or web application of CellPay.
CellPay has a wide array of services to be offered in its system namely:
Fund Transfer
Mobile Top up
Remittance
Merchant Payment
Utility Payments like Water, Electricity
Airlines and Hotels ticket booking
Insurance, EMI and Credit Card Bills payments
Online shopping via CellPay cart section
CellPay Introduces New Wallet | Mero Wallet with New UI, CellPay Kart and Exciting Offers
Along with that, CellPay has some unique features unlike other digital wallets since it is a combo of a digital wallet and a single payment platform:
Multiple bank linking: You can link multiple banks into the system of CellPay and probe for the transactions directly through your bank account, without the hassle of loading funds.
Choice of language: CellPay is available in both Nepali and English language. You can choose any one among these as per your convenience.
Transfer of funds in low cost: The users can choose either of the two methods in transfer of funds- wallet transfer and bank transfer. This too can be done in a low cost range as per the transaction slab as below: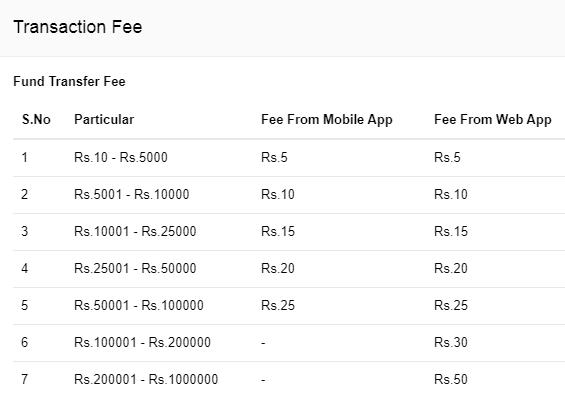 There are already 18 digital wallets licensed by Nepal Rastra Bank to operate as digital payment gateways. However, most of these digital wallets and payment service providers are competing with similar services. They differ with each other in terms of number of services and offers. CellPay is an emerging digital payment gateway which is growing with its network of merchants and member BFIs to attract more customers. So, if you are a customer of Himalayan Bank Limited, you can grab this opportunity and get a chance to win the amazing gifts and prizes. Good luck!