 Hamrobazar is the oldest e-commerce platform in Nepal that supports all forms of e-commerce, be it b2b, b2c, c2b or c2c. After the recent takeover of Hamrobazar by Kantipur Media Group, the site and the company in itself has been going under major reformations. First the company structure, then its logo mark and now its site (and app), all of these are being shifted into a more contemporary state. With that, Hamrobazar Bug Bounty Program in collaboration with Bugv is another step to ensure the platform becomes efficient and easy to use.
About two weeks back, Hamrobazar had released the beta version of its new platform. And now, the company has announced its bug bounty program too. Depending upon the vulnerability, ethical hackers will be able to earn amount ranging from $10-$150. To participate, the users will have to register themselves in Bugv, a bug bounty platform that works with different companies in and outside Nepal.
How to register in Hamrobazar Bug Bounty Program?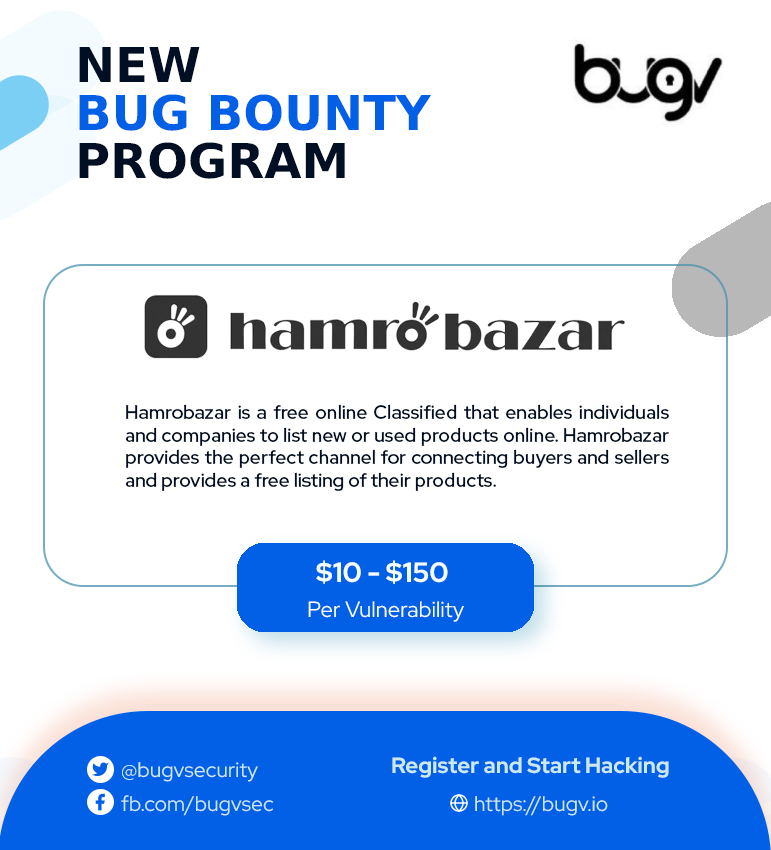 It is very easy to register for the program. All you have to do is sign up in Bugv and register in the platform. While creating an account, you need to specify whether you are a company or a hacker. In this case, you will be working as a hacker so select that option.
After that, create an account and start finding the vulnerability in Hamrobazar! It cannot get any simpler.
Also Read: HamroBazar "Tu Bikcha!" Campaign: List Anything You Would Like to Sell and Get a Chance to Win a Trip to Las Vegas