 If you are a gamer and looking for that kick in your wifi router then your worry may fade away with the latest dual-band wifi router you will know today. Yes, I am talking about the Asus TUF Gaming router that you are probably waiting for. Finally, it is available in Nepal.
Asus TUF gaming AX5400 router is the latest WIFI 6 gaming machine from ASUS with a dedicated gaming port and 3 step port forwarding. It aims to give you a fast and stable wireless/wired connection in device-dense areas. This router will benefit all your device from smartphones, laptops to gaming consoles. Today we will look at the specs and features of this awesome gaming router.
Specifications
ASUS TUF Gaming AX5400 router bears powerful hardware. It features a triple-core Broadcom BCM-6750 system on a chip processor that runs at speed of 1.5GHz.
Since it's a dual-band wireless router, it supports WiFi6 which is the fastest of all. Also the 5GHz connections function because of the Broadcom BCM-43684 chip.
The 2.4GHz wireless connections work through the 2×2 MU-MIMO, while the 5GHz is on the 160MHz channel bandwidth. That's using the 4×4 MU-MIMO.
This ASUS TUF Gaming AX5400 router features 256MB storage for the firmware. Plus, it also has 512MB of RAM. It's good for handling a small business or home network that's linked with lots of devices.
Packaging
ASUS TUF gaming router comes within an attractive and premium-looking cardboard case. The router is portrayed in the box's front, while ASUS and WiFi6 are on each top corner. There is a lower-right portion that shows the logo of TUF Gaming. In the left, you'll find the name of the unit, along with its highlighted features.
Inside the box, you'll see the router itself which is nicely packaged, TUF Gaming AX5400 router, you'll also find an RJ45 cable, power adapter, and quick start guide. There's also a troubleshooting guide plus some warranty information inside the box.
Design
First thing first, its design is all catchy and attractive to see. You would say 'wow' seeing it. It comes with a great sleek design and a catchy logo on top of it. To match your gaming vibes, It bears broad ventilation holes and six external antennas. six antennas would make you feel that it has some superpower.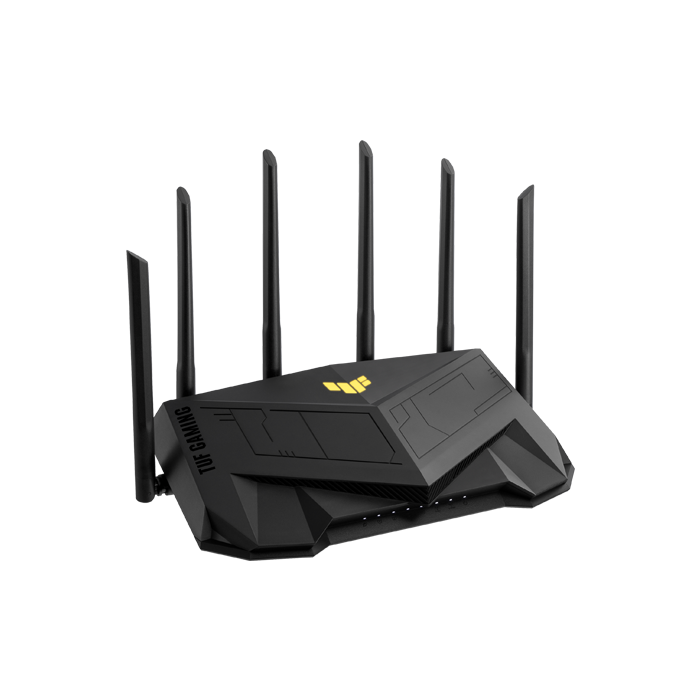 Its outer part is made up of plastic and its corners snd surrounding are nicely blended. The ventilation grid is V-shaped on the front.
Talking about ethernet ports, there are four ethernet ports on the back of the router. On the rear, there are a power jack, power button, USB 3.2 Gen1 port, WPS button, and reset jack.
Under it, you'll see an aluminium heat sink that's made to enhance cooling. At the base of the router, you'll see four rubber feet to keep the product in place.
Also, the main point about its design is ASUS included an RGB light on the TUF logo that will be pretty cool to look at.
Key features of ASUS TUF Gaming Router AX5400
Just look and design doesn't matter unless we know what it bears and what are its features. Let's look at some key features this router brings to your table.
Ultrafast wifi 6
WiFi6 offers faster and more suitable wireless speeds with the OFDMA, MU-MIMO, and BSS colouring technologies. Plus, it increases network efficiency, so all devices can have their own share of WiFi bandwidth.
It's flawless for busy networks with tons of various WiFi devices. These include laptops, smart home devices, and even smartphones.
Fast and stable wired gaming
It offers a dedicated gaming port to prioritize connected gaming devices. You can connect your device directly to the router and enjoy the faster wifi.
Wireless Mesh networking technology
Asus TUF gaming router AX5400 offers an option to add an AiMesh-compatible router. It means when you need more coverage and function, you can link a number of compatible Asus routers to establish an entire home mesh wifi network. The main purpose of this feature is to let you enhance coverage.
You May Also Like – ASUS Vivobook Pro 14X OLED Launched in Nepal: The Best Mid-Range Laptop for Creators
3 step port forwarding
Asus TUF Gaming router offers the awesome functionality of 3 step port forwarding. Port forwarding allows remote servers and devices on the internet to access the devices that are within your private local-area network (LAN) and vice versa. This router comes with Open NAT which makes port forwarding simple, eliminating frustrating and complicated manual configuration.
Tested durability and stable operation
The TUF Gaming AX5400 router is designed to deliver total WiFi performance. Its double heat sink design and vent location improve cooling for enhanced stability. The metal port protectors and fixed antennas are there to boost physical durability too.
Price and availability
ASUS TUF gaming AX5400 is available in Nepal. You can purchase this router through the Nagmani store and their website at Rs. 25,555.