The first company to start a digital calendar in Nepal, Hamro Patro has grown into a full-fledged super app in its last 12 years of operations.
On the occasion of its 12th Anniversary, this very local app developed with a global touch has announced that it is about to release its payment app "Hamro Pay" soon; which will complement the audacity of this app to reach to all Nepali users.
Today, more than 10 million mobile phone users use this app in Nepal alone. Even the founder Shankar Uprety might have not anticipated how this app would become the most preferred app by Nepali users within 12 years.
Starting as a digital calendar, Hamro Patro has expanded its product line with various features and other subsidiary apps like Hamro Keyboard, Hamro Ludo, and others.
About Hamro Patro
HamroPatro introduced its iOS version for the first time in 2010, followed by its Android release in 2012.
While there were no any Nepali local apps that could provide information in the local language, Shankar Uprety developed this app for his personal use during his stay in the USA for studies.
Soon after, he developed a team and added other features like a load-shedding calendar, date, news, forex rates, groceries price list, and others.
And recently, it has updated additional features like Hamro FM, online birth chart matching, tell health facilities, online astrology, and digital remittance, which no doubt make it a super app.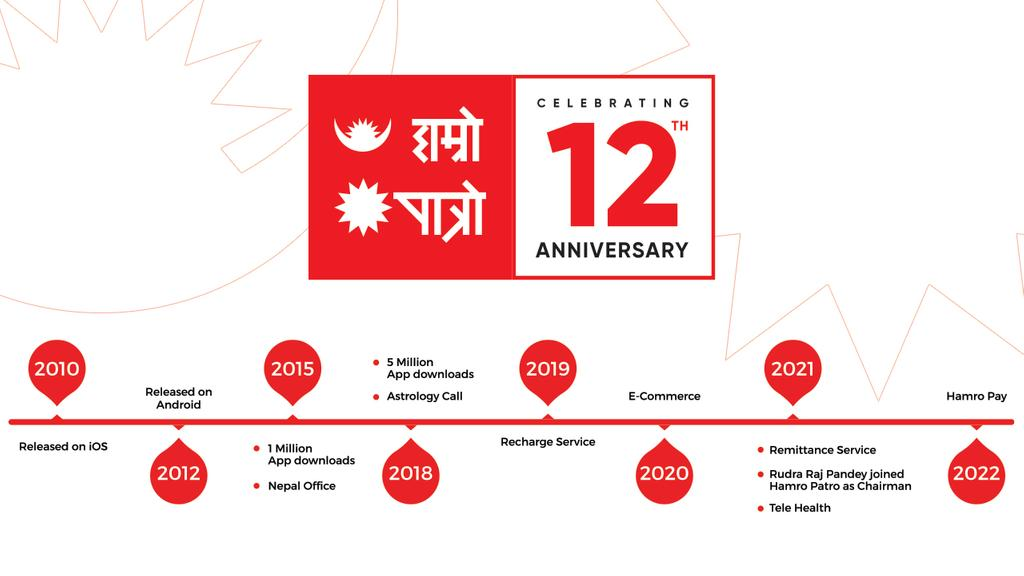 The timeline of HamroPatro over the years looks interesting as it has upgraded and updated its products and features.
Within 5 years of operation, the HamroPatro app reached hit 1 million downloads in the Google Playstore in 2015. The same year, it started its office in Nepal. Previously, it was operated from its office in the USA.
And them multiplier effect came into play when it hit 5 million downloads within three years of its 1 million downloads milestone.
In 2020, it launched an e-commerce app called Lenden, followed by a remittance service named Hamro Remit. Hamro Remit too, successfully brought Rs 1 crore remittance amount in just 2 months of its operation.
All these successful endeavors of HamroPatro make it really a success story indeed and there are more avenues for this company to grow with its new leadership.
Just in 2021, a well-known entrepreneur and educator Rudra Raj Pandey joined Hamro Patro as Chairman of the company.
And now, with the introduction of its own digital payment app "Hamro Pay" app, it is about to rule the Nepali app industry catering to almost all of the requirements that a general user would like to have in a mobile app.
According to the company, the payment app will be released soon for both Android phones and iOS devices.
You can download the Hamro Patro app from Google PlayStore and App Store.
Also Read: WordCamp Nepal 2022 Aims to be the Largest WordPress Event after WordCamp Asia