The largest WordPress Event in Nepal, WordCamp Nepal 2022 is all set with preparations and is happening on the 5th and 6th of November, 2022.
WordCamp is the world's largest international WordPress event. It is the flagship event organized by WordPress communities that are present around various countries in the world. WordPress Nepal has been organizing WordCamp in Nepal since 2012. To date, 1124 WordCamps have already been completed in 379 cities in 65 countries.
So far in Nepal, 14 WordCamps have been successfully completed in the cities like Kathmandu, Pokhara, Bharatpur, Biratnagar, and Butwal.
This time, WordCamp Nepal 2022 will be held in Bharatpur, Chitwan district.
After the successful completion of WordCamp Kathmandu on the 3rd and 4th of September 2022, WordPress Nepal is leading to organizing the largest event related to WordPress in Nepal.
There are a few things you need to know about WordCamp events
Before diving in, let us shed some light on the WordPress community. WordPress is a not-for-profit community that works on voluntary contributions from fellow contributors, members, developers, users, and WordPress enthusiasts.
From simple blog sites to e-commerce websites, and even CRMs, WordPress has been the most preferred platform for many businesses. Because of its easy-to-use templates and elements, it is growingly used by many technical and non-technical people around the world.
To grow it as a community, a company named Automattic started a WordPress community where anybody who is using or is willing to use this open-source platform can join them. Since then, they have been organizing WordCamps.
What is a WordCamp?
A WordCamp is a meet-up event where individuals who recognize themselves as the ones using WordPress or planning to use it can come together and share their experiences. It is not only a platform where speakers' session, panel discussion, and training takes place, but also people get the chance to expand their network or even start a business with people they meet there.
Hence, many countries have their own WordPress community that works in a unified way under the guidelines of WordPress Central, which is located in the US.
With monthly and other periodic meetups, WordPress communities organize the annual event named WordCamp.
Regarding this, WordCamp Nepal 2022 is happening on the 5th and 6th of November 2022 at Chitwan Garden Resort at Bharatpur, Chitwan.
On October 16, WordPress Nepal organized a press conference to inform about the largest WordPress event happening in Nepal i.e. WordCamp Nepal 2022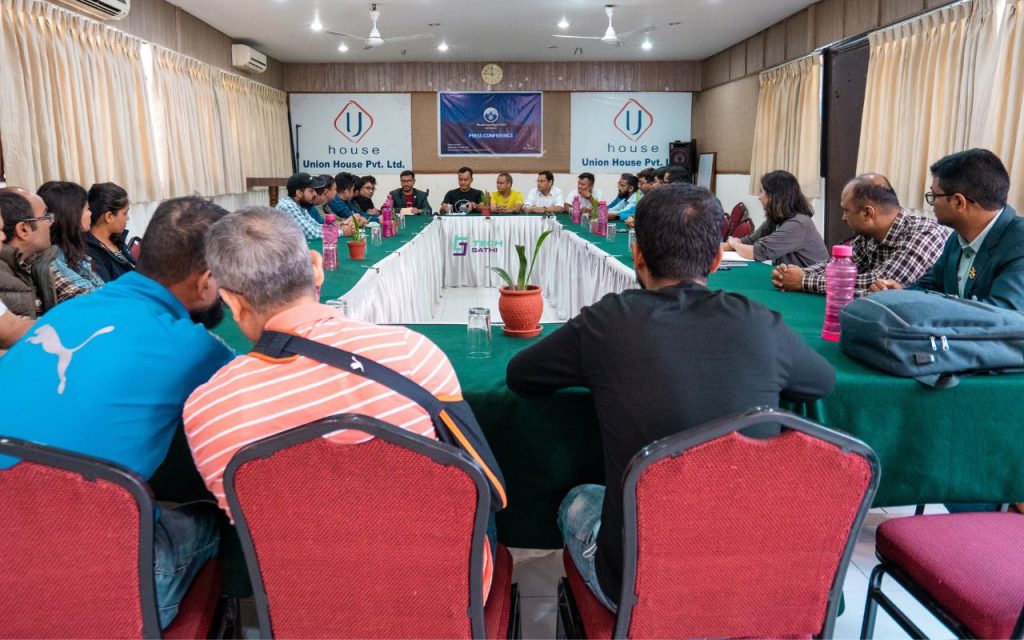 The organizers of the event along with local leads from various cities of Nepal like Chitwan, Biratnagar, Pokhara, Butwal, etc participated at a press conference today and shared their collective experiences.
They also added on the current growth of WordPress users and the WordPress community members around their local area.
On this note, Subash Khadka, the President of WordPress Nepal stressed the utmost need for digital literacy has already reached its peak and WordPress Nepal is all set to contribute to attaining the goal of Digital Nepal.
He also revealed the growth of people actively involved in the WordPress community in Nepal. There are already more than 10,000+ active individuals contributing to the WordPress community.
Not only in Kathmandu but also in other cities of Nepal, individual WordPress users like freelancers and businesses are adopting WordPress in wider terms. Seeing a similar growth in Bharatpur, and decentralizing the WordPress events outside the Kathmandu Valley too, this time, the nationwide event – WordCamp Nepal 2022 is happening in Bharatpur, Chitwan.
In this regard, one of the organizers of WordCamp Nepal 2022, coming WordCamp Asia 2023, and the Lead for WordCamp Kathmandu, Surendra Shrestha shares,
"We are pretty optimistic to have 1000+ attendees in this event. Last time, there were 450+ attendees during WordCamp Kathmandu 2022. "
The common feature of all the WordCamps is that it is organized by an informal community related to WordPress, interested in WordPress and people who use and develop it, bringing together WordPress users and experts, sharing experiences, and building networks for opportunities.
The main purpose of WordCamp is to build a platform to be used. More than 25 experienced national and international speakers will give presentations on various topics, public relations expansion and exchange of opportunities, WordPress workshop, direct contact with experts who contribute to the development of WordPress, and various events are the main attractions of this camp.
WordCamp Nepal 2022 Program Module
The WordCamp events are organized under the global module set by WordPress Central. It is divided into two parts, which are Events and Contributions.
#Main Event
The main event takes place with speaker sessions, workshops, training, and panel discussions. The speakers who have been working or contributing to WordPress share their experiences with the participants.
Both national and international speakers gather around and share their experiences and also give career guidance.
The main event will take place on the 5th of November, 2022.
#Contributors Day
The second day is the contributor's day where WordPress users gather and start contributing towards the WordPress platform in any form to the WordPress elements like Plugins, Polyglots, Themes, Support, Photos, etc.
The table leads for Contributors day guide other contributing members to start with. For example, the Polyglots team translates WordPress into the local language i.e. the Nepali language for Nepali WordPress users.
WordCamp events are organized by a team of enthusiastic people like team leads, volunteers, mentors, and community leads.
Subash Khadka, who is also the President of WordPress Nepal, is the Global Lead for WordCamp Nepal 2022. Similarly, Bikas Pun is the Local Lead for this two-day event. Likewise, WordPress Global Community's Deputy Yam Bahadur Chhetri is the mentor for this event.
There are some particular and interesting facts about WordCamp that make it one of the largest diversified and united community
Anybody either having programming skills or not can join the WordPress community and become a part of WordCamps
Every financial expenses and income that take place in WordCamps are transparent and are published openly at the official site of WordPress Nepal
Anyone can be a contributor, speaker, or volunteer in the WordCamp events
What's new in WordCamp Nepal 2022?
Nepal as a region is highly appreciated by the WordPress community around the globe. If we see hierarchically, WordCamp Nepal 2022 is going to be the fourth largest WordPress event in the world after WordCamp US, WordCamp Europe, and WordCamp Asia respectively.
More than 25 speakers from Nepal and other countries are going to attend the event, with 5 female speakers. Also, there will be 4 members in the panel discussion. The speaker's session is aimed to be more diversified and more inclusive with the topics like:
Machine Learning
Digital Marketing
Content Creation
Customer Support
Business and Entrepreneurship
Health
If you have missed booking Early Bird tickets, you can still book Standard Tickets for WordCamp Nepal 2022. Click here to fill up the form.
Also Read: How to Pay IOE Entrance 2079 Fee Digitally?