 Dish Media Network has launched IPTV service considering the recent changes in technology and the wishes of customers with respect to the rapid expansion of Internet services. While announcing the launch of this service in the name of 'DishHome iTV', the company yearns that the customers will shower love and support to the service like DTH. On top of that, DishHome is confident that customers will get quality and services better than other service providers.
Dish Media Network is the only DTH service provider in Nepal and it has been successful in making its own distinct identity in the Pay TV industry ever since the past 12 years. It had its services started in the year 2067 under the name of HomeTV. Later, it merged with Dish Nepal and launched its service under the name of DishHome. DishHome has brought a kind of revolution in the field of communication by delivering television signals to every corner of Nepal and it also has been providing quality after-sales service to customers along with various excellent channels.
DishHome iTV Setup Box; Specifications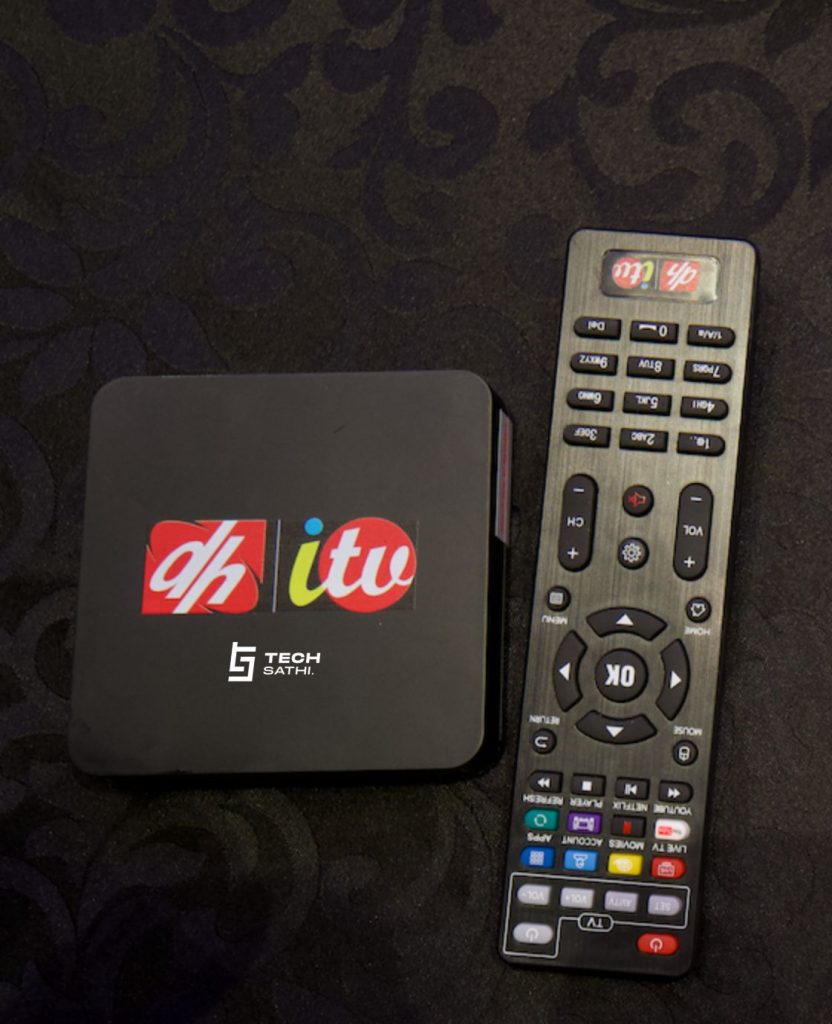 Amlogic S905X 64bit quad core ARM® Cortex™ A53 CPU
RAM: 1 GB / ROM: 8GB
100M RJ45 Port
Built in Wi-Fi 2.4 Ghz IEEE 802.11a/b/g/n
2.0 USB Slots*2
Power Input: 12V/1 Amp
Quick App Launch Buttons on the Remote
Video Decoding: 4K*2K@60fps H.265
Audio Decoding: MPEG 1/2/2.5, AAC-LC/HEAAC
Dish Media Network, that used to provide its services only on Pay TV, has now expanded its services to Pay TV, Internet, Terrestrial (T2) TV and IPTV to provide the best, most accessible and quality service than other service providers. DishHome Fiber-net, the internet service has been successful to win the hearts of many customers. It is the only TV network with the most satisfied customers that is providing its services to customers through SIM TV, and Wireless Terrestrial (T2) TV.
Different from DTH and Terrestrial (T2) Internet Protocol based technology, this IPTV has more than 200 TV channels including DishHome Exclusive channels such as Shorts TV, Fun TV, Gunjan, Cine Hits, Junior TV and popular Korean series in Nepali language, more than 5000 hours of various content, Video on Demand, Catch-up TV/Start-over TV, Youtube, TikTok, and other various apps and features are available.
Also Read: DishHome Internet Services || Latest Internet Price and Packages [Updated 2022]
What is IPTV?
IPTV stands for Internet Protocol Based Television that inter connects television and internet.  Different from other signal delivery like Satellite (DTH), Cable (DVB-C) and Terrestrial (DVB-T), it is the delivery of television content over internet protocols. It works being based on two way communication which enhances the interaction between service provider and the customer. Just through one click, a customers can watch the video of their choice sent by the service provider directly from the internet. IPTV service includes Video on Demand, Catch-up TV/Start-over TV, EPG, etc. IPTV is not only limited to television streamed from internet though it uses the internet protocol. It is used for media delivery around corporate and private networks as well. The main components of IPTV application are Firmware and Middleware used on embedded systems, electronics etc. and I'm web serves respectively. Not only can you watch the videos on TV, but you can download the iTV app and access the service on your desktop or mobile.