 With the motive of promoting Nepali tech products since our start, we have come up with a new post series on Techsathi. From now on, we will be selecting a Nepali app each month and reviewing it through our team. Our major motive will be for the app to reach more people and collect feedback from a greater range of audiences. We will be doing this through our "App of the Month" series.
The app of the month for the month of Jestha, 2077 is the "Daami Music " App. Daami music app is Nepali music streaming app. The platform helps Nepali music lovers stream the songs online and they also offer features like karaoke, FM station, and download list. Their initiative helps promote Nepali music as well as provides recognition to the artists. This amazing initiative by the founders got us to select it as app of the month.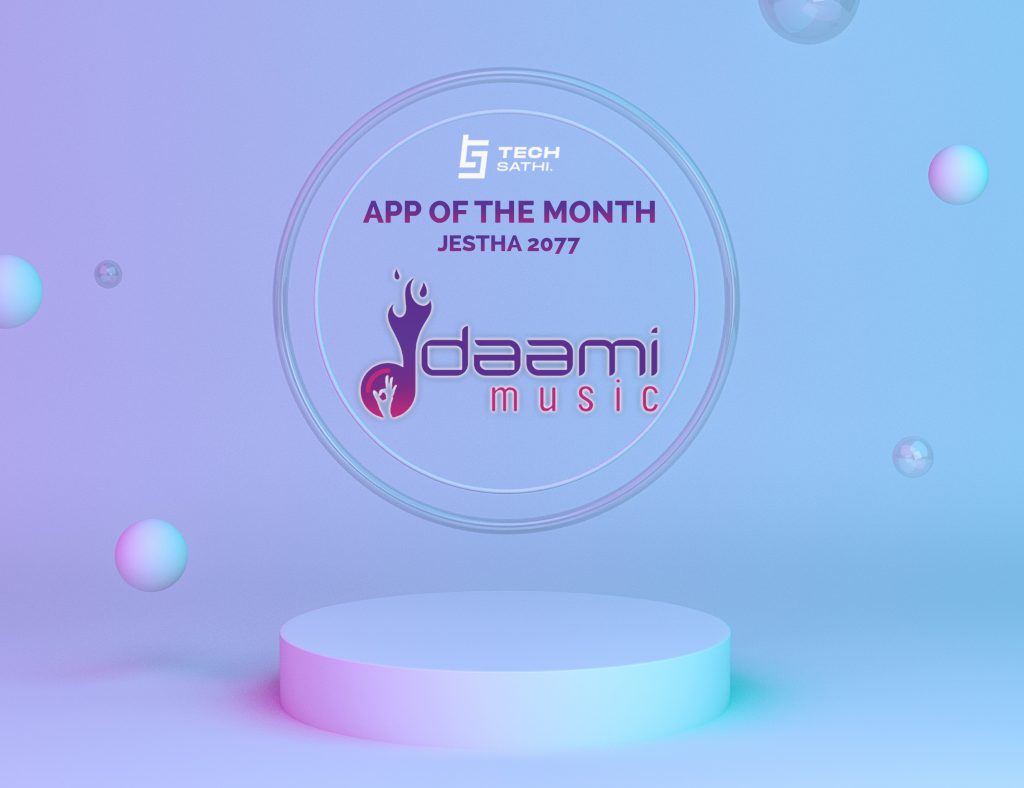 What is Daami Music?
Daami Music app is a legal Nepali music streaming app which helps you gain access to thousands of Nepali music. Supporting our very own music is important as it helps Nepali artists to gain recognition and contributes to the flourishing Nepali music industry. It provides a wide variety of genres such as pop, rock, hip hop, modern songs, folk songs, Nepali movie songs, as well as regional songs like Newari, Bhojpuri, Tamang, Maithili, etc.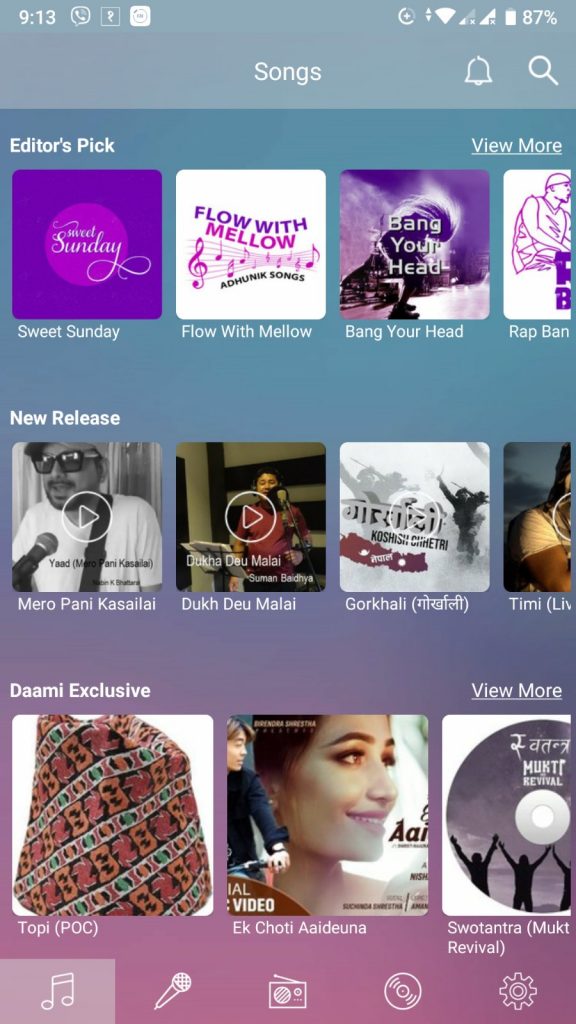 Here, not only can you stream music online, but they also have a Snap Karaoke feature which is coming soon, where you can sing along to your favorite songs. They have contests and very fun surprises to offer as well. You can download songs and listen to them offline for which you have to download the premium version.
It has a premium version that gives you more features such as:
Ad-free experience
Songs download for offline listening
High-quality music
Different scheme
The music app also has the Daami online radio (FM) integrated for continuous music broadcast.
The founder of the Daami music app was previously engaged with the Yonder music app. The yonder music app is a global app that was running in over 8 countries and was powered exclusively by Axiata Company. But the app isn't available anymore. So the founder of the Daami music app decided to start such a streaming platform locally to fulfill the gap between the cd era and the digital era.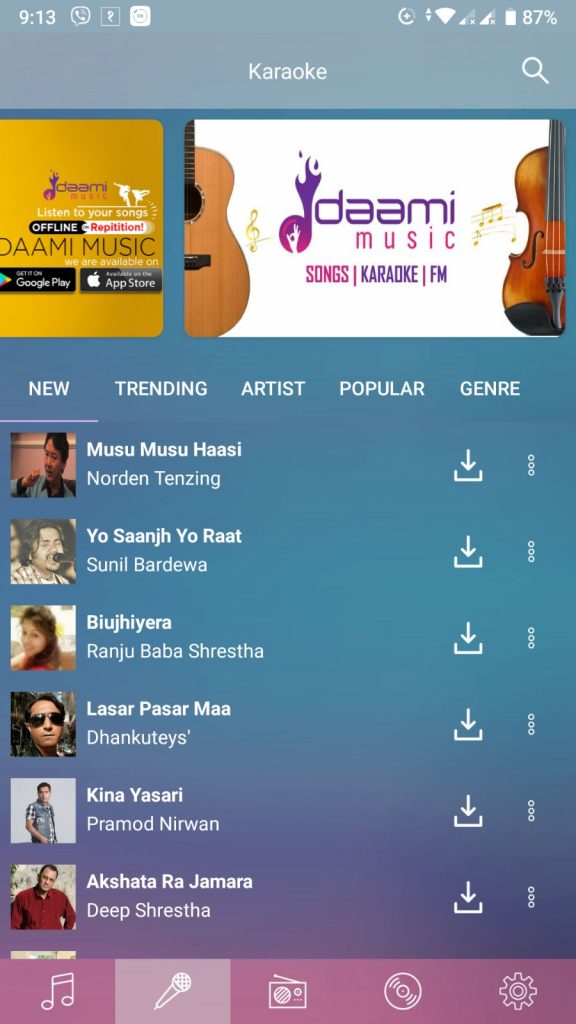 The main aim of launching this app is to change Nepali listeners' behavior. If people want to listen to international songs various platforms help fulfill that need. The easy accessibility of songs through such platforms might increase the inclination towards such music. So, with the help of this app, all Nepali music lovers have a platform made available to them to stream their favorite Nepali songs. This app also helps to provide revenue for artists from their music.
The app has been getting a good response with people using the platform. Currently, there are about 1 lakh 74 thousand downloads, 37 thousand monthly active users, and 9 thousand subscribers out of which 3700 are active. The app is aiming towards gaining 1 lakh premium subscribers and 3 to 5 lakhs monthly active users.
Subscription packs:
Daily Song package at Rs 3.83 for 1 day
Weekly song package at Rs 19.15 for 7 days
Monthly song package at Rs 63.85 for 30 days
| | |
| --- | --- |
| Packs | Activation Keyword |
| Daily Onetime | DDM1 |
| Weekly Onetime | WDM1 |
| Monthly Onetime | MDM1 |
| Weekly Recurring | WDM |
| Monthly Recurring | MDM |
If you want to subscribe to any of the above packs, From USSD Dial *17155# and select the package as per your choice. From IVR Dial 17155 and follow the instruction.
You can buy the packages suitable for you using your phone balance, from Ncell and NTC. You can find this in the Buy Package section of the app.
Talking about digital wallets, the payment from eSewa, Khalti, and IMEPay is accepted in the app. You can get cashback up to 50% if payment is done using digital wallets.
Daami Music is available in both android and iOS.
Verdict
The features available in the app are really praiseworthy. We can see the upcoming "Nepali Spotify" in this app. The features such as searching through artists, recommendations, download features, radio, etc. are great. Also, I guess this is the first time we are getting all the Nepali music in a single platform being able to browse through different genres. The features provided are awesome. Also, this can be a great help to the artists.
Some of the things that can be improved mostly remain in the UI portion. At times, the contents on the page look congested and the interface doesn't look much sleek. Also, a lot of popular songs are yet to be added, but this will improve with time. Overall, this is an awesome initiative and we look forward to the positive evolution of the app.