CorporatePAY is a Business Payment Platform hosted by Nepal Clearing House Ltd. (NHCL) for its member banks and financial institutions (BFIs).
It acts as a business payment platform that grants the corporate and business customers of the member banks and financial institutions(BFIs) to initiate digital payments from any of the accounts which are regulated at the member banks. The business model of CorporatePAY allows the business customers to complete a transaction for processing real-time payments through ConnectIPS e-payment system and non-real-time bulk payments through NHCL IPS, which includes all the important multi-user controls necessary for processing such business transactions.
It is also involved with many commercial , development banks, and financial institutions. They function together in an attempt to provide high-quality services.
CorporatePAY: Business Payment Platform
Services and Facilities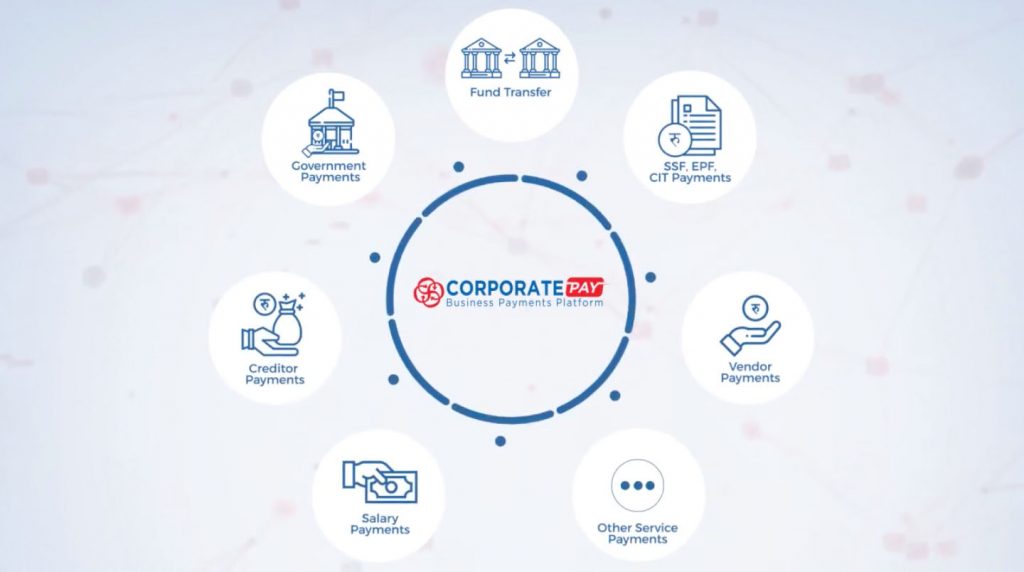 CorporatePAY is known and appreciated for its services and facilities which it grants . It has a single channel for multi banking in the multi-accounts successful authorization to complete a transaction for security and controls.
CorporatePAY makes the administration of bulk transactions, fund transfer, Social Security Fund(SSF), Employee's Provident Fund (EPF), Citizen Investment Trust(CIT), and other service payments more reliable and convenient. Its transactions are held in a sophisticated way and are processed without any intervention up to the limit assigned to the corporate by the respective member bank and the payments above the assigned limit will be processed with additional approval from any of the member banks.
Inter and Intra bank fund transfers are made possible while regulating salary, vendor, government tax and revenue, creditor/service payments. It is available on both public and private networks for higher security and limited purpose. It has a flexible transaction limit that could be set by any bank ok and it may vary as per the respective member banks rules and regulation.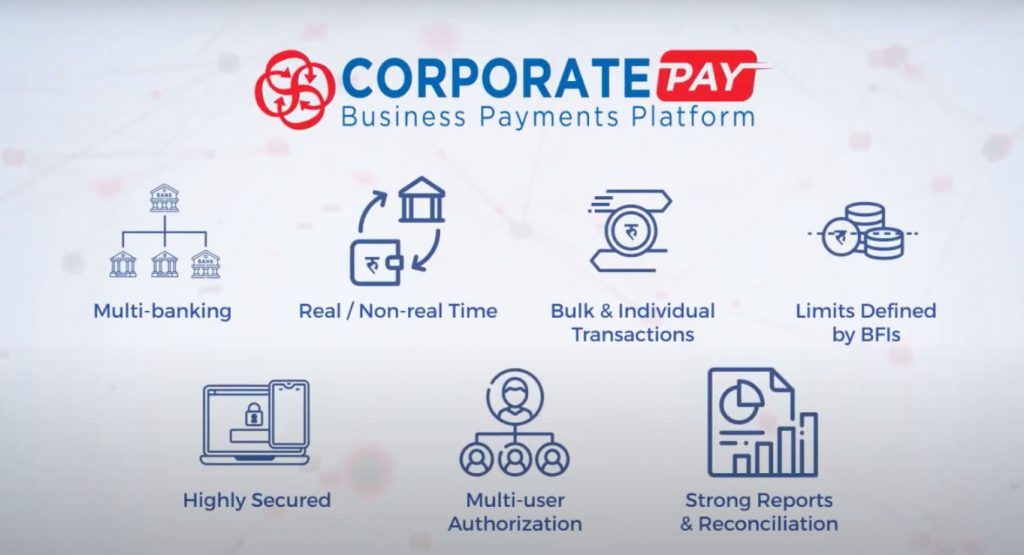 Nepal Clearing House Ltd. (NHCL) which is a public limited company has initiated this payment service system to establish and operate national business payment systems in a more convenient pattern which can facilitate the development of trusted new payment methods and technologies in Nepal.
In the past CorporatePAY for digital payments has been provided by many banks to provide customers with a payment network that is not only reliable but can uplift their entire payment processing practice. It has been involved with more than 18 banks.
Enrollment in CorporatePAY
To enroll in the CorporatePAY system there are certain strategies and rules one must implement. Initially, the corporate needs to contact its nearest bank branch to understand the details and the entire process of enrolling. They then will need to complete a one-time enrollment process at the bank which is a regular enrollment form along with supporting and authorized documents and a list of authorized users involved in the system.
After this bank will enroll the corporate in the system, create users, and apply authorization limits while obtaining the login and other details through a secured communication channel by each of the users.