On the special occasion of 46th International Women's Day, connectIPS is giving away exciting offers and gifts to its new female users starting from March 7 to March 13. It has initiated the "Digital 7" #DigitalforWomen campaign, which would run for 7 days starting from today (March 7).
How to participate?
Any Nepalese female who would like to participate in the connectIPS Digital 7 campaign just needs to register in connectIPS and wait for the prize!
Also read: https://techsathi.com/getting-started-with-connectips

Prizes and Gifts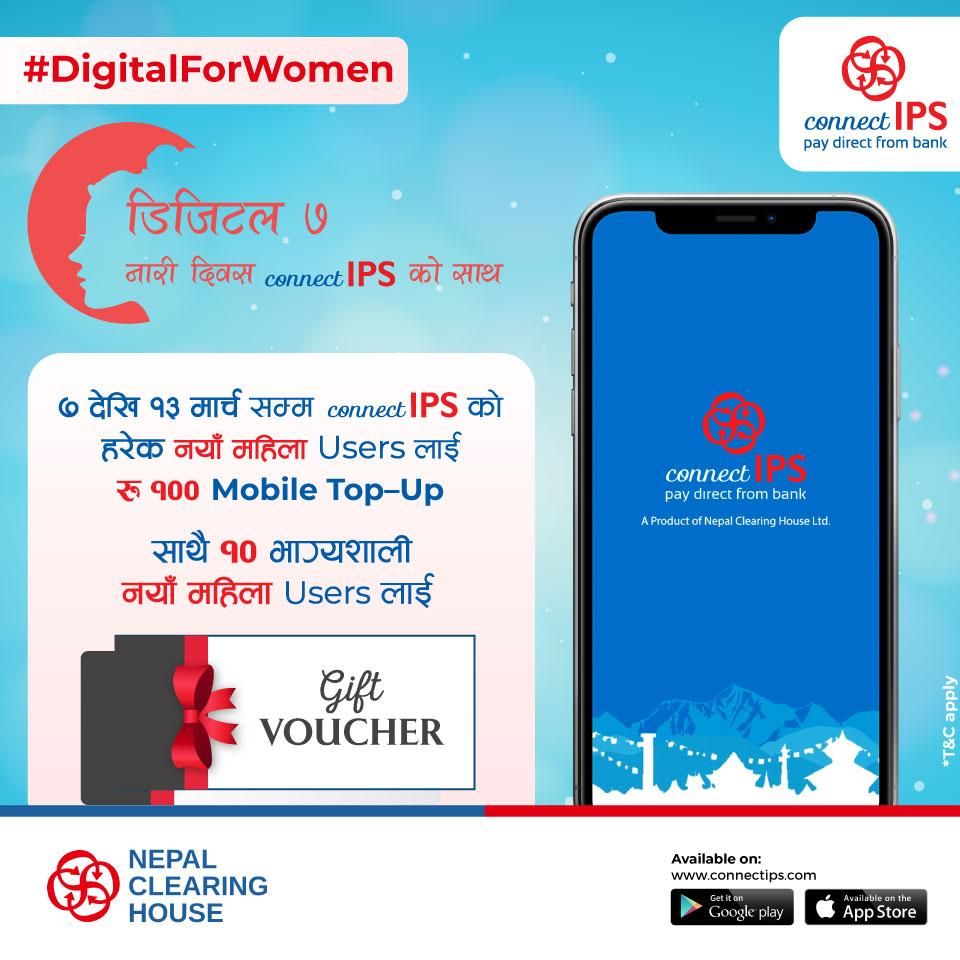 The new female users of connectIPS within this time period would be eligible for a mobile top-up of Rs 100 and among them, lucky 10 participants could win exciting gift vouchers.
The terms & conditions of connectIPS Digital campaign are:
The offer is valid for new female registration only during 23rd-29th Falgun 2077 (7th -13th March 2021).
The user must register in connectIPS and verify her mobile number and e-mail ID.
The 10 lucky winners will be announced after the end of the campaign
The mobile top-up will be sent to the registered mobile number, which is subject to Telecommunication Service Charges (TSC).
Prize vouchers must be claimed within 13th Chaitra, 2077. Any claim thereafter will be void.
NCHL employees and his/her immediate family members will not be eligible to participate.
NCHL's decision on the contest will be final and reserves the right to change some or all the terms.
connectIPS is no doubt a popular name when it is about digital payments regarding bank transfers, financial institutions payments, utility payments, payments to government offices, and so on. Nepal Clearing House Limited (NCHL) has developed this digital payment portal to ease its users in most financial transactions and payments. With the higher level of security assurance through its multi-layered authentication and verification; and low costs in receiving or paying the amount, connectIPS is widely used for digital payments these days. And this very campaign is expected to invite a significant number of Nepalese women in the digital economy.
If any ladies out there have not registered in connectIPS yet, then this is the right time for you. Do not miss to grab this opportunity.