On 30th November, OpenAI; an artificial intelligence research company introduced ChatGPT. It is an artificial intelligence chatbot with supervised and reinforcement learning techniques developed and trained by OpenAI.
The concept of ChatGPT and the wide range of knowledge it has been provided is so fascinating that it is liked by many. Actually, it reached a million users only within one week of its release. But why and how is it so fascinating? Let's know more about it and what can it do. But before that, let me make you aware that OpenAI has similar chatbots too that responds to you in OpenAI playground.
Is ChatGPT similar to OpenAI playground? If no how do they differ?
If you know about OpenAI, I am sure that you have idea on what OpenAI playgroud is. If you don't, you can get enough knowledge through this article. Simply, It is a toolbox for anyone interested in building AI applications in the browser without any programming experience. Through OpenAI playground, you can compose anything you want from an essay to tagline for a shop. ChatGPT is indeed the same.
Like chatbots text-davinci-003, text-curie-001, text-babbage-001and text-ada-001 compose what you ask in playground, ChatGPT does the same but in more convincing and conversational way. Not like a student composing answers to a homework question like the bots of playground do.
The chatbots of the playground are GPT 3 models while ChatGPT itself is a GPT 3.5 model, an improved version of GPT 3. In a nutshell, we can say that OpenAI's ChatGPT is a brushed-up version of its playground so, it is a bit different. Similarly, it remembers the prompts previously generated and questions asked earlier, so it begins with 'As I mentioned earlier' if you ask something similar andallows users to provide follow-up corrections. Additionally, it also responds to cryptic questions that cannot be answered with yes or no and declines inappropriate requests.
Examples answering "What ChatGPT can do?"
With the supervised and reinforcement learning that it has, ChatGPT can do variety of things. I asked it "What can you do?". It replied, "As a large language model trained by OpenAI, I have been designed to assist with a wide range of tasks. I can provide information on a wide variety of topics, answer questions, offer explanations and clarifications, and even provide suggestions on various subjects. I am not an expert on everything, but I have been trained on a vast amount of information and can often provide helpful insights on a wide range of subjects. Is there something specific you would like help with?"
To make it clear, ChatGPT can help you write anything, not only in its style but in the signature style of reputed people. Let's ask ChatGPT to introduce itself in William Shakespeare's style.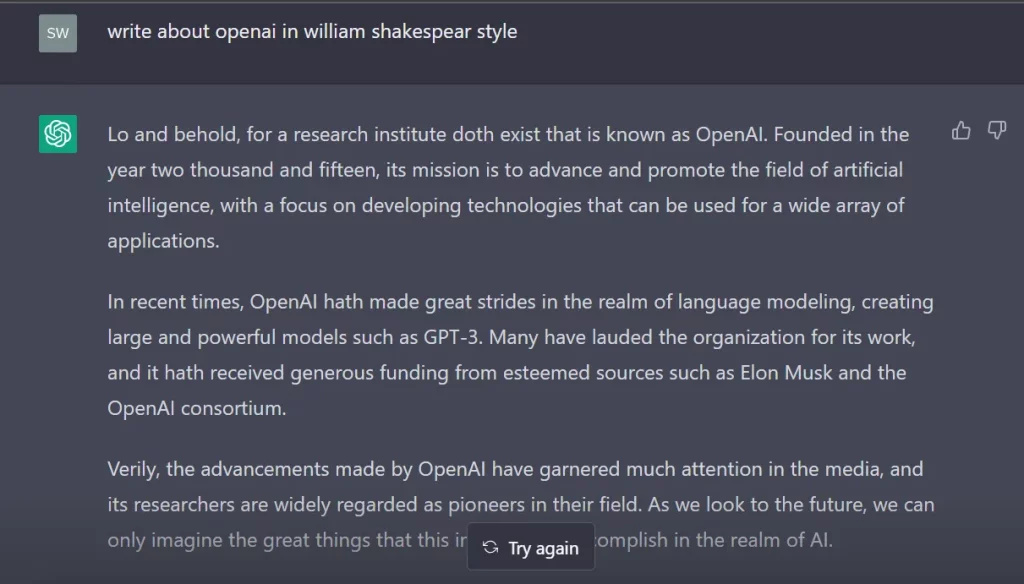 I haven't read any compositions of William Shakespeare's; however, I can tell this is his style.
You can try asking things to it by yourself. But before starting to use and test ChatGPT, you should log in or sign up to it through your OpenAI id. If you already have an id, you can simply tap on log in, enter your email id, verify that you are not a robot, enter your password and continue. If you don't, check out How to Create an account on OpenAI?
After reading it up to here, you might have a question popping "Is ChatGPT similar to google Assistant or Siri?". I guess the answer is No! because ChatGPT answers on the basis of the information it has but google assistant and siri provides you a number of links that may help you. Also, they have been provided with a voice too but ChatGPT has not been.
Since it is newly introduced, the company has yet to improve ChatGPT. Be sure to read about its limitations and the guidelines provided before you start to use it.
Also Read: HiFuture FutureFit Ultra 2 a Brand New Affordable Watch: Specs and Price in Nepal