 After a long awaiting, CG NET is launching IPTV and Video OTT app soon in Nepal. Just a few months after starting its own broadband fiber network, now CG NET is setting its eyes upon video entertainment products with digital TV solutions. This is going to be possible in collaboration with an Indian telecom giant, as Airtel beta-launches its Airtel IQ Video.
Since its inception, CG NET has been disrupting the internet market in Nepal by providing a high-speed fiber network and exceptional customer experience at the lowest price possible. As the internet speed war among ISP grows intense, CG NET will probably heat up further by completing its fiber internet package with IPTV. After the addition of IPTV and Video OTT app, it will definitely add appeal to the already exciting services of CG NET.
According to Nirvana Chaudhary, Managing Director of CG Group, "We have aspirations to launch a cutting edge IPTV and Video OTT platform as part of our telco offering in Nepal. Airtel's proven execution in video-based offerings with Airtel Xstream and keen understanding of a telecom company paved the way for our partnership. Airtel IQ Video will power both our Video OTT app and IPTV, bringing seamless streaming to our customers in Nepal on devices of their choice."
What is Airtel IQ Video?
Airtel IQ Video is an all-inclusive, pre-integrated platform designed to support the hassle-free launch of video content. Developed by Airtel India, Airtel IQ Video falls under the Airtel IQ app suite which is a cloud communication suite that transforms customer engagement for businesses. With its advanced features that range from storage, streaming, security, curation, and analytics, Airtel IQ Video aims to make the business of video streaming simple and cost-effective.
Airtel IQ Video will power both our video OTT app and IPTV, bringing seamless streaming to our customers in Nepal on devices of their choice.

-Mr Nirvana Chaudhary, MD, CG Group
Airtel writes in its website blog that it has generated a massive interest from the market since its recent launch of Airtel IQ Video. In the upcoming months, it is going to expand its customer base as the company is expecting to onboard 50+ brands on the platform in the coming year.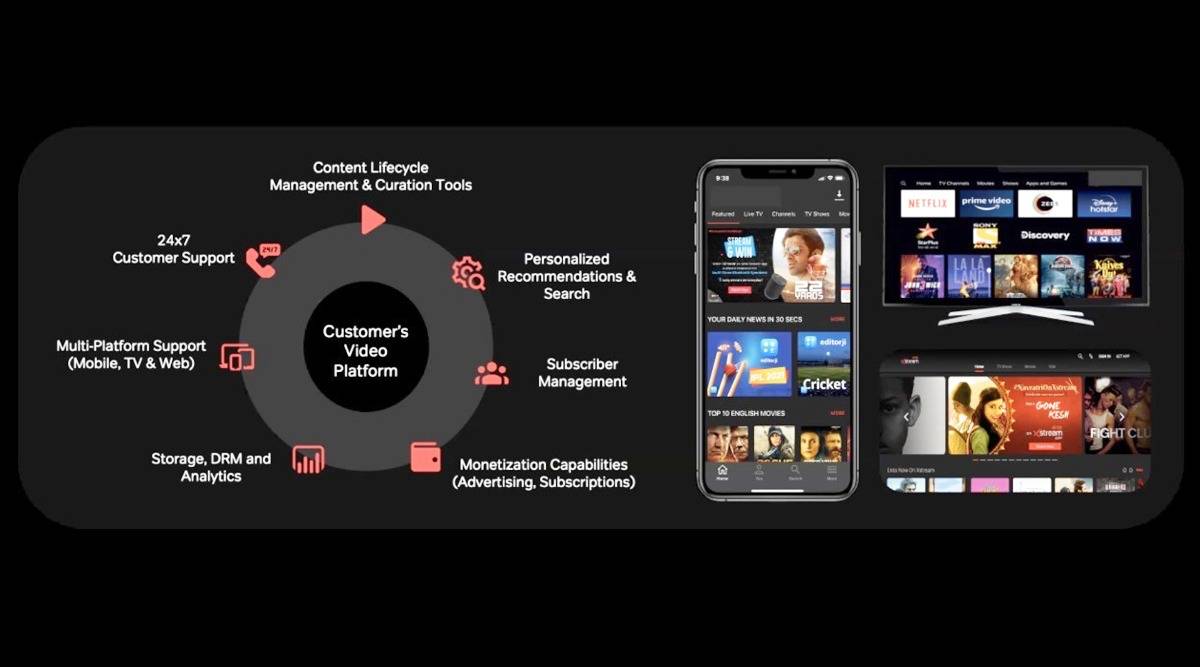 The new solution has been developed by Airtel's in-house engineering teams. By leveraging Airtel's cloud, and cutting-edge video technologies, Airtel IQ Video allows businesses to build video streaming products for large and small screens with minimal investment in infrastructure and technology, the company said in a statement.
Benefits of using Airtel IQ Video in CG NET Video OTT App
As CG NET rushes to build a video OTT service app using Airtel IQ Video, it will provide several advantages to its customers. First and foremost, Airtel IQ enables CG NET to build a video streaming entertainment app at a fraction of the cost. Some other benefits will be:
Globally Optimised Performance: It will ensure that CG NET customers will get the best streaming experience anywhere in the world with an ecosystem that score high on quality metrics.
Multi-vendor Integration & Maintenance: It helps in easily managing transcoding, storage, subscription, metadata, contracts, ads and security with an all-inclusive, plug-and-play API.
Fully Secured Ecosystem: It ensures total user privacy and data protection leveraging the leading security standards.
About CG NET
CG NET is Nepal's first internet service company to give a high-speed fiber network and exceptional customer experience at the lowest price. CG Communications Ltd., under Chaudhary Group, has currently been providing the services of CGNET. The company was licensed to operate as Network Service Provider and Internet Service Provider by Nepal Telecommunication Authority (NTA) on March 16, 2021.