 eSewa never fails to delight its users through lucrative offers and contests. You can get up to 50% cashback on the purchase of bus tickets from BusSewa service provided by eSewa. While ticketing online, using this service of eSewa would be more cheaper to the customers.
eSewa has started this service for easing bus ticketing from east to the west of Nepal.
The offer has following discount schemes:

1. Kathmandu- Kakarvitta-Kathmandu
This route has been operated by Prime Yatayat. In this route, you'll get a discount up to 24%. The offer is available at NPR 950, a cut off from the original price of NPR 1250. It is valid till Falgun 22, 2077.
2. Kathmandu-Bhojpur-Kathmandu
This route is made available by the bus operator Clomolungma. This is the offer with the highest discount up to 50%. The ticket is available at the offer price of NPR 1000 while the regular price is NPR 2000. It is valid till Chaitra 15, 2077.
3. Kathmandu-Pokhara-Kathmandu
It is provided by two bus operators; Explore Holidays and Novel with a 40% cashback and 25% cashback respectively. This offer is valid till Falgun 22, 2077.
4. Kathmandu-Nepalgunj-Kathmandu
It is provided by Namaste Sagarmatha Yatayat with a 14% cashback which is valid till Falgun 27, 2077.
5. Kathmandu-Chitwan-Kathmandu
This route is operated by Deshdarshan with a 40% cashback where the offer price is NPR 390; being the regular price NPR 650. It is valid till Falgun 22, 2077.
Also Read: Get a Chance to Win iPhone 12 on eSewa "21 Days Challenge"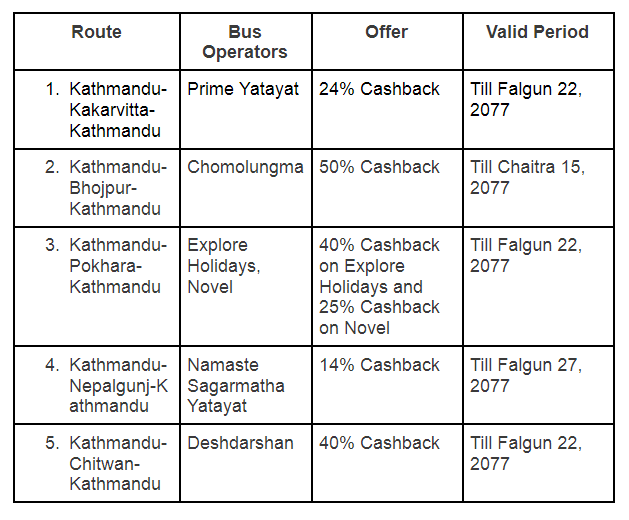 This offer is valid for a limited time period only. So, if you are travelling inside the country, then why not grab this opportunity and enjoy these offers and discounts from BusSewa!