 The weather can never be predicted, or that's at least what we heard back then when there was no weather forecast. Luckily, things and situations are different in this regard now and we have pretty accurate weather forecasts now. We have news and updates that are available about the weather and because of that, we can always be prepared. We can have the luxury of planning a proper vacation or making weather-friendly plans because of this specific information.
Weather Forecast is very essential as it can update, inform, and sometimes save us from a disaster or mishaps. Moreover, while we commute anywhere and more so sometimes to a special occasion, we can always walk away with an umbrella from or house. Whereas, we can also prepare our rain boots so that we don't have to show up with wet shoes. In general Weather Forecast is a life-savior for our hectic schedule in terms of saving our time and energy.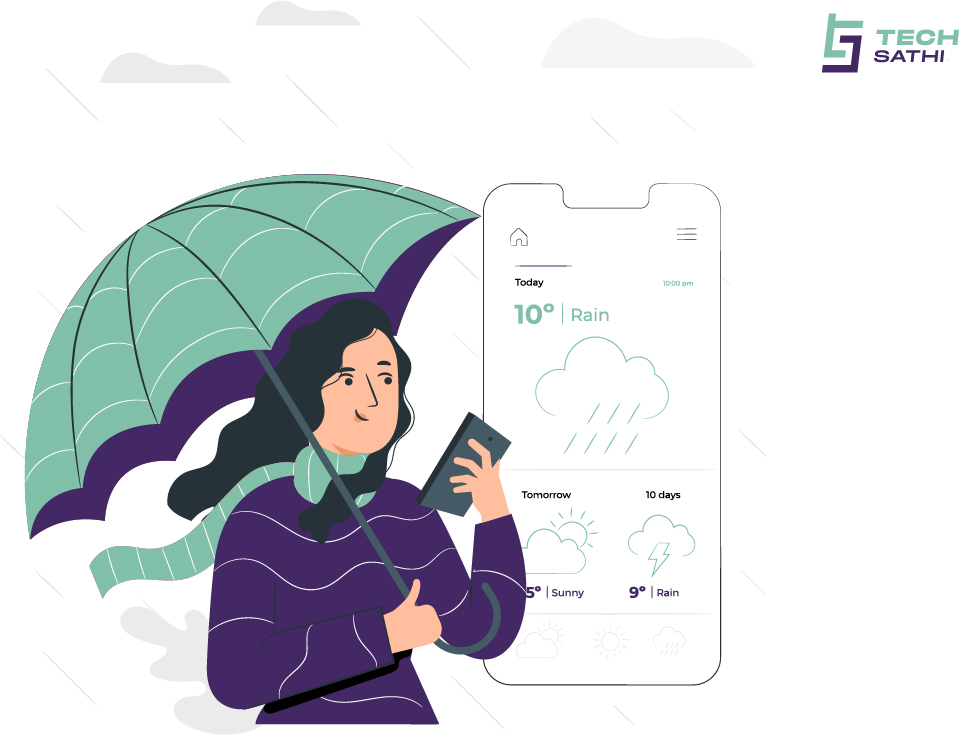 So, today we will be taking a look at the best weather forecast apps that are best in the game and they are:
AccuWeather
GOOGLE
1Weather
Carrot Weather
The Weather Channel
Weather forecasts are made by collecting as much data as possible about the current state of the atmosphere. These data are collected particularly from the temperature, humidity, and wind. Then, by using the understanding of atmospheric processes (through meteorology) we can determine how the atmosphere might evolve in the future. These forecasts are mostly true and valid. To make our lives better and easier there are various weather forecasts app that give very precise and accurate information regarding weather scenarios.
Best Weather forecast apps that we can rely on:
AccuWeather
AccuWeather is originally an American media company that provides commercial weather forecasting services worldwide. It is also the highest-rated weather app that provides the most valid and close to accurate weather information. Moreover, with its recently updated app, you can also get the update of the dark sky forecast with a superior dark sky built in the screen as well. This app was founded in 1962 and since then it has been a very reliable source of weather update to all of us. Also, it falls in our top 5 list as a number one weather forecast app.
Google
Is there anything that Google doesn't know? Well, we can probably say that google knows everything. Talking about everything, it is also to well-known that weather update is among its strongest pursuit. Google's weather app is undoubtedly among the best. It has a clean design, shows all the important info including wind, rain, and sunrise/sunset times, and the best part is it's free. However, it is not listed on the play store but is very easy to get. Most of the time, the weather home screen feature is pre-installed to androids. But, in case you don't have it in your smartphone device then all you have to do is,
go to the google app
type weather and
Click the add button which will be shown in the top-entitled box which will state, add google weather to your home screen.
It is as simple as that.
1Weather
1Weather is another of the most famous and precise weather forecast app that has won millions of hearts already. It has a clean layout and has very easy-to-access information. Moreover, it has animated radar, lunar charts and the ability to share weather conditions through e-mail, text, Twitter and Facebook. These amazing features not only make it easy to use but also makes it interesting to share with friends and family as well.
This interesting app gets most of its data from the National Weather Service and most of the times yerns to provide an accurate update. It comes in both the paid and unpaid version. However, it has come from some sources that its paid version is better than its free version. Its free version has some debugs and some problem that sometimes may show false information.
Also read: Best Nepali Agriculture Apps for Successful Farming in 2020
Carrot Weather
CARROT Weather is considered one of the best crazy-powerful weather forecast apps that delivers strong forecasts. It offers us a glimpse ahead at the week's weather, including comprehensive breakdowns of current conditions as well. Moreover, with its latest version 4.0, we can customize CARROT Weather to the nth degree. Here we can also create a forecast experience just for us in a customized way.
Also, it's Dark Sky's eerily accurate weather data gives us quick access to our current, hourly, and daily forecasts. The impressive part is that we can view the weather for any location up to 70 years in the past or 10 years in the future. It is a paid app which can be bought from play Store.
The Weather Channel
The weather Channel is another of powerful, free mobile app for Android that gives very reliable weather update. With reliable forecasts, interactive radar and real-time rain alerts, backed by the most trusted name in weather it has won millions of heart as well.
We can have a full view of the weather with the expertise, technology and scale of The Weather Channel. After the launch of its apple counter ships, the app is now available from Google Play to all users. Moreover, Weather Channel has made its OTT Channel Even Better. Moreover, Local Now is owned by The Weather Channel and is offered on several live TV streaming services such as Sling TV and soon YouTube TV. This means there will be a wider range of its services.
These are the top weather apps that provides amazing services and updates on weather. So, next time you travel or make plan be sure to check it suits the weather which might save your day.