 If you think the cash backs in top up recharge has stopped, let us prove you wrong.
Prabhu Pay has brought its exclusive offer on verifying your KYC account in this app. With every recharge starting from NRS 10, you'll now get a cash back up to 3.5% during this offer.
This offer is for both KYC verified users and non-verified ones. Those users who are not KYC verified would get a 2.5% cashback on every top up recharge of Ncell, NTC and Smart Cell. The KYC verified users would get a 3.5% cashback plus one month subscription to MOMO: More Music More Movies. MOMO is an entertainment app that has a wide variety of content (Songs, Movie, Music, Music Videos, Karaoke, Live TV, TV Shows, News and Much More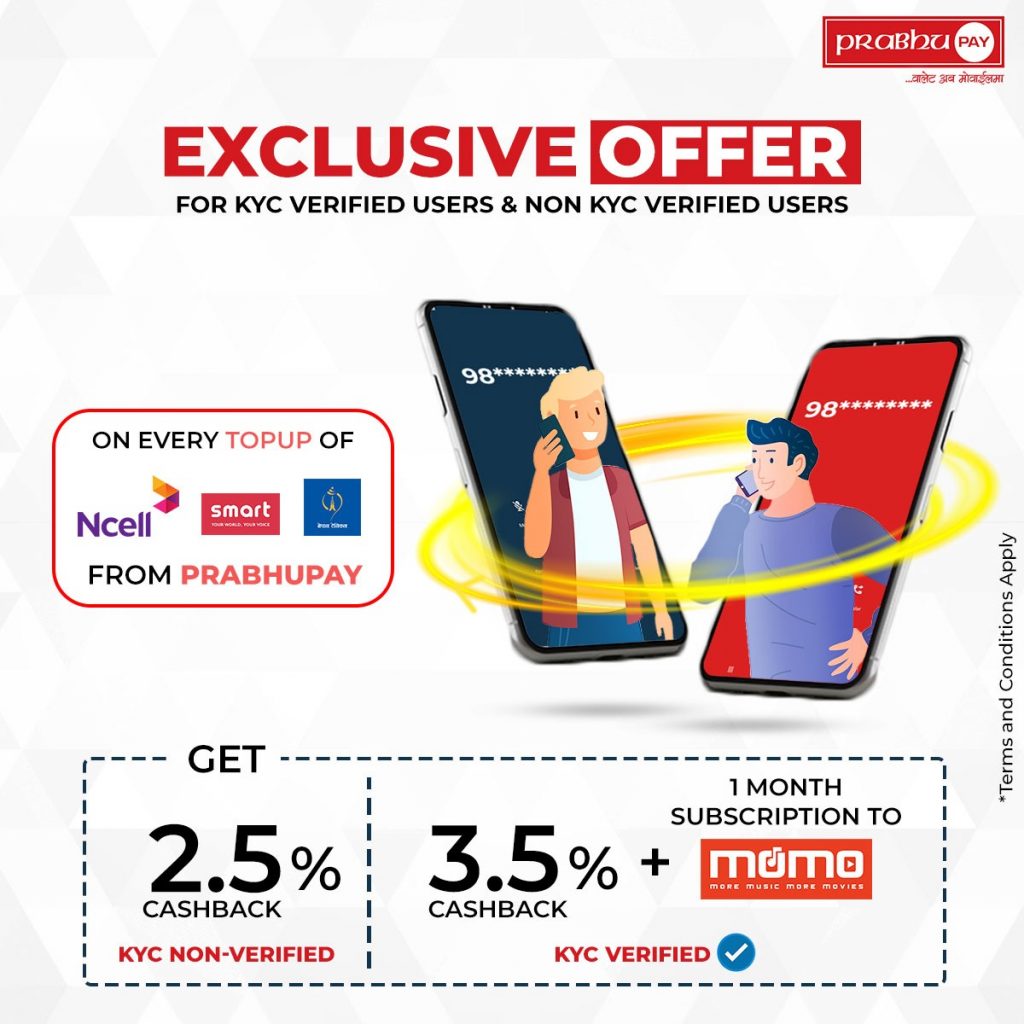 This campaign has already started since Jestha 1 (May 15) and will be valid till Jestha 15 (May 29). So, within this period one can verify their KYC account to get the most out of this amazing offer. One must recharge at least NRS 10 in their Ncell, NTC or Smart Cell SIM using the Prabhu Pay app.
How to Get Your KYC Verified at Prabhu Pay?
Step 1: Download the Prabhu Pay app.
Step 2: Register and log in with your username and password.
Step 3: Tap on "Me" icon
Step 4: Then tap on "Verify Your KYC" button
Step 5: Select your nationality and then click "OK"
Step 6: Fill up the personal details and continue
Step 7: Fill up your verification documents information, upload them and tap on "Save and Continue"
Once you get your KYC account verified, you are now eligible to claim the cashback of this offer till 15th of Jestha. And for that, all you need to do is follow the simple steps to top-up your mobile via this app.
How to make a Top up?
Step 1: Log in to your account in Prabhu Pay
Step 2: Tap on "Phone Top Up"
Step 3: Enter your mobile number, amount and press on "TopUp Now"
Step 4: Tap on Confirm
Prabhu Pay has been attracting more users with its exclusive offers and campaigns. Its "Predict and Win" contest for IPL 2021 is going on. These kinds of campaigns by the mobile wallets are bringing a pool of users into the digital enclosure along with encouraging in choosing digital payments as much as possible. And once you get in the habit of recharging through your mobile wallet, I bet there is no going back to old recharge card days! So, if you want to get the most benefit in this offer, why not get your KYC verified!